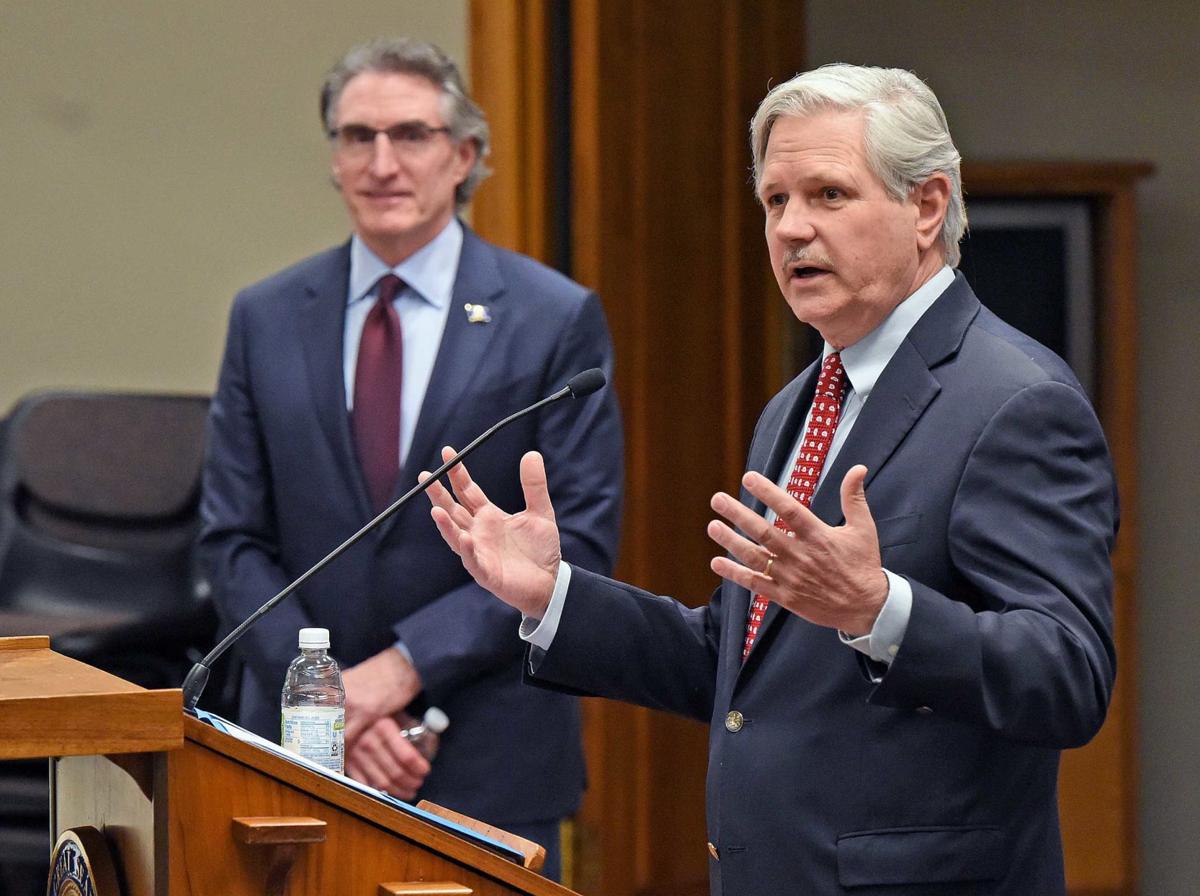 North Dakota has received U.S. Treasury Department approval to use federal coronavirus relief money to stem a rise in unemployment insurance costs for businesses due to unprecedented jobless claims.
Gov. Doug Burgum and U.S. Sen. John Hoeven, R-N.D., made the announcement Thursday, the same day state Department of Health officials reported a 15th person has died in North Dakota from COVID-19. The number of people who have recovered from the coronavirus disease also has taken a big jump, however.
North Dakota will be able to use money from the federal Coronavirus Relief Fund to help offset a rise in unemployment insurance costs under the new federal guidance.
The federal CARES Act economic rescue package established the $150 billion Coronavirus Relief Fund. Each state will receive at least $1.25 billion to support its pandemic response. Hoeven said he raised the issue of whether the money could be used to relieve pressure on the state's unemployment insurance program directly with President Donald Trump and Treasury Secretary Steven Mnuchin in recent phone calls, at the request of Burgum.
"That's going to be a real challenge for our businesses, because as they get opened up and get going after this slowdown in our economy, first thing they're going to see are these really high unemployment insurance taxes," said Hoeven, who spoke at Burgum's daily afternoon briefing. "That's exactly what we don't want, because that hurts their ability to get up and get going, and to employ their people and get back on their feet."
Job Service North Dakota has seen three years' worth of unemployment claims in a little more than a month -- more than 60,400, according to Burgum.
"We've paid out $105.8 million since March 16. In 2019, we paid out only $78 million in the entire year because we had such low unemployment. The year prior, 2018, we paid out $99 million," Burgum said. "And so we have since March 16 paid out more than either we paid out in the last two years."
About half of the $105.8 million has come from the state Unemployment Insurance Trust Fund, with the rest coming through the Federal Pandemic Unemployment Compensation program, according to Burgum.
The governor said he was "thrilled" that Treasury is allowing money from the federal Coronavirus Relief Fund to help replenish the state trust fund, which has a balance of $144 million, down from about $200 million before the outbreak.
"When we look ahead, we know that we could end up paying substantial benefits today which would overwhelm that $144 million," Burgum said. Replenishing the fund with the federal dollars means "we don't have to increase a burden with substantially higher rates on the businesses of North Dakota," he said.
What portion of the $1.25 billion goes toward the unemployment program is to be determined, according to Burgum.
"If you do scenarios where we've got high unemployment through the end of the year, we might need $500 million to replace that unemployment insurance fund," he said, adding later that "If we found out that we had other things that had, say, a higher possible return on investment in terms of getting North Dakota started, and we've got clear eligibility, we could use that $1.25 (billion) for that, and we do have the option to be able to borrow federally at low interest to replenish that unemployment insurance."
Burgum said the state is making progress on computer software programming and catching up on payments under the Federal Pandemic Unemployment Compensation program, and that under the new federal guidelines the state might even be able to replace the aging mainframe computer the unemployment program relies on.
The state Democratic Party issued a statement criticizing what some say is the slow pace of unemployment compensation and noting the complaints of some small business owners and independent contractors who have been denied unemployment benefits.
"Job Service has a challenging job and we know they're working hard with an outdated system, but many North Dakotans are hanging on by a thread," Democratic-NPL Chairwoman Kylie Oversen said. "A month ago, the governor indicated support was on the way, but today he said to keep waiting. Our workers and families deserve something tangible."
New cases
The latest coronavirus victim was a Cass County woman in her 80s with underlying health conditions, state officials said. It is the eighth COVID-19 death in North Dakota's most populous county, which is home to Fargo.
Cass County saw its case total rise by 18 to a state-leading 290. Other new cases confirmed Wednesday and reported Thursday included eight in Grand Forks County, where there was an outbreak last week at the LM Wind Power plant in the city of Grand Forks.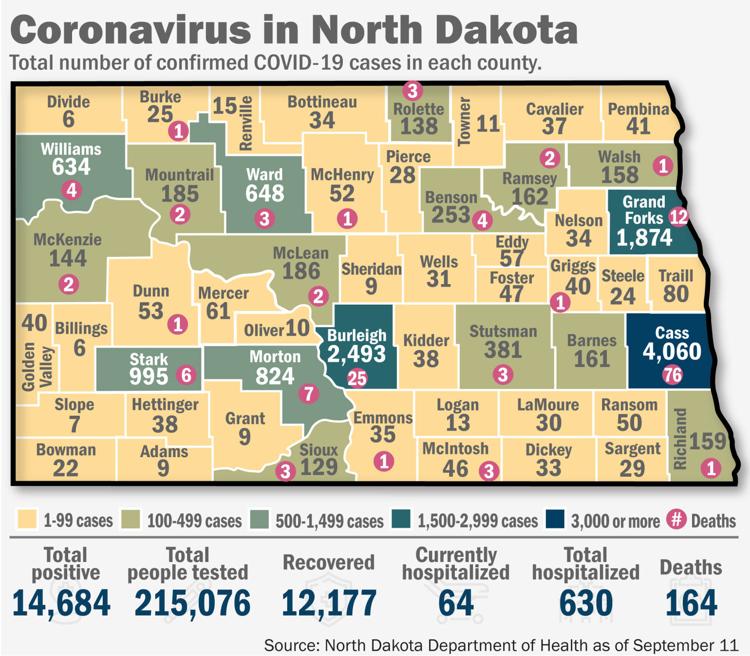 The state conducted drive-thru screening of 426 people in the LM Wind Power parking lot last week, helping identify 128 cases of COVID-19 tied to the plant that manufactures wind turbine blades. There are nearly 900 workers at the plant, which is temporarily shut down, and more testing was planned Thursday, according to North Dakota National Guard Maj. Gen. Alan Dohrmann.
That testing is part of the state's strategy to target health care workers, vulnerable people such as those in long-term care facilities, and large businesses with positive cases.
"The results of these focused and strategic testing efforts are guiding our decisions moving forward and are a key component of the ND Smart Restart," he said, referring to the state's plan to rebuild economic activity in stages. It has eight requirements, including widespread rapid testing.
The state has conducted large-scale drive-thru testing similar to what is being done in Grand Forks in other areas, including rural Slope and Stark counties, the Spirit Lake Indian Reservation and the Fort Berthold Indian Reservation. The reservation efforts resulted in about 700 people being tested, according to Dohrmann.
Mountrail County, which houses Fort Berthold, has two new reported cases, bringing its total to 33, fifth-most in the state. Burleigh County, which is home to Bismarck and has the third-most cases at 67, also has two new cases.
Other new cases reported Thursday were one apiece in Burke and Richland counties, bringing the daily total to 32.
The statewide case total rose to 709, but the number of active cases dropped by nine to 425. The number of people who have recovered from the disease -- 269 -- increased by 40 from the previous day, which was a daily high, according to Burgum. Current hospitalizations also dropped, by five, to a total of 18. The number of people who have been hospitalized at some point is 65, up three.
State and private labs have tested 16,330 people for COVID-19, with 15,621 being negative. There were 741 tests on Wednesday. The state's goal is to expand to 1,800 tests per day by the end of the month and up to 3,000 tests per day in May, according to Dohrmann.
Burgum has stressed that because testing data lags and not everyone is tested, the actual number of positive cases in the state could be 10 times higher.
"We believe there are positives in every corner of the state," he said.
Most people who get COVID-19 recover, experiencing only mild or moderate symptoms such as fever and cough. Others, especially the elderly and people with existing health problems, can experience more severe illness, including pneumonia.
Concerned about COVID-19?
Sign up now to get the most recent coronavirus headlines and other important local and national news sent to your email inbox daily.