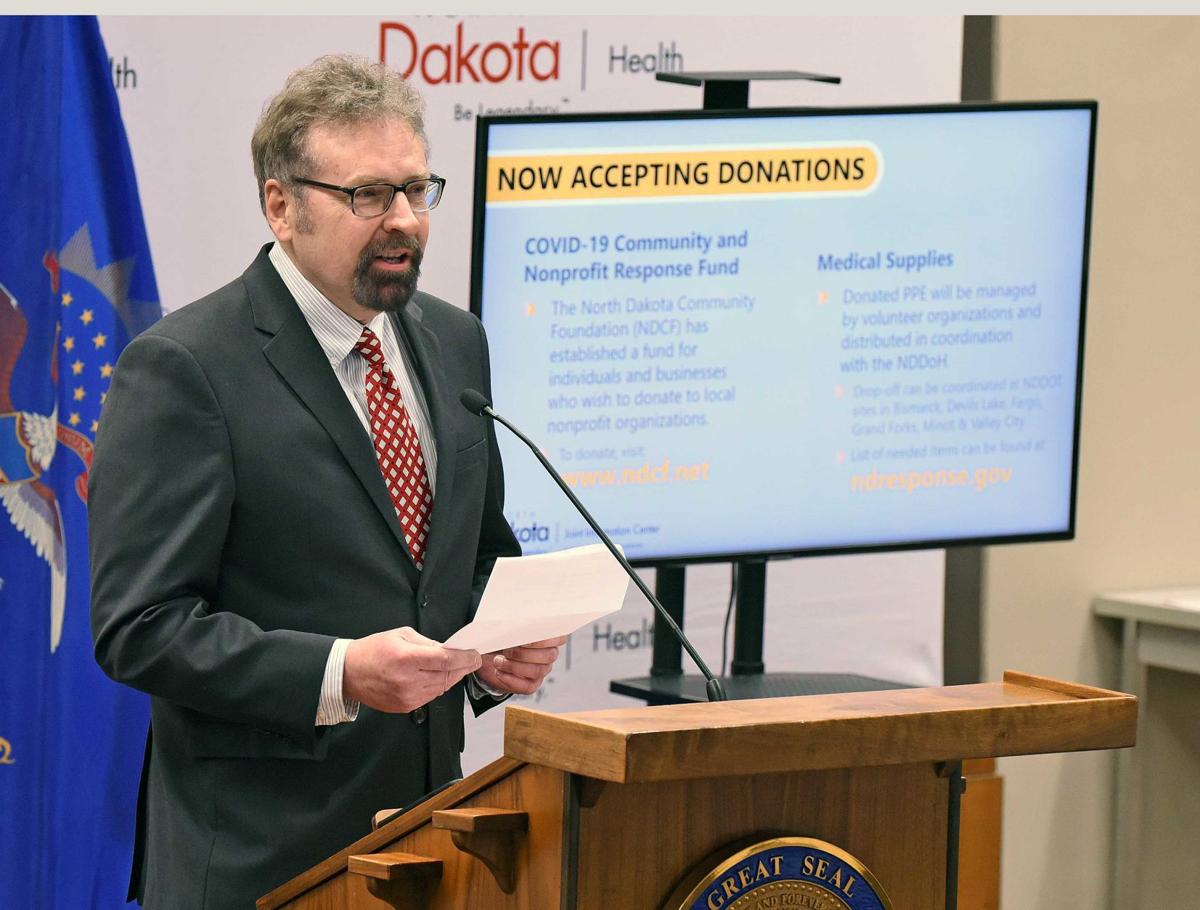 Federal funds are beginning to fall into place for North Dakota's response to the coronavirus pandemic.
The state's Emergency Commission -- comprising Gov. Doug Burgum, Secretary of State Al Jaeger and four legislative leaders -- voted unanimously on Thursday to accept federal funds in accordance with state agencies' spending authority. State agencies that want to accept federal funds for which the Legislature hasn't budgeted have to get commission approval. They also must spend the money for its designated purpose.
Most of the money is from the $2.2 trillion CARES Act economic rescue package recently approved by Congress and signed by the president.
$17.9 million for North Dakota's Department of Transportation related to rural transit administration

$36.6 million for the state's Department of Public Instruction to distribute to school districts 

$42.7 million for the state's Department of Human Services related to Medicaid and other assistance

$36 million for Human Services to support child care providers with grants

$200,000 for North Dakota's State Library to provide network access, to purchase internet-accessible devices and to provide technical support for libraries
Those items still require approval from the Legislature's Budget Section before the state agencies can accept the money because the amounts are more than $50,000. A meeting for the group of 43 state lawmakers is being set for Tuesday via telecommunications.
The Emergency Commission also voted unanimously for the state's Department of Emergency Services to accept $5 million from the Federal Emergency Management Agency and to use $30 million in borrowing authority from the Bank of North Dakota.
That money is to prepare hospitals' response to the pandemic and to establish capacity for as many as eight rudimentary care facilities -- or field hospitals -- in North Dakota. Federal money is expected to reimburse the loan. The Department of Emergency Services' item doesn't require the legislative approval due to the nature of the pandemic as an imminent threat to residents' safety.
President Donald Trump on Wednesday approved Burgum's request for a presidential disaster declaration in North Dakota. The designation makes federal funds available to help the state's response to the unfolding pandemic.
Burgum has said it's too soon to know what the disaster declaration might mean in terms of actual dollars -- that the state will track its receipts as the emergency proceeds. The Department of Emergency Services on Thursday outlined its and the Department of Health's expenses and orders so far related to the pandemic response -- $6.7 million for such things as personal protective equipment, hospital ventilators and lab equipment.
The federal funds approved for acceptance on Thursday are an initial round of distributions, state Office of Management and Budget Director Joe Morrissette said. 
"It's so new, we're still waiting on federal guidance and figuring out the mechanism that the feds are going to use to allocate that money to the state, but at this time these are the agencies that knew for sure that they would be getting this amount of money," he told the Tribune.
Separately, the U.S. Department of Housing and Urban Development has awarded more than $11.2 million to North Dakota and tribes in the state to help combat the coronavirus outbreak, according to U.S. Sens. John Hoeven and Kevin Cramer, both R-N.D. The money also is through the CARES Act.
The state is getting nearly $2.35 million in additional Community Development Block Grant funding to provide resources to address COVID-19. In addition, Bismarck is getting $239,000, Grand Forks $268,000 and Fargo $464,000.
The state also is getting $1.67 million in Emergency Solutions Grant funding to provide emergency homeless shelters with sanitary supplies and services.
The Indian Housing Block Grant program is provided $2.3 million to the Turtle Mountain Band of Chippewa, $1.7 million to the Standing Rock Sioux, $1.3 million to the Three Affiliated Tribes and $884,000 to the Spirit Lake Sioux.
New cases
Confirmed cases of COVID-19 in North Dakota have risen to 159, with the state Department of Health on Thursday reporting an additional 12 cases of the disease resulting from the new coronavirus -- half of them in Cass County.
North Dakota's most populous county, which is home to Fargo, now has 43 confirmed cases. The increase has been expected, as results come in from a batch of 300 tests collected in the county that were sent to a backlogged national lab. 
None of the new cases is in Burleigh or Morton counties, but two are in Stark County, where cases have been steadily rising in recent days. Stark County, home to Dickinson, now has 18 cases, compared to 14 in Morton County and 32 in Burleigh.
Other new cases are in Mountrail, Ward and Williams counties. Gov. Doug Burgum has stressed that because testing data lags and not everyone is tested, the actual number of positive cases in the state could be 10 times higher.
Statewide, three people have died, 28 have been hospitalized and 43 have recovered. State and private labs have tested 4,980 people, with 4,821 being negative.
Burgum said North Dakota is weeks behind where many other states are at in terms of cases.
"We're still in the beginning stages of the work that we're doing to try to slow the spread," he said.
The state Department of Health on Thursday began changing how often it provides case updates. The state had been releasing numbers twice a day -- once in the morning and once in the afternoon. Some of the cases were from the previous day and some from the same day.
The new cases reported Thursday were those confirmed between 3 p.m. and midnight Wednesday. Going forward, the updates that will be provided once a day, in late morning, will include all cases confirmed the previous day.
"As the numbers increase, this allows the department time to investigate individuals who test positive before we report to the public," the agency said in a statement.
Necessary supplies
State transportation and health officials teamed up this week to begin delivering medical supplies to 49 hospitals around the state. Six drivers have hauled about 40% of the personal protective equipment such as gowns, gloves and masks in the state medical cache. Deliveries began Monday and will continue daily.
"We want every hospital in the state to have supplies on hand and be prepared as possible to deal with the effects of this global pandemic," Transportation Director Bill Panos said in a statement.
Separately, people who want to donate personal protective equipment can drop off items at Department of Transportation sites in Bismarck, Devils Lake, Fargo, Grand Forks, Minot and Valley City. A list of needed items can be found at ndresponse.gov.
People or businesses who want to donate to local nonprofits can do so through the COVID-19 Disaster Response & Recovery Fund overseen by the North Dakota Community Foundation, which seeded the fund with $50,000.
The first grants from the fund will be made by mid-April, according to Community Foundation President and CEO Kevin Dvorak.
"We are already in the process of receiving grant requests from all across North Dakota," he said. "The need is great."
Other matters
Burgum applauded the Thursday announcement by Blue Cross Blue Shield of North Dakota -- the state's largest health insurance carrier -- that it is waiving out-of-pocket costs for members needing inpatient or outpatient treatment for COVID-19. Out-of-pocket costs include co-pays, deductibles and co-insurance charges.
"This is a very generous act," Burgum said, urging other providers to follow suit.
Blues President and CEO Dan Conrad in a statement said "We felt it was important to do what we can to remove some level of financial uncertainty in the midst of this unprecedented crisis."
Burgum issued an executive order Thursday allowing school boards to hold elections by mail-in ballot only. Some school districts hold their elections well before the June primary.
The governor also urged people to follow the request of the North Dakota Grocers Association to take precautions while grocery shopping, such as practicing social distancing and using sanitizing stations, and sending one person per family on the shopping trip.
"Everybody knows we've got to shop for food," Burgum said. "For some people maybe this is becoming the exciting, get-out-of-the-house entertainment for the whole family."
Concerned about COVID-19?
Sign up now to get the most recent coronavirus headlines and other important local and national news sent to your email inbox daily.