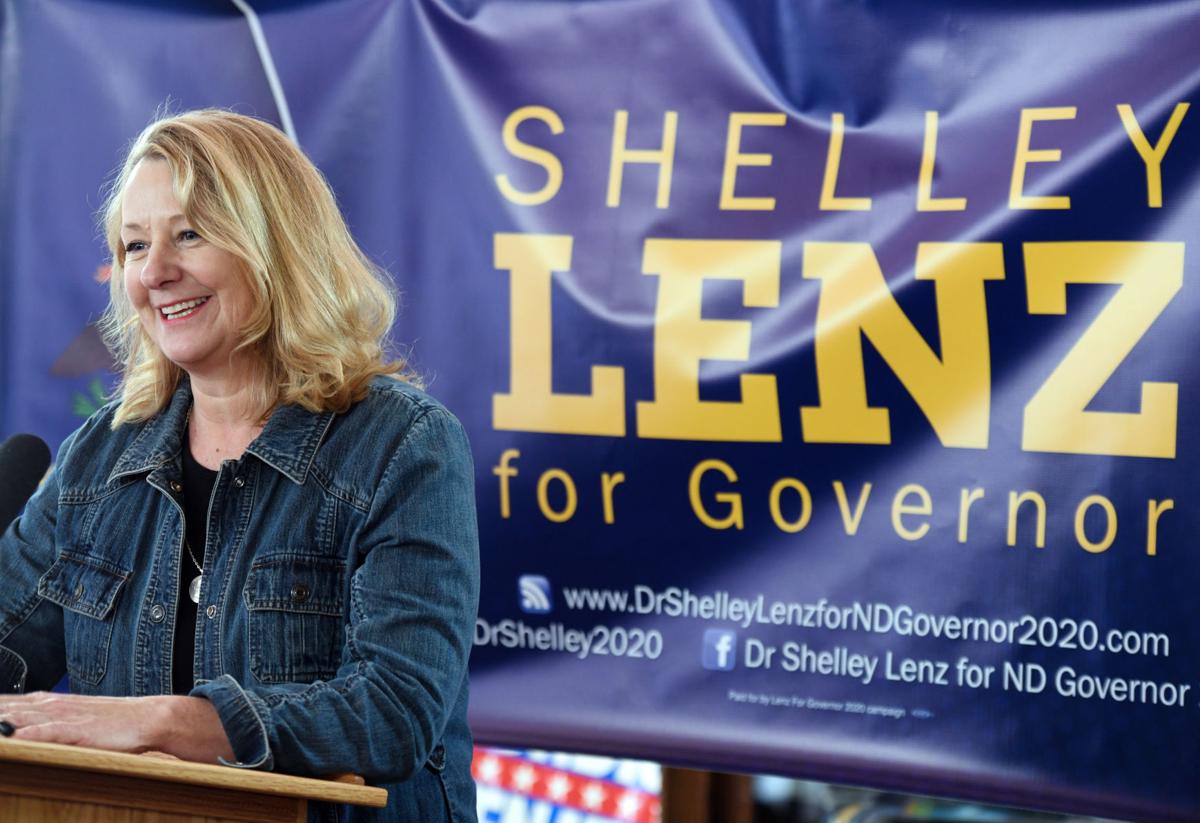 North Dakota on Thursday set a new single-day high of 134 COVID-19 cases, and health officials reported two more deaths from the respiratory disease.
The same day, the Democratic-NPL candidate for governor said she intends to seek myriad details from her political opponent and health officials related to the state's coronavirus pandemic response.
Shelley Lenz said her attorney on Thursday planned to file an open records request with Gov. Doug Burgum's office and North Dakota's Department of Health.
Lenz, a veterinarian in Dickinson and Killdeer, is running with former state representative Ben Vig, a Sharon-area farmer. They are expected to face Republicans Burgum and Lt. Gov. Brent Sanford and Libertarians DuWayne Hendrickson and Joshua Voytek in November. Democrats last won the governor's office in 1988.
Lenz told the Tribune her request comes after a May 7 letter that she, Vig and nine Democratic-NPL state lawmakers sent Burgum requesting public access to extensive information guiding North Dakota's pandemic response. She said the letter received no reply, leading her to file her records request, which she stressed she did in her personal capacity as a citizen and a business owner.
"This is what we do when our officials are not being transparent and may be overstepping their bounds," Lenz said.
Burgum in March closed or restricted bars, restaurants, gyms, movie theaters and state facilities due to the pandemic. His administration crafted "ND Smart Restart" guidelines for rebuilding economic activity, eventually lifting business restrictions on May 1 and unveiling guidance for various industries and activities.
Lenz's request is similar to the May 7 letter in asking for records of pandemic modeling data and inputs, names of advisers to the governor's office on the pandemic and their compensation, available COVID-19 tests in the state and distribution plans, testing backlog information, antigen and antibody testing plans, testing capacity plans, "Phase 2" plans of Burgum's "ND Smart Restart" guidance, details for terminating North Dakota's state of emergency declaration and information of any supply shortages.
Lenz said her background as a veterinarian and a scientist led her to question Burgum's decision making and conclusions, which she says don't match other experts'.
"When my conclusions don't match another scientifically reasonable person, we have to look at is the data different? Is the modeling different? Is the assumptions different? Or is there a bias that we accidentally didn't remove from our scientific analysis?" said Lenz, who holds a double degree in chemistry and biology, a Ph.D. in neuropharmacology and a doctorate of veterinary medicine.
Governor's spokesman Mike Nowatzki said Burgum intends to respond to the Democrats' letter.
"We get a lot of, many, many information requests on a daily basis, so we're trying to get through all of them," he said.
As of 4:15 p.m. Thursday, the governor's office had not yet received Lenz's records request, which Nowatzki said would be fulfilled "just like we would for any other constituent."
Most of the 134 new COVID-19 cases confirmed Thursday were in Cass County, home to the state's largest city of Fargo, where 93 positive cases were confirmed. Ward County, home to Minot, had 24 new cases, Emmons County in south central North Dakota had six and Burleigh County, home to Bismarck, had four.
The counties of Bottineau, Grand Forks, Mercer, Morton, Pierce, Ramsey and Richland each had one new case.
One of the men who died was in his 70s and the other was in his 90s, officials said. Both had underlying health conditions. Their deaths bring the state's total to 51.
Thirty-eight individuals were reported as recovered in the last day, bringing the total to 1,340. A total of 144 people have been hospitalized by the disease, and 39 of those remain so.
A total of 61,279 people have been tested, with 2,079 of those completed in the last day. The total number of tests completed stands at 74,760, up by 2,757 from yesterday. Test results include people who have been tested more than once.
Of those tested, 59,050 have been negative, up by 1,945 from yesterday and 2,229 have been positive.
Concerned about COVID-19?
Sign up now to get the most recent coronavirus headlines and other important local and national news sent to your email inbox daily.