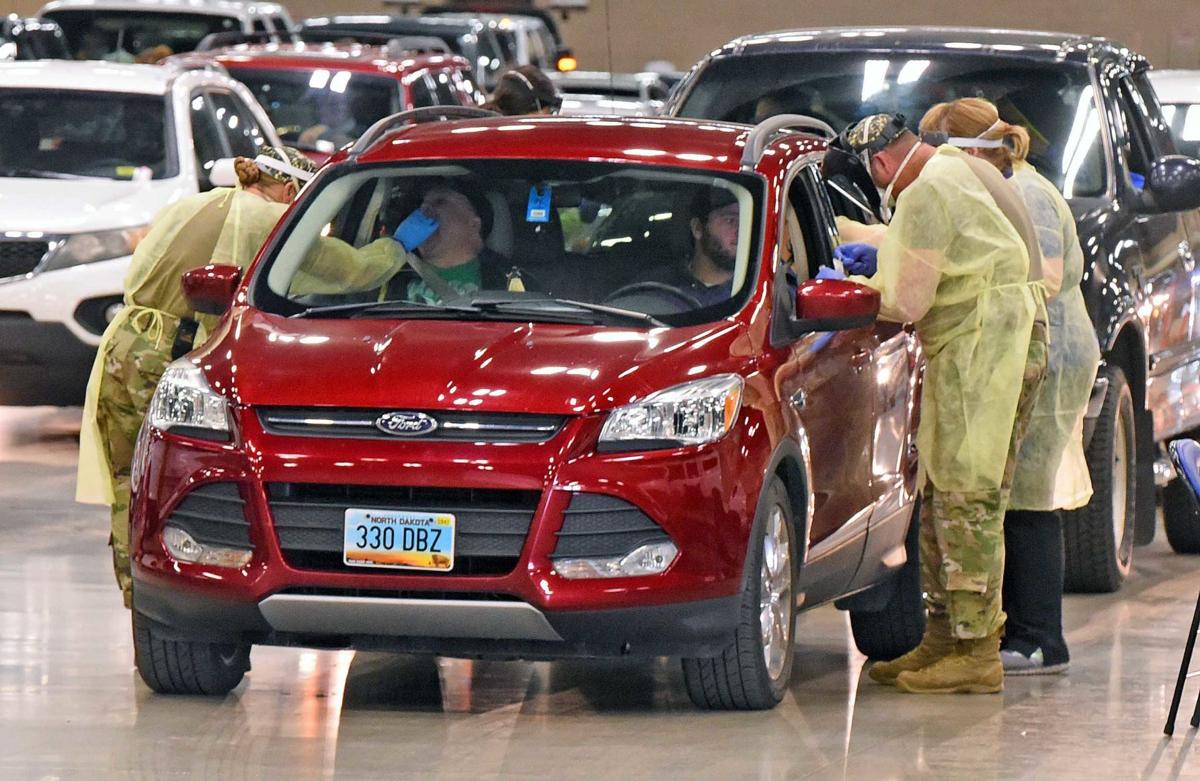 Coronavirus-related hospitalizations in North Dakota have dropped for a third straight day, but active cases of COVID-19 are up again after four straight days of declines.
Meanwhile, pediatricians in the region issued a plea for more pandemic measures, the North Dakota National Guard reached a record for mission support hours, and Burleigh and Morton counties marked a grim milestone -- 175 coronavirus-related deaths since the onset of the pandemic in mid-March.
The Department of Health on Thursday reported 1,386 new COVID-19 cases, including 200 in Burleigh-Morton, raising the state total to 68,612. Active cases statewide rose by 154, to 10,131, including 1,922 in the Bismarck-Mandan region. 
Coronavirus-related hospitalizations dropped to 276 -- 17% below Monday's all-time high of 332. Statewide, there were seven staffed intensive care beds open and 187 non-ICU beds, according to the most recent state data. In Bismarck, Sanford Health had one staffed ICU bed available, and CHI St. Alexius Health had none. Both had eight non-ICU staffed beds open.
Health officials reported the deaths of 10 more people with COVID-19, including two in Burleigh County, raising the state's pandemic death toll to 795. The new victims, in eight counties, were in their 60s, 70s and 80s.
There have been 57,686 recoveries statewide since mid-March and 2,338 hospitalizations. The number of state residents tested for coronavirus at least once is at 331,169 and total tests number 1,043,959, including 10,325 completed Wednesday.
Pediatrician plea
Pediatricians in the Upper Midwest sent a letter on Wednesday to the governors of North Dakota, South Dakota and Minnesota, urging them to implement more measures to stem the spread of COVID-19.
"As pediatricians, we are deeply concerned about increased spread throughout the holidays, resulting in a substantial number of children who may become sick, hospitalized or asymptomatic carriers," said the letter penned by the presidents of each state's chapter of the American Academy of Pediatrics. "Additionally, increased spread will have a ripple effect on health care, childcare and education communities. Indeed, all families and every community, will be deeply impacted."
Gov. Doug Burgum in the past week has approved measures including a mask mandate and capacity restrictions on businesses. Minnesota Gov. Tim Walz has ordered the shutdown of bars, restaurants and fitness centers. South Dakota Gov. Kristi Noem has showed no sign of issuing a mask mandate or imposing other restrictions.
Guard milestone
The North Dakota National Guard's COVID-19 support has exceeded the Guard's efforts during flooding in the state nine years ago.
The Guard on Thursday reached 67,495 personnel days, surpassing the record 67,264 personnel days worked in 2011.
The Guard was first activated on March 16 and has provided support for nearly 250 straight days, besting the 2011 response of 142 days. Nearly 700 soldiers and airmen have performed COVID-19 response duty. About 270 remain on COVID-19 duty, helping administer tests, aiding in response planning, and helping deep clean at long-term and congregate living facilities.
"Our soldiers, airmen and civilian employees have performed exceptionally well during this emergency response in a multitude of tasks," said Maj. Gen. Al Dohrmann, North Dakota's adjutant general. "I am proud of their efforts in this battle to contain this virus in support of the citizens of North Dakota while continuing to conduct much of their normal duties, supporting our federal missions and maintaining readiness."
Risk levels
In North Dakota, a statewide mask mandate is in effect, along with enforced capacity restrictions for bars, restaurants, and various event venues. Violations could be punishable by a fine of up to $1,000. Repeat violations could lead to a fine up to $1,500 and 30 days in jail. For more information, go to https://bit.ly/38NiT4r and https://bit.ly/3kDdVtb. 
All North Dakota counties are in the orange "high risk" level on the state's five-level color-coded system. The risk level determines coronavirus-related protocols in place under the ND Smart Restart Plan for everything from businesses to family gatherings. Those protocols are not enforced.
Concerned about COVID-19?
Sign up now to get the most recent coronavirus headlines and other important local and national news sent to your email inbox daily.