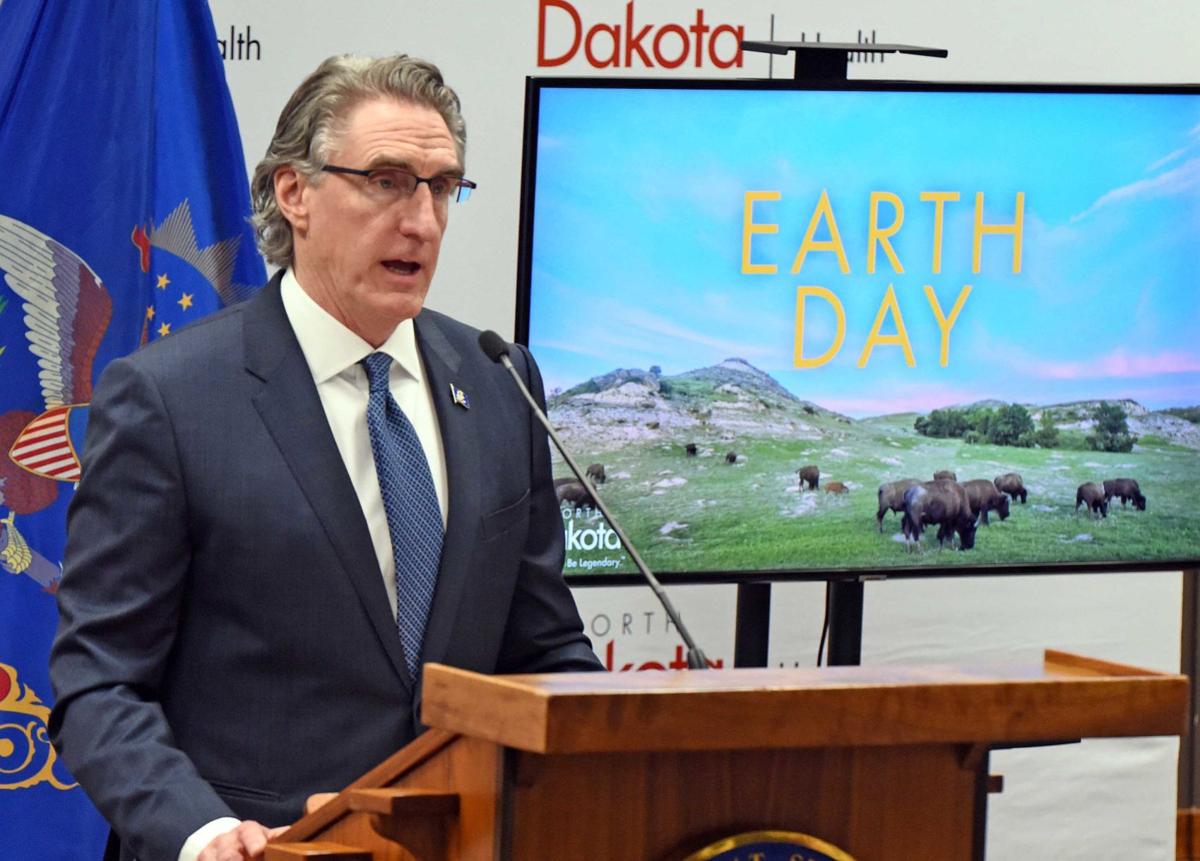 The COVID-19 death toll in North Dakota's most populous county has risen to seven, and the state's total double that, with health officials reporting Wednesday that a Cass County man in his 40s with underlying health conditions died from the coronavirus disease.
It raises the state's death total to 14, and the victim was the youngest so far. Previous victims who lived in Morton, Stark, Emmons, Ward and McHenry counties have mostly been in their 70s to 90s, with one death each in the 50s and 60s ranges. 
The state Department of Health reported 35 new positive coronavirus cases confirmed the previous day. Eighteen were in Cass County, home to Fargo, and 11 were in Grand Forks County, where there was an outbreak last week at the LM Wind Power plant in the city of Grand Forks.
Two of the new cases were in Burleigh County, home to Bismarck, bringing the county's total to 65, third-most in the state behind 274 in Cass County and 154 in Grand Forks County.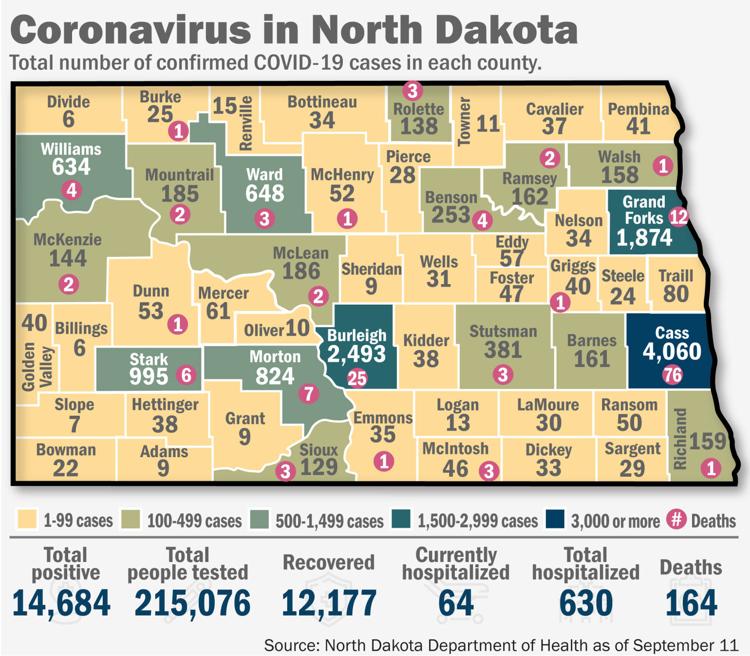 Other new cases were in Richland, Stark, Ward and Wells counties. A case attributed Tuesday to Sioux County, its second, was reallocated to Cass County on Wednesday after more investigation by the state. Sioux County is home to the northern half of the Standing Rock Sioux Reservation.
Confirmed cases statewide now total 679. Gov. Doug Burgum has stressed that because testing data lags and not everyone is tested, the actual number of positive cases in the state could be 10 times higher.
Statewide, 62 people have been hospitalized since the outbreak began -- up eight from the previous day. Twenty-three remain so, up six.
"That's our biggest single-day jump in hospitalizations," Burgum said during an afternoon briefing.
A total of 229 people have recovered, up 15 from the previous day. There were 436 active cases on Wednesday.
"That's more than double the 214 that we had last Wednesday ... when we made a decision to hold off" on allowing businesses such as bars and restaurants and hair salons to reopen, Burgum said. He ordered them closed last month, and they will remain so at least until April 30.
Some people advocate for an earlier reopening -- including about 150 people who protested at the Capitol on Monday. Burgum has stressed that about 80% of North Dakota businesses remain open. The state's "ND Smart Restart" plan to rebuild economic activity in stages has eight requirements, including widespread rapid testing.
State and private labs have tested 15,589 people for COVID-19, with 14,910 being negative. There were 602 tests on Tuesday, and the state lab continues work to increase testing capacity, according to Burgum and North Dakota National Guard Maj. Gen. Alan Dohrmann.
"This week we added nine new lab technician professionals to help meet our goal of expanding to 1,800 tests per day by April 30," Dohrmann said. "The lab is also adding an additional six pieces of equipment that we hope will bring our test capacity up to 3,000 tests per day by next month."
The facility has added a mobile lab with three workers to increase capacity, and the state also is providing testing supplies including rapid-testing machines to health care providers around the state.
Most people who get COVID-19 recover, experiencing only mild or moderate symptoms such as fever and cough. Others, especially the elderly and people with existing health problems, can experience more severe illness, including pneumonia.
Other matters
Burgum said state officials are aware of complaints that some self-employed businesses such as hair salons and massage parlors that were ordered to shut down are being rejected for unemployment. He noted that Job Service North Dakota has seen three years' worth of claims in a little more than a month but encouraged business owners experiencing problems to "keep reaching out because we want to solve your problem." The governor said that new unemployment programs "were designed specifically to help those self-employed individuals," and that it might take enlisting the help of the state's congressional delegation to pursue changes to ensure those businesses aren't left out.
Officials hope to fully open state parks by Memorial Day weekend. Parks remain open for hiking and visitation, but reservations and in-person programming are shut down. "If we're challenged with continued outbreaks, we may push cancellations out further (but) May 21 is when we're accepting reservations," the governor said.
The state has decided not to describe people who test positive for COVID-19 beyond their age, gender and county, according to Burgum. Officials in the past week decided not to release additional information, including the zip code of a positive case, he said. "We have some cases where we had already released gender, age and county and so then if you add zip code, like 'Arthur (ND) 58006,' and you said 'hey, we've got a male in the 30s that lived in 58006,' we'd be basically telling the whole world who's got COVID, and that would, I think, cross the threshold that we are willing to cross relative to releasing protected personal health information," the governor said.
Concerned about COVID-19?
Sign up now to get the most recent coronavirus headlines and other important local and national news sent to your email inbox daily.