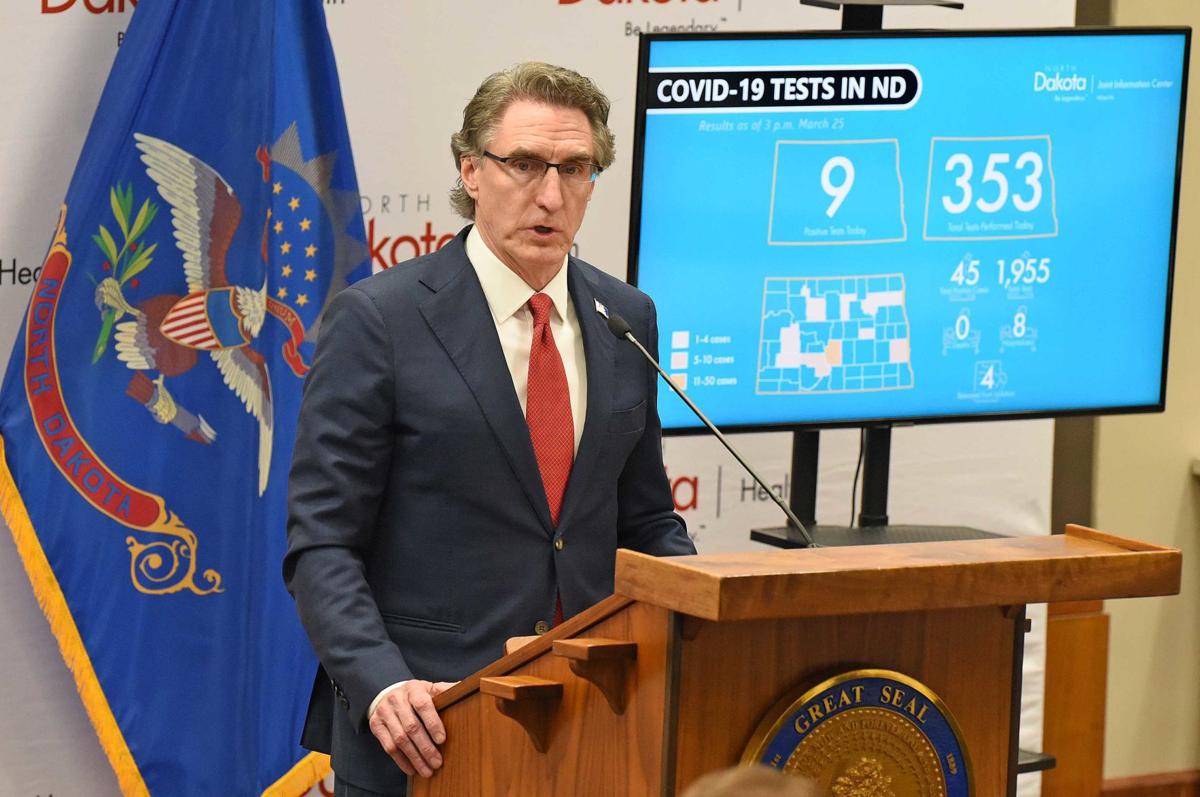 North Dakota is extending workers' compensation benefits to any first responders and health care providers who contract COVID-19 on the job, as the state sees further spread of the disease caused by the new coronovirus, with nine additional cases reported along with one more hospitalization.
"The environment of someone who's working as a first responder significantly increases their direct exposure to COVID-19 as they're working to help others and save others' lives," Gov. Doug Burgum said during an afternoon briefing Wednesday.
"The scope of this order is broad -- it's intended to cover firefighters and law enforcement and ambulance service providers including our volunteer rural ambulance providers, medical service providers, volunteer first responders, all those that are critical in the fight against COVID-19," Burgum said.
New cases
The statewide total rose to 45 positive cases, with seven counties showing more than one case. Morton County's total rose to eight, bumping the Burleigh-Morton total to 26, by far the most for any area in the state.
The new cases documented by the state Department of Health were in a Morton County man in his 30s, a Foster County man in his 50s, a Ramsey County man in his 60s, a Ramsey County woman in her 70s, a Stark County woman in her 30s, a Stark County woman in her 60s, and a Cass County woman and two men, all in their 50s. The source of infection was community spread for at least three of the cases, and possibly travel for another. It was still under investigation for the others.
Burleigh, Morton, Cass, Ward, Pierce, Ramsey and Stark counties now all have more than one case.
State and private labs have now conducted 1,955 total tests, with 1,910 being negative. There have been eight hospitalizations, and no deaths. The state has not released details on the hospitalizations.
Burgum has consistently said that based on what other states have experienced, North Dakota can expect the number of cases to continue to rise. The goal, he has said, is "flattening the curve" and keeping the caseload from surpassing the capacity of hospitals.
That includes boosting testing, and Burgum said "we're closing in on statewide testing," with tests received from 50 of the state's 53 counties.
The Department of Health has more than 1,150 test kids available to be sent to health care providers around the state, and enough supplies at the state lab for nearly 3,250 more tests.
"We at least have the ability to more than double the number of tests that we've taken, in the coming days, if that many tests are recommended by health providers," Burgum said, adding that "We want to move from testing people in the thousands to testing tens of thousands of people."
The state is assembling a testing task force with help from the private sector. That could lead to testing help from the University of North Dakota, North Dakota State University and the Aldevron biotech firm in Fargo, Burgum said.
A task force also is looking at boosting health care capacity. That could involve converting existing structures or building field hospitals.
"The goal that we have is to take the number of beds that we have in North Dakota, increase the percentage of those that would be able to handle an ICU situation, and then possibly create even more beds beyond that," Burgum said.
Executive order
Burgum on Wednesday signed an executive order extending workers' compensation benefits to first responders and health care providers who contract COVID-19 on the job.
Workers' comp in North Dakota doesn't cover viruses, or loss of income should a first responder or health care worker be sidelined due to exposure to the coronavirus.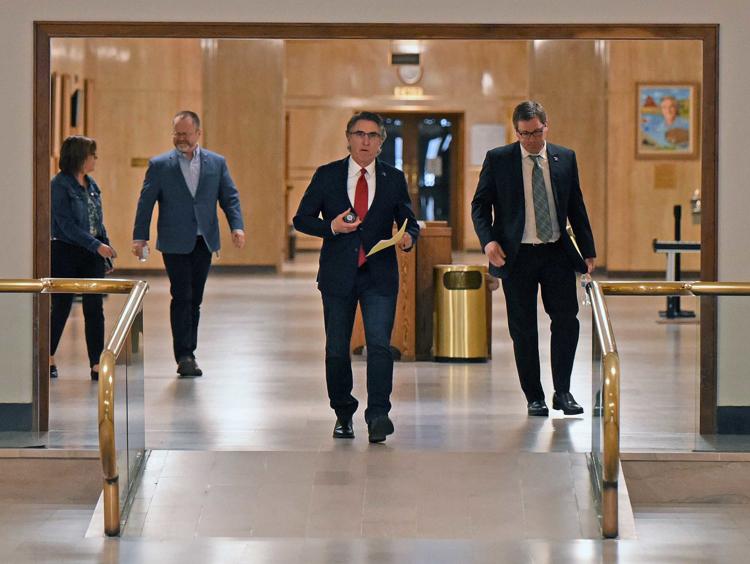 "It's imperative today under these extraordinary circumstances that we extend coverage to our front line personnel," Burgum said.
His order provides coverage for first responders and health care workers who contract COVID-19 on the job, as well as 14 days of medical and wage replacement benefits for workers who are quarantined.
People covered by the order amount to 10% of the state's population, according to the governor -- more than 64,000 medical providers, 11,000 paid firefighters and 7,700 volunteer firefighters, 5,900 law officers and nearly 900 ambulance personnel.
Coverage is backdated to March 13, the day a state emergency was declared.
Equipment donation drive
Burgum also detailed efforts underway to boost equipment available to medical providers. Officials are looking into whether Roughrider Industries at the State Penitentiary can make N95 face masks, and the private sector also is trying to help out, he said.
The North Dakota AFL-CIO in partnership with several groups will be hosting a personal protective equipment donation drive this weekend at Labor Halls in Bismarck and Fargo.
Unions will be accepting donations of new N95 masks and other protective equipment, which will be distributed to hospitals in North Dakota.
"It's incredibly important that we ensure the health and safety of the front line workers in health care, always, but especially in this pandemic," North Dakota AFL-CIO President Landis Larson said in a statement. "These workers having the proper personal protective equipment is vital to all our health and safety."
Being accepted are: certified N95 masks from health care or construction uses, new and unused Tyvek/Hazmat suits, safety goggles, latex-free gloves, electric respirators and PAPRs. 
Other groups involved are the Minnesota Nurses Association, North Dakota Building Trades Unions, West Area Labor Council/Red River Valley, Northern Plains United Labor Council and the Red River Building Trades Council.
The Bismarck Labor Temple is at 1323 E. Front Ave. Donation times are 12-2 p.m. Saturday and Sunday. People bringing donations are asked to remain in their cars.
Medicaid webinar set
Burgum also announced that North Dakota has received federal approval to have more flexibility in its Medicaid program due to the coronavirus.
That will enable North Dakota to temporarily change select Medicaid requirements to ensure sufficient health care services and resources are available to people enrolled in the program during the coronavirus pandemic, according to the state Department of Human Services.
The agency will host a webinar to provide updated information and answer questions pertaining to Medicaid services and COVID-19. The webinar is from 1-2 p.m. Central time on Friday. North Dakota Medicaid providers, advocacy organizations and other stakeholders are invited to participate.
Concerned about COVID-19?
Sign up now to get the most recent coronavirus headlines and other important local and national news sent to your email inbox daily.