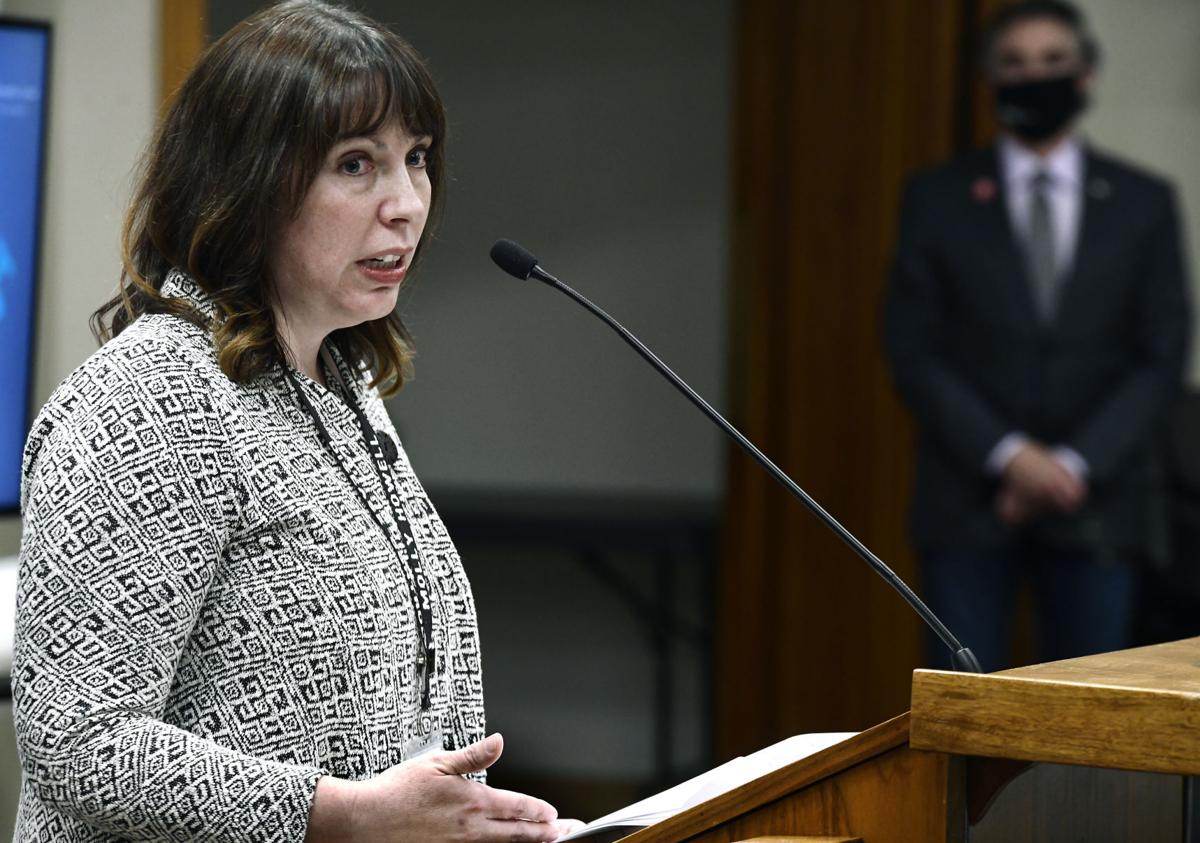 Cases of COVID-19 and hospitalizations related to the coronavirus disease have taken big jumps in North Dakota, and 11 more people including two Burleigh County residents have died, according to state data released Friday.
The Department of Health reported that 651 cases were confirmed Thursday, raising the statewide pandemic total to 26,040. Actives cases rose to 3,964, and hospitalizations increased to 132. All were new records, breaking the previous highs set just a day earlier.
Hospital capacity is a concern around the state and in Bismarck. There were 186 available staffed inpatient beds plus 16 intensive care unit beds in North Dakota on Friday, according to state data. There were just four available staffed beds and one ICU bed in Bismarck, all at Sanford Health; CHI St. Alexius Health had none available.
Sanford Health Bismarck President Michael LeBeau on Thursday said capacity is a "significant challenge" and that residents who have become accustomed to convenient access to health care will need to adapt to longer wait times, different methods of care and possible transfers to other facilities.
Health officials on Friday reported the deaths of a Burleigh County man in his 50s and woman in her 90s, raising the county's pandemic total to 58. Another 41 deaths have been reported in Morton County; no new deaths were listed Friday. Other deaths reported were in McHenry, McKenzie, Mountrail, Nelson, Ramsey, Renville, Richland, Stark and Ward counties.
Victims ranged in age from their 30s to their 90s. All of them had underlying health conditions, according to the health department. They brought the statewide pandemic total to 321; 41 of the deaths have been reported in just the past three days.
The new COVID-19 cases reported Friday included 127 in Burleigh County and 48 in Morton. The combined total was the highest since cases in the region began spiking in August. There are nearly 1,000 active cases in the two counties.
Statewide, there have been 21,755 recoveries and 1,037 hospitalizations since the onset of the pandemic in mid-March. The number of state residents tested for coronavirus at least once is at 255,196 and total tests number 695,621. 
Vaccine update
A limited amount of a COVID-19 vaccine could be available by the end of the year in North Dakota, with larger quantities available sometime in 2021, state Department of Health Immunization Program Manager Molly Howell told the Burleigh-Morton COVID-19 Task Force on Friday.
Howell is leading a committee that's devising a plan for COVID-19 vaccinations in the state, once one is available. There are two leading candidates in clinical trials, she said in her update to the task force.
The first batch of vaccines likely be prioritized for groups such as essential workers, health care employees and people in long-term care facilities, according to the health department. Specific groups that could receive early doses of the vaccine have not yet been finalized.
The process of developing a vaccine is being accelerated by work on the vaccine starting as soon as the virus's genome was available to manufacturers, the federal government helping fund production and the vaccine being manufactured at the same as time as clinical trials, according to Howell. The procedure for most vaccines is to start manufacturing after the clinical trials, she said.
The U.S. Food and Drug Administration has set high standards to approve any COVID-19 vaccine, Howell said. The FDA wants 30,000 people involved in late-stage clinical trials, data from two months after the vaccine was given to ensure safety, and a minimum vaccine efficacy of 50%, she said.
Health care providers have begun signing up with the health department to administer the vaccine, according to Howell. The signup deadline is Oct. 23.
Risk levels
Burleigh and Morton counties are in the yellow "moderate" risk level, which is in the middle of the state's five-level color-coded system. The risk level determines what sort of coronavirus-related protocols are in place under the ND Smart Restart Plan for everything from businesses to family gatherings. The protocols are not enforced.
Twenty-two other North Dakota counties are at yellow, 23 are in the green or "low" risk level and six are in the blue "new normal" level. The state reviews the county risk levels on a weekly basis.