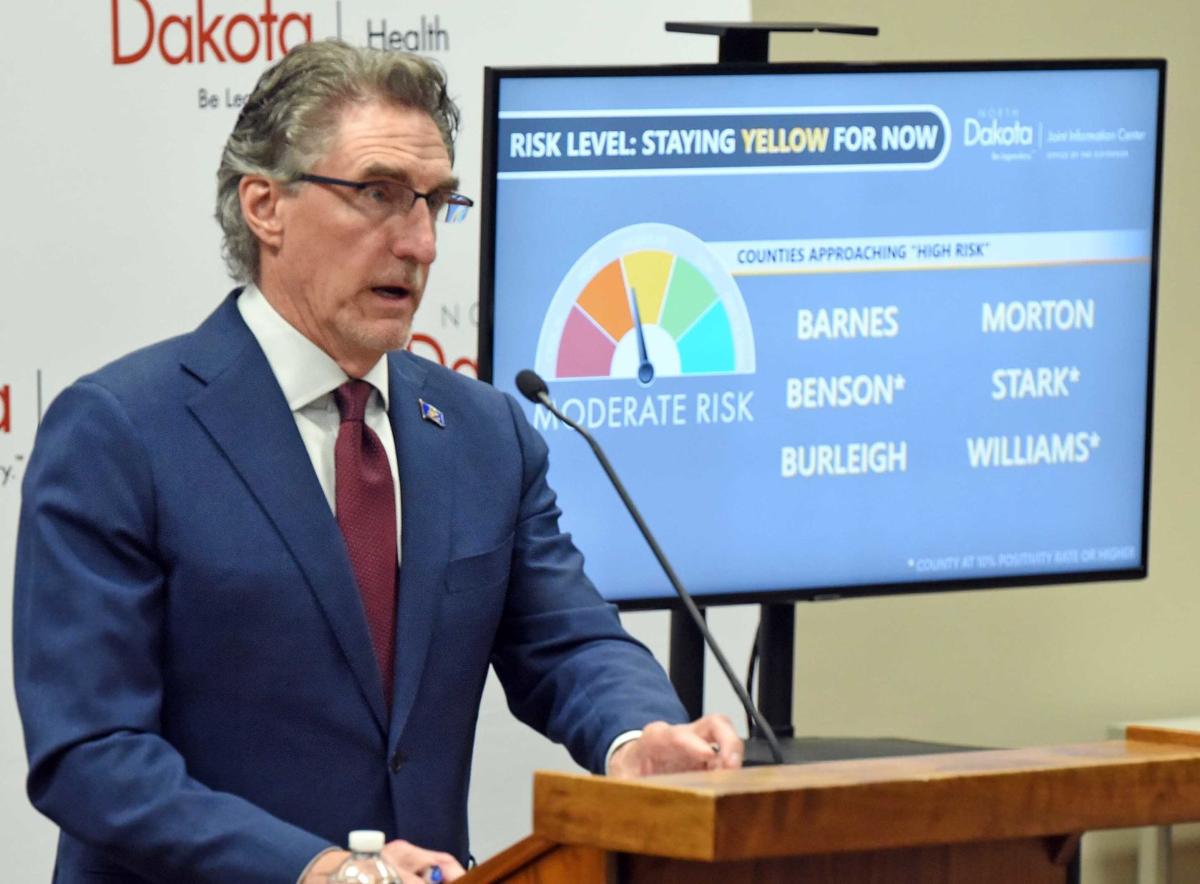 Gov. Doug Burgum on Wednesday ratcheted up the coronavirus risk levels for a dozen North Dakota counties. 
The state Department of Health also reported seven new deaths of people with COVID-19 and a record 3,302 active cases, including 894 in Burleigh and Morton counties.
The new risk levels take effect Friday morning. The risk level determines what sort of coronavirus-related protocols are in place under the ND Smart Restart Plan for everything from businesses to family gatherings. The protocols are not enforced. The state reviews the county risk levels every week.
The following counties will see risk level changes:
Cass, Dunn, Emmons, McKenzie, Richland, Sargent, Stutsman and Ward counties move from green to yellow, or "low risk" to "moderate risk."
Billings, Foster, Mercer and Renville counties move from blue to green or "new normal" to "low risk."
Pembina, Pierce and Rolette counties move from green to blue, or "low risk" to "new normal."
Burgum also said Barnes, Benson, Burleigh, Morton, Stark and Williams counties -- all at yellow or "moderate risk" -- are "approaching high risk," but won't see changes this week. 
With the revised county risk levels, 16 counties are yellow, 25 are green and 12 are blue. 
Burgum's administration on Tuesday night reached out to cities and counties lacking a COVID-19 task force to ask them to pull together teams of local leaders. Burgum didn't name the communities.
Only two COVID-19 task forces have been established in North Dakota, for Burleigh and Morton counties and the Red River Valley. 
Interim State Health Officer Dr. Paul Mariani on Wednesday signed an amended 14-day quarantine order for close contacts of people who have COVID-19. The new order is in line with U.S. Centers for Disease Control and Prevention guidance, Burgum said.
The order previously only covered household contacts. Burgum said quarantine enforcement is up to local jurisdictions. 
Mariani and North Dakota Department of Human Services Executive Director Chris Jones also are working to address rising cases in long-term care facilities, Burgum said. Health officials will be prioritizing coronavirus tests from long-term care facilities and will be stepping up related contact tracing.
The Department of Health also will implement a plan to use EMTs and other first responders to help conduct swab tests, Burgum said. 
The state also awaits new rapid-results tests obtained from the federal government, he said. Burgum said the tests are "high-accuracy" with results available in 15 minutes. He said the tests could ensure long-term care facility visitors are negative upon entering facilities. The state also is looking at changes to air disinfection in long-term care facilities.
The state's death toll stands at 203, including the seven deaths reported Wednesday.
The latest deaths are a Bottineau County man in his 90s, a Burleigh County woman in her 80s, a Burleigh County woman in her 90s, a Morton County man in his 90s, a Morton County woman in her 80s, a Stark County woman in her 80s and a Williams County woman in her 80s. All had underlying health conditions.
Eighty-nine people are hospitalized, down from a high Tuesday of 92. Twenty-five people are in intensive care beds. 
The Department of Health also reported 475 COVID-19 diagnoses in 42 counties from 7,428 tests.
Burleigh County added 79 new cases; Morton added 30.
State and private labs have processed 596,181 tests of 231,852 North Dakota residents, 18,981 of whom have tested positive for COVID-19. Recoveries total 15,476.
Concerned about COVID-19?
Sign up now to get the most recent coronavirus headlines and other important local and national news sent to your email inbox daily.