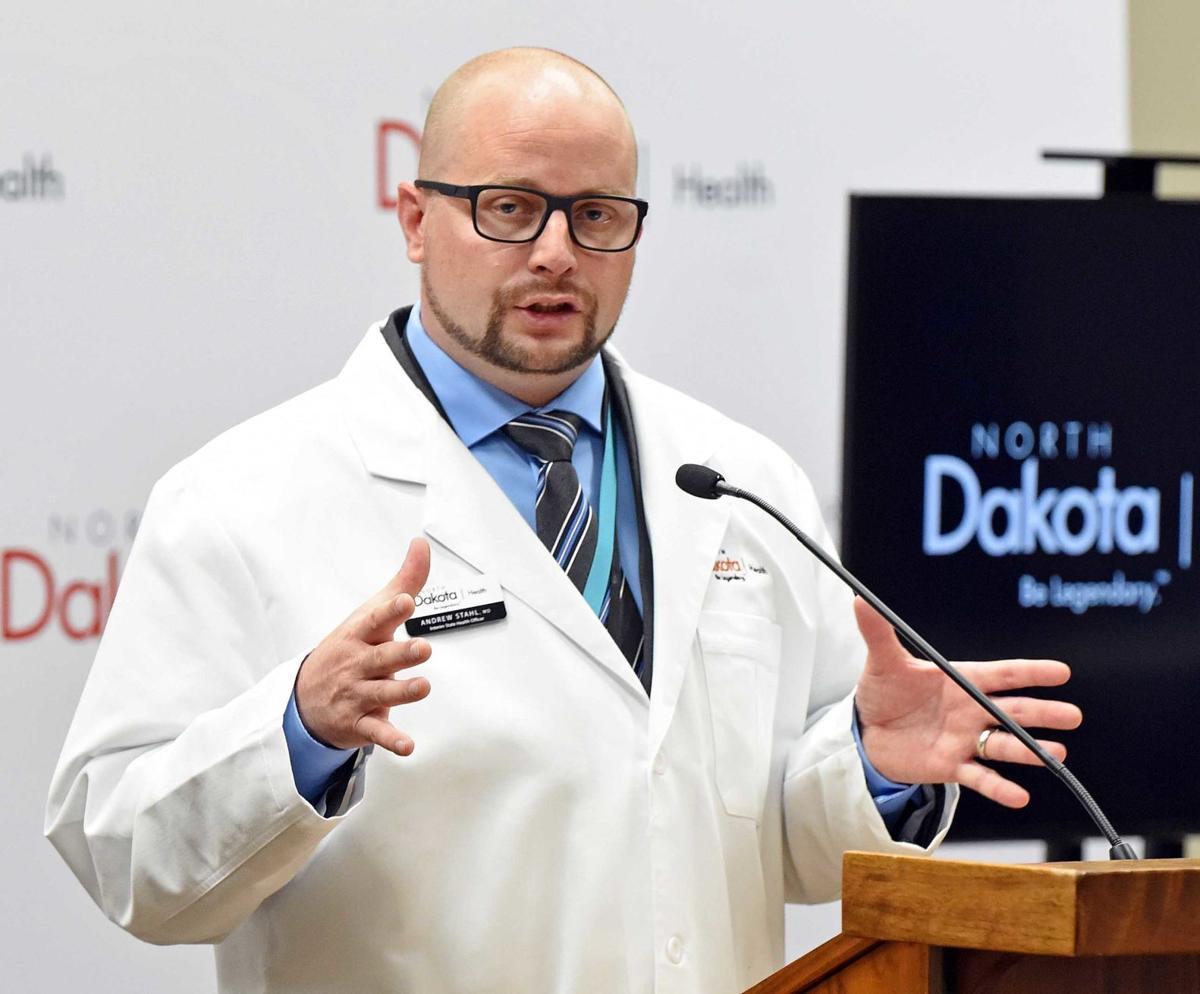 Burleigh and Morton counties now lead the state with the most active cases of COVID-19, and the state has set a new record with 1,166 active cases.
The latest coronavirus data for North Dakota comes as officials made several virus-related announcements Monday, including that the state will take part in a pilot program to develop a vaccination distribution plan.
State leaders are also launching a campaign to encourage mask wearing, though they have stopped short of ordering people to wear masks in public. Officials in 34 states are mandating masks at least to some extent, said Gov. Doug Burgum at his weekly virus press briefing. He said he believes decisions on masks are best made locally by businesses and school districts.
Masks serve "as one of the most powerful weapons we have" in slowing the spread of the virus, said Dr. Andrew Stahl, interim state health officer. He urged parents to set an example for their kids by wearing a mask and said he's glad to see that many school districts are requiring them as students return to class this fall.
Officials are encouraging people to post photos wearing a mask to social media with the hashtag "#MaskUpND." Resources on how to make, wear and care for a mask are available at www.health.nd.gov/maskupnd.
Leaders in the Bismarck-Mandan area have also been promoting masks in recent days as the region continues to be a virus hot spot.
Morton County has surpassed Cass County, home to Fargo, in terms of active cases, according to coronavirus figures reported by North Dakota health officials Monday. Morton has 115 active cases to the 107 active cases in Cass.
For over a month, Burleigh County has had the most active cases in the state. Another 30 cases were reported in the county Monday, bringing its active total to 294. Sixteen more cases were reported in Morton.
Other counties that saw a significant number of new cases Monday include Ward, home to Minot, with 12, as well as McLean County north of Bismarck with 11.
Health officials reported 117 new virus cases statewide Monday.
The latest cases stem from a batch of 4,590 tests processed in labs on Sunday.
Vaccination program
North Dakota is one of four states taking part in a COVID-19 vaccination pilot program to develop a plan for distributing a future vaccine throughout the state.
A team from the U.S. Centers for Disease Control and Prevention and the U.S. Department of Defense is coming to Bismarck to work with officials here on the plan.
"One of the reasons we were selected is because of our strong relationship with tribal nations to make sure they have a seat at the table," Gov. Doug Burgum said.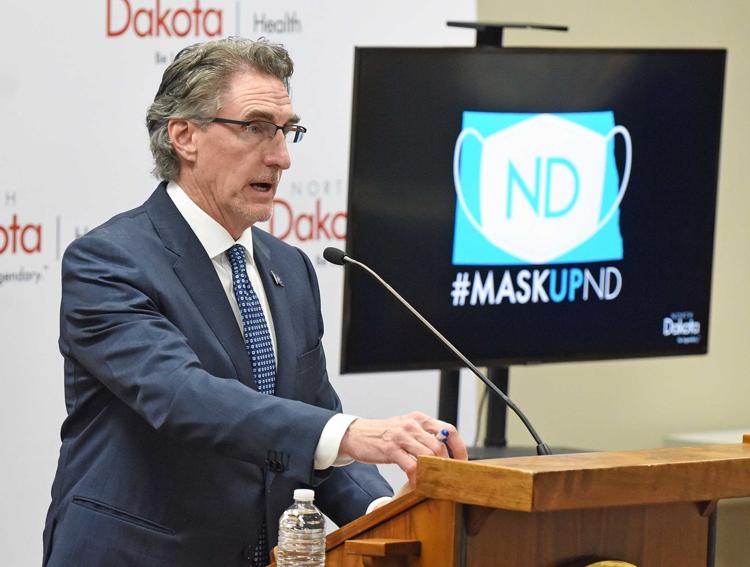 The state's participation is not a sign that North Dakotans will be among the first to obtain a vaccine once one is available, he said. Rather, officials will work through the logistics of one day distributing a vaccine throughout North Dakota.
Such distribution plans will likely ensure that vulnerable populations are among the first to get vaccinated, Burgum said. Florida, California, Minnesota and the city of Philadelphia are also taking part in the pilot program.
Education
The state's education chief anticipates that many school districts will encounter cases of COVID-19 in schools, saying Monday that contact tracing efforts and strong partnerships between education officials and local health departments will be key in containing and mitigating the spread.
"If you are in a school district that doesn't have a confirmed case this school year, you will be an anomaly," State Superintendent Kirsten Baesler said at the governor's press briefing.
Each school district is devising its own plan for how to administer classes this upcoming school year. Baesler said every district she has heard about so far plans to open its buildings to at least some students some of the time.
She announced two new efforts Monday that use federal coronavirus relief dollars to help facilitate learning during the pandemic.
The first is a program called "North Dakota Exact Path," a platform through the online learning provider Edmentum to help students in reading, writing and math.
Exact Path will be available for all public, private, tribal and homeschool students as a supplemental tool. School districts can opt to use it, as can individual families. It will tailor activities to students based on assessments they've taken in school and provide support to those students through a teacher, which could be a school employee, state education worker or a family member.
The North Dakota Department of Public Instruction is spending $1.2 million on the program, which will be available for 14 months.
The department is also making 20 scholarships available in a program geared toward paraprofessionals to help them become more highly trained in distance learning for special education. Through the program, participants can obtain a Bachelor of Science degree at Minot State University.
Nine people have already started the program this summer. Baesler said it's in high demand, as 70 people applied to take part. Virus relief dollars have provided an additional $750,000 in scholarship money.
Other announcements
Burgum made several other virus-related announcements Monday:
Driver's license renewal extensions: The state has a backlog of 20,650 licenses that expired during a grace period issued early on in the pandemic as state facilities closed. Licenses that expired in March, April or May must be renewed by Sept. 30. Licenses that expired in June must be renewed by Oct. 31. Licenses with an expiration date in July, August or September must be renewed by Nov. 30. Licenses that expire in November or December must be renewed by Dec. 31.

Economic resiliency grants: The state will start accepting applications Wednesday for grants to make virus-related improvements at businesses, such as installing protective barriers. A business with multiple sites is eligible to apply for up to $100,000. A business with a single site is eligible for up to $50,000. The money stems from federal relief dollars. The grants are available on a first-come, first-served basis through Aug. 28. More information is available at https://ndresponse.gov/.
Additional virus data
One more person has died with COVID-19, a woman in her 70s with underlying health conditions from Stutsman County, home to Jamestown. Since the start of the pandemic, 113 North Dakota residents have died with the illness.
Statewide, 48 people are hospitalized with COVID-19.
North Dakota reported another 79 recoveries Monday, bringing the total to 6,434 since the pandemic began.
The state has reported 7,713 total cases of COVID-19 this year.
Concerned about COVID-19?
Sign up now to get the most recent coronavirus headlines and other important local and national news sent to your email inbox daily.