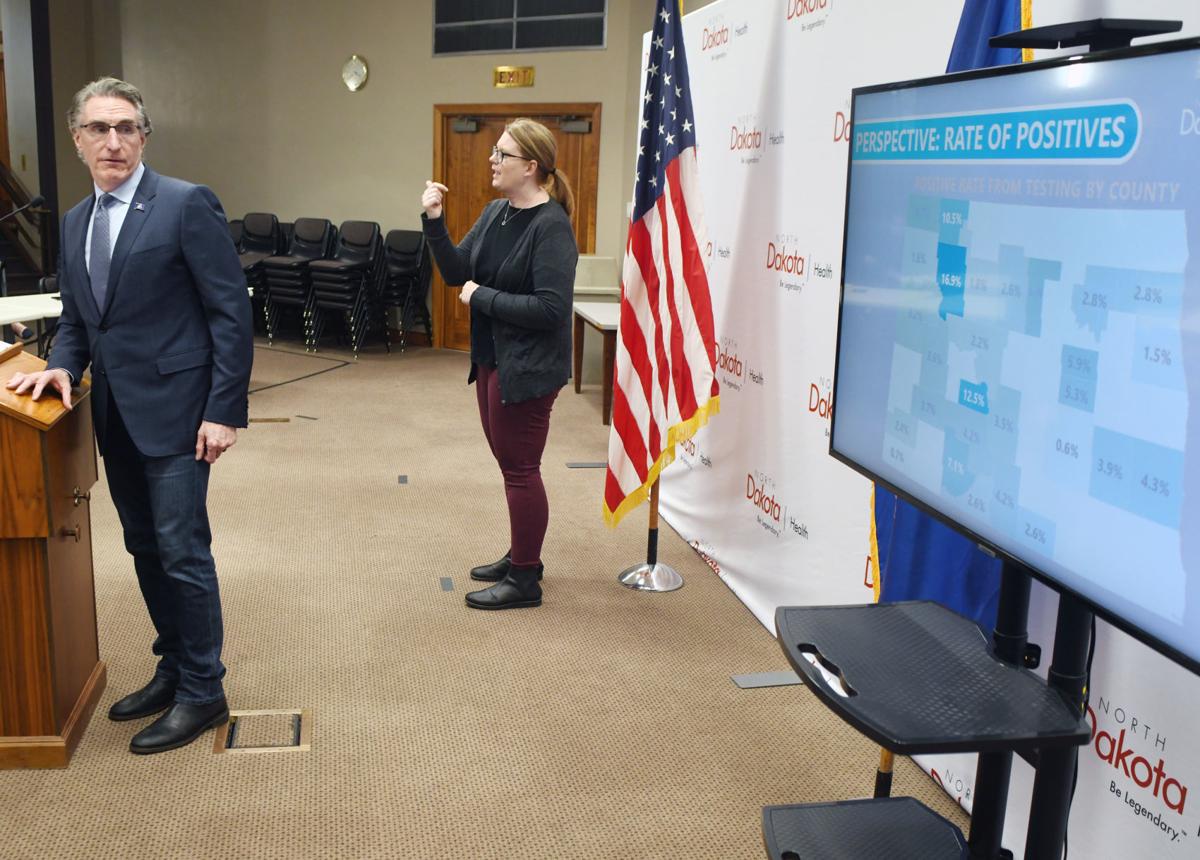 A weekend pilot project to test large numbers of rural North Dakotans who weren't showing symptoms of COVID-19 will help the state shape its modeling as it works to keep cases of the coronavirus disease below hospital capacity, Gov. Doug Burgum said Wednesday.
Officials set up drive-thru surveillance testing in the southwestern towns of Amidon and Gladstone and tested 735 people over two days. Six people tested positive, including three who had no symptoms, Burgum said during an afternoon briefing.
Based on that rate, "You could likely assume that for every person that has been tested with symptoms (statewide) there's at least another (positive) one out there that doesn't have symptoms," Burgum said.
The pilot project could have ramifications outside of North Dakota for modeling, according to the governor.
"There had really been almost none of this done in the entire U.S., and at least in North Dakota, we saw an opportunity," he said.
The effort led to a record day for testing on Tuesday, with 849 results, including hundreds from the weekend testing. Fourteen new positive cases were identified, meaning the rate of positives was a relatively low 1.6%.
Burgum acknowledged that was likely due to the large amount of weekend tests of people who weren't showing symptoms, but he also noted that North Dakota's overall positive rate since testing began of 3% is much lower than states like New York and New Jersey, where the rate is 40% or higher.
"The whole point of everything that our country is doing to try to reduce the spread was to not get in the position that we saw in Italy, that we saw in the New York metro area, where actually an area ran out of medical care," he said.
Burgum said it's also important for people to be aware that they can get COVID-19 from people who are not showing symptoms.
"Assume it's everywhere. Act accordingly," he said.
New cases
The number of confirmed cases of COVID-19 in North Dakota now totals 251. More than one-third of those people -- 98 -- have recovered. Thirty-four people have been hospitalized; 16 remain so. There have been four deaths.
The new cases the state Department of Health announced Wednesday include three in Burleigh County, home to Bismarck; three in Stark County, home to Dickinson; seven in Cass County, home to Fargo; and the first confirmed case in Stutsman County, home to Jamestown.
Cass County leads the state, with 77 confirmed cases, followed by Burleigh County with 42 and Stark County with 28.
State and private labs have tested 8,552 people, with 8,301 being negative. Burgum has stressed that because testing data lags and not everyone is tested, the actual number of positive cases in the state could be 10 times higher.
Other matters
Burgum issued two executive orders Wednesday. One allows the state Public Service Commission to hold virtual public hearings and the state land commissioner to conduct auctions online, rather than at a physical location. The other allows state agencies to donate surplus supplies directly to the Department of Health.
The governor said some companies in North Dakota are making hand sanitizer for sale to the general public. Two are local: Dakota Pharmacy in Bismarck and National Day Calendar in Mandan.
Burgum announced amendments to a 14-day quarantine order put in place for people returning to North Dakota from areas where COVID-19 is widespread. The changes were spurred by the federal Centers for Disease Control and Prevention adding Minnesota to that list. Burgum said people in border cities who cross the border for work, essential supplies or for recreation in a border area such as a walking trail are exempt.
The governor also said the state has no plans to quarantine out-of-state anglers coming to North Dakota to fish, though he said that decision might be revisited in May.
Burgum reiterated his reluctance to issue public mandates, such as requiring people to wear masks. "We are not a police state; we are an individual responsibility state," he said. He did add that he encourages employers to have workers in checkout lanes wear masks.
Concerned about COVID-19?
Sign up now to get the most recent coronavirus headlines and other important local and national news sent to your email inbox daily.