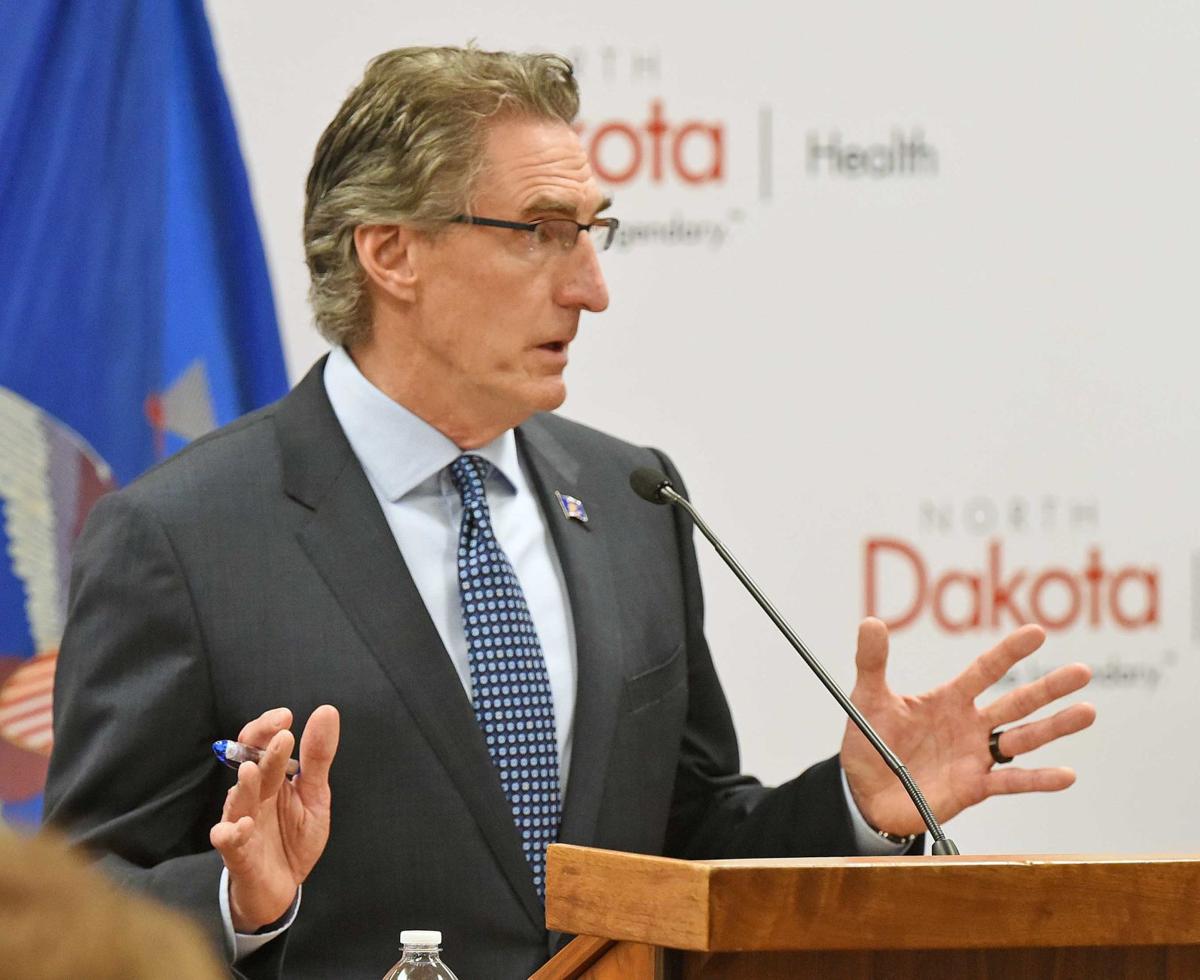 Gov. Doug Burgum on Tuesday said several counties in the state are close to reaching the fifth and final stage of a reopening plan that would allow businesses to resume normal operations under standard precautions to minimize risk of the coronavirus.
Burgum said the state's color-coded risk assessment plan currently ranks the state as a whole in the fourth or green stage, which is generally considered low risk but limits bars and restaurants to less than 100% capacity. He said officials will make another assessment next month on how many counties have qualified to move into the fifth or blue stage.
"We may get to a spot before the end of the summer where the whole state can move in one swoop from green to blue," Burgum said at his first COVID-19 briefing in a week. "The primary situation in terms of what may be holding them back ... has to do with the percentage of occupancy indoors and outdoors in restaurants and the size of gatherings at large events."
The governor said several restaurants have developed new business plans along with city officials to include more outdoor seating, including placing tables on sidewalks.
"There are very few things that are (still) affected. Full seating inside a bar and restaurant is one of those things," Burgum said. "A number of people are reporting that they are doing great takeaway business. Even this last weekend, I heard some restaurants in the state were doing business on Saturday like it was Valentine's Day or some other huge event."
Burgum said testing in the last week showed a record number of nearly 23,000 screenings, resulting in 198 new cases, or a less than 1% positive rate. The number of active cases stands at 234, which is the lowest number in two months, and "now we know where they are because they are isolated," the governor said.
"We're fortunate we've got some really good numbers," Burgum said. "The goal now is to keep it there. North Dakota remains well-positioned and well-prepared."
New cases
Another Cass County resident with COVID-19 has died, according to state coronavirus data released Tuesday that was largely incomplete due to a software problem.
The woman in her 40s with underlying health conditions was the 65th coronavirus-related death in North Dakota's most populous county and the 78th death in the state. Cass County has been a hot spot for the virus.
The state Department of Health reported only seven new COVID-19 cases statewide on Tuesday due to an issue with the electronic reporting system used by physicians and health care systems to report test results to the state lab. Results of only 327 tests were reported, when the state in recent days has been reporting results from as many as 4,000 tests daily.
"The issue has been resolved and as the system catches up today, the numbers will be reported out tomorrow," read a statement from the state's Joint Information Center.
With the incomplete results, the state is up to 3,320 total cases, with 3,008 recoveries and 28 people currently hospitalized. The number of people tested at least once is approaching 100,000.  
Most people who get COVID-19 recover, experiencing only mild or moderate symptoms such as fever and cough. Others, especially the elderly and people with existing health problems, can experience more severe illness, including pneumonia. The vast majority of people recover.
Driver's licenses
Burgum has set an end date for the grace period for expired driver's licenses and motor vehicle registrations.
Burgum earlier ordered that all licenses and registrations that have expired since March be considered still valid "until the emergency ends." The governor on Tuesday set Aug. 31 as the end date, meaning that all licenses and registrations need to be up to date on Sept. 1.
The state Department of Transportation is offering the services by appointment only. To schedule an appointment, go to dot.nd.gov or call 1-855-633-6835.
"We have limited space available in our facilities and scheduling appointments is the safest, most effective way we can serve our customers and reduce wait times," said Robin Rehborg, the department's deputy director for driver safety.
There are 20,650 driver's license renewals and 48,000 motor vehicle registrations that expired during the pandemic.
Concerned about COVID-19?
Sign up now to get the most recent coronavirus headlines and other important local and national news sent to your email inbox daily.