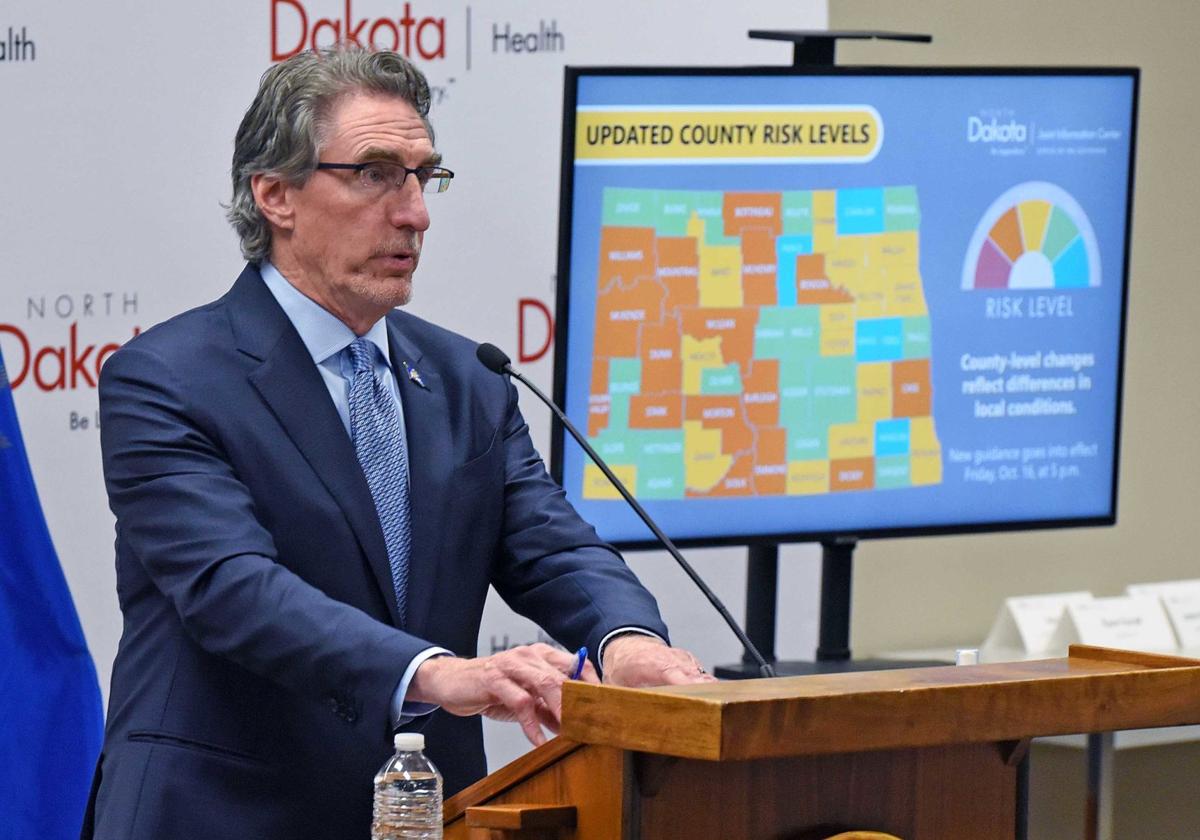 Gov. Doug Burgum on Wednesday elevated 16 North Dakota counties including Burleigh and Morton to "high risk" as COVID-19 cases continue to rise, but there will be no business closures under updated state guidelines.
The counties are being moved up from "moderate" risk, or yellow in the middle of the state's five-level color-coded system. The risk level determines what sort of coronavirus-related protocols are in place under the ND Smart Restart Plan for everything from businesses to family gatherings. The protocols are not enforced.
Under the original guidelines, the move to orange, or "high" risk, would entail measures that were put in place for a time last spring: businesses such as hair salons and fitness centers would close, restaurants would be limited to takeout and delivery, and schools would close and go to distance learning. Those measures are being shifted to the red, or "critical" risk, level, effective 5 p.m. Friday.
The new guidelines "better recognize and understand what we know about transmission, again, focusing on those things that reduce transmissible moments," Burgum said during a public coronavirus briefing at the Capitol.
"One of the things we know now that we didn't last spring is that large gatherings continue to be a major source of community spread," he said.
Businesses in orange counties will be restricted to 25% occupancy with a cap of 50 people, and the state is encouraging them to require face masks. Businesses in yellow counties are restricted to 50% occupancy with a cap of 100 people, and in green "low risk" counties to 75% occupancy with a cap of 200 people.
The protocols are recommendations, not mandates. Burgum described them as encouragement "in the strongest way possible."
Larger indoor and outdoor gatherings including such events as weddings are permitted if approved by community leaders and the local public health authority. Community leaders can require event planners to submit a logistics and emergency operations plan.
Burgum's office said schools' instructional models are not impacted by changes to county risk levels. However, the public school systems in both Bismarck and Mandan issued statements shortly after his announcement saying the districts were delaying plans to move grades 6-9 to full-time face-to-face learning on Oct. 19. Students in those grades will continue with a hybrid model that entails alternating in-person and distance learning.
Several Bismarck teachers and a representative of the Bismarck Education Association on Monday had asked the school board for a delay, citing safety concerns due to rising case numbers and low hospital capacity. The board took no action on the request.
More records
The Department of Health on Wednesday reported a single-day high for new COVID-19 cases but a drop in coronavirus-related hospitalizations around the state.
Health officials reported 713 new cases, 62 more than the previous high, raising the statewide total to 28,947. The new cases included 151 in Burleigh and 44 in Morton -- the highest combined total to date for the Bismarck-Mandan region. Cass County, where cases also have been spiking, had 216 new cases.
Active cases statewide hit a record for a seventh consecutive day, at 4,759. Active cases in Burleigh-Morton surpassed 1,000 for a second straight day, and they also topped that mark in Cass.
The COVID Tracking project reported that North Dakota topped 900 new cases per 100,000 people over the past two weeks, according to The Associated Press. That ranks first in the country for new cases per capita, ahead of No. 2 South Dakota's figure of more than 832 new cases per 100,000 residents.
Burgum cites the large amount of testing in North Dakota for the high per capita ranking. The number of state residents tested for coronavirus at least once is at 263,233 and total tests number 730,902, including 7,797 handled Tuesday.
Impassioned plea
The governor said North Dakota is "caught in the middle of a COVID storm," and he issued an impassioned plea for people to take personal responsibility for precautions such as social distancing and mask wearing. He choked up at times as he spoke.
"It's not a job for government; this is a job for everybody," he said.
Burgum said half of the 218 long-term care facilities in the state have had positive cases in workers -- the highest rate in the nation.
"We need to have behavior change to help protect those most vulnerable," he said.
Burgum said he met with 14 mayors from around the state on Wednesday about strategies and what help they need from the state. He referenced a letter written by five mayors including Bismarck's Steve Bakken urging the public to take steps to prevent "another significant wave of this virus," to avoid business restrictions similar to those that were in place last spring. The letter asks the public to wear masks, follow social distancing guidelines and limit social interactions to small groups.
Burgum said some mayors "clearly would be in support of a statewide mask mandate" but he would not identify them. Burgum has long opposed mandating masks, saying people won't wear them unless they believe in wearing them.
Daily data
The state reported eight more coronavirus-related deaths, including a Burleigh County man in his 80s, raising the county's pandemic total to 64 and the state's to 365. New deaths also were confirmed in the counties of Bowman, LaMoure, McLean, McIntosh and Mercer.
The three deaths reported in LaMoure were the first in that southeastern county. The new victims ranged from their 50s to their 90s, and all of them had underlying conditions, according to the state.
Hospitalizations around North Dakota dropped by 26 from the record 158 reported both Monday and Tuesday. Burgum said during his briefing that the state had since lowered the peak from 158 to 146, due to some missed discharges. Regardless, hospitalizations dropped Wednesday for the first time in 11 days.
Hospital capacity is a concern in the state. There were 243 available staffed inpatient beds plus 23 intensive care unit beds in North Dakota on Wednesday, according to state data. There were five available staffed beds and one ICU bed in Bismarck: three beds and no ICU at CHI St. Alexius Health and two beds and one ICU at Sanford Health.
Burgum said "We're not out of beds in North Dakota" but added that officials are "absolutely concerned about making sure that we keep beds staffed as positive cases continue to rise"
Statewide, there have been 23,823 recoveries and 1,159 hospitalizations. 
Sixteen North Dakota counties are in the orange "high risk" level on the state's five-level color-coded system; 15 are in the yellow "moderate risk" level; 17 are in the green "low risk" level; and five are in the blue "new normal" level.