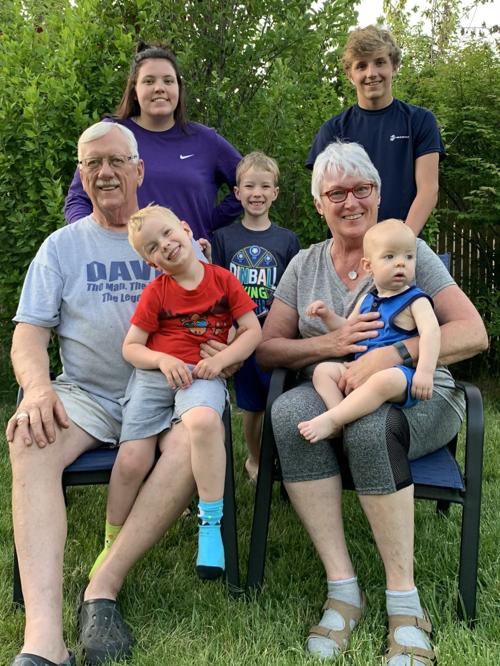 Faye Krumwiede loved flowers.
She would take her grandchildren outside and help them build fairy gardens, complete with a small home for the magical creatures who live among the plants.
Husband Dave Krumwiede said that Faye loved everything about being a grandmother. The grandkids would help her in the kitchen when she cooked. She would babysit them, and when her son and daughter-in-law had to work in the mornings, she would help get the kids ready for school.
Faye, of Bismarck, died of COVID-19 on Nov. 3. She was 70 years old.
Faye worked in banking for most of her life and never fully retired. She recently managed the books for a farm in Hazen and was working until her last days. She handled the payroll and helped obtain visas for employees from South Africa. Dave said "it was her cup of tea" and she wasn't going to retire completely until she was 85 or 90.
She was the kind of person who threw herself into everything, Dave said. Whenever her tai chi group changed its meeting location, she was the one who let everyone know the new place; she'd been planning to return to tai chi after getting a hip replaced. She was the treasurer of their homeowners association. She joined the Bismarck chapter of PEO International, a philanthropic organization that promotes women's education, and took over handling its finances.
"She got into everything you could think of," Dave said.
Music was a large part of Faye's life, Dave said. She played the piano and organ, and they would lead their church in worship, with him on guitar. When their sons were young, they would camp on the weekends and play songs around the campfire.
Dave doesn't know how Faye got COVID-19, saying the two were "ultra, ultra careful." They wore masks, used hand sanitizer frequently and ordered groceries for pickup. He also had COVID-19 around the same time and experienced bouts of dizziness for weeks.
He wants people to know that COVID-19 is "no joke." Faye entered the hospital in early October and spent 17 days in the intensive care unit. She developed nodules in her lungs and had tubes inserted in her chest. Her lungs eventually hardened to the point where doctors couldn't soften them, Dave said.
He was able to visit Faye during the last few days of her life, and he hopes she knows he was there. They texted while she was hospitalized.
Reflecting on his time with his wife, Dave said that no one memory sticks out -- all of them are his favorite. He said Faye loved life and loved her grandchildren, who she won't get to see grow up.
"I'm always thinking about what she wanted to do in the future," Dave said. "The plans we had and won't get to do."