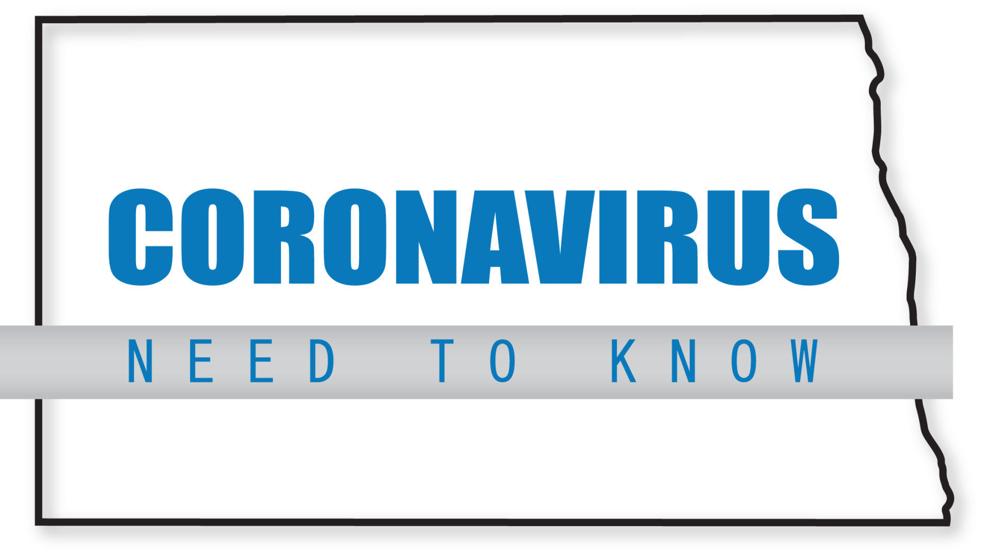 The latest North Dakota coronavirus news: panel discussion, human services, free testing and more.
Testing this week
Free public COVID-19 testing events are being conducted in various areas again this week. They're open to all ages on a first-come, first-served basis, unless otherwise specified. Listed testing hours could be reduced if supplies run out.
Bismarck-Burleigh Public Health and Bismarck State College are hosting free COVID-19 testing weekly on Mondays in the BSC Armory, from 11:30 a.m. to 12:30 p.m.
Bismarck-Burleigh Public Health will host drive-thru testing at the Bismarck Event Center from 10:30 a.m. to 12:30 p.m. Tuesday. The expansion from one hour of testing to two hours will continue through the month of November.
People should enter Parking Lot D -- to the south of the Event Center, across Bowen Avenue -- from Seventh Street. Testing will be conducted inside the Event Center.
Custer Health is hosting a drive-thru event Wednesday at Dacotah Speedway in Mandan, from 1-2 p.m.
People should approach the site from the southeast on Longspur Trail. Longspur Trail is accessible by Redwing Drive and 32nd Avenue Southeast, both off Memorial Highway. After being tested, people will exit onto 24th Avenue Southeast and travel north.
Preregistration for the Bismarck and Mandan events is available at https://testreg.nd.gov/. It speeds up the process but does not guarantee a test. People who previously have been tested for COVID-19 do not need to preregister.
Kidder County District Health Unit is altering its weekly testing on Thursdays to protect staff from cold weather. 
Testing still will be conducted at 422 2nd Ave. NW in Steele from 3-4 p.m. But people wanting testing must call 701-475-2582 to schedule an appointment, rather than just show up. During the drive-thru testing, people are asked to approach from the west.
Emmons County Public Health also is changing its weekly testing on Thursdays due to the impending cold weather.
Rather than having drive-thru testing, health officials are asking people to call 701-254-4027 to schedule an appointment. Appointments will be scheduled in groups to help with logistics.
Testing is for people who are not showing symptoms. Public health is asking people who are symptomatic to instead contact Linton Medical Center at 701-254-4531 for testing.
People who schedule tests in Kidder and Emmons counties will no longer need to preregister at https://testreg.nd.gov/.
Visiting scientists
An online panel discussion titled "COVID-19: What we know, what we have done, and what we can do" is set Tuesday at 7 p.m. Central time.
It's hosted by the Visiting Scientists Series as a Microsoft Teams live event and is free and open to the public. No registration is required. The link is at https://bit.ly/3oJsnTE.
Panelists include University of Mary biology professor James Peliska, University of North Dakota associate professor of biomedical services Catherine Brissette, and UND medical school dean Joshua Wynne, who is the state of North Dakota's chief health strategist.
The Visiting Scientists Series is a partnership of Bismarck State College, Gateway to Science, Bismarck Public Schools, the University of Mary, United Tribes Technical College, the state Society of Professional Engineers, the Institute of Electrical and Electronics Engineers, and the State Historical Society of North Dakota.
Human services meeting
The North Dakota Department of Human Services' eight regional centers are holding their regularly scheduled advisory group meetings virtually this month due to the COVID-19 pandemic.
Center directors will discuss the department's expansion of behavioral health crisis services and the redesign of intensive services for youths and families. They also will provide updates on operations and the response to the pandemic, among other topics.
The West Central Human Service Center in Bismarck will hold its meeting Tuesday at 1 p.m. Central time.
North Dakota virus numbers
North Dakota has had 54,305 confirmed cases of COVID-19, including 8,620 in Burleigh County and 2,937 in Morton County. There have been 43,103 recoveries and 639 coronavirus-related deaths. A total of 1,881 people have been hospitalized; 240 remain so. State and private labs have processed tests on 309,498 people, and conducted 939,889 total tests.