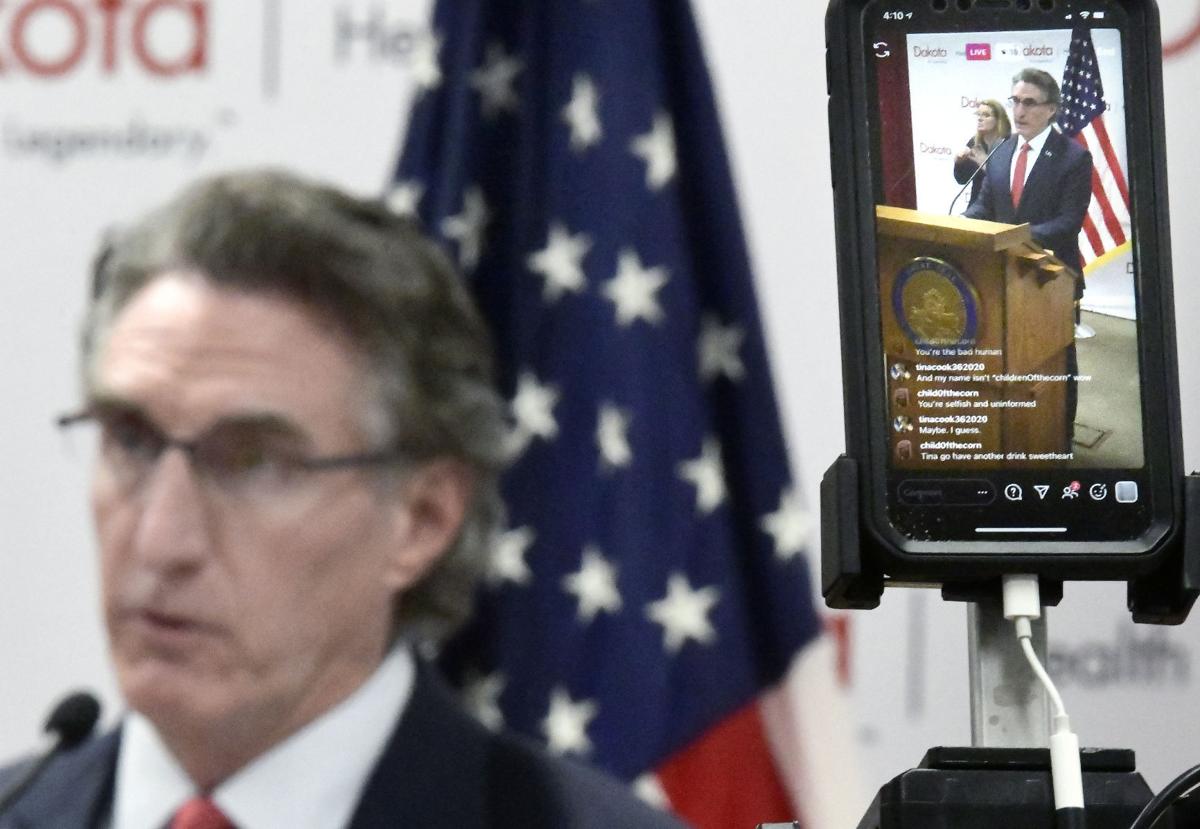 Active COVID-19 cases in North Dakota reached a new high on Friday, as did the number of people hospitalized by the coronavirus disease, according to the state Department of Health.
The department reported 6,363 active cases on Friday, 13 more than the previous high of 6,350 set on Thursday. Hospitalizations rose to 168, 12 higher than Thursday's record of 156.
Nine COVID-related deaths were reported on Friday. All had underlying health conditions, the department said. The fatalities included a Burleigh County man in his 60s and a Morton County woman in her 70s. Four deaths were reported in Stark County, and one was reported in Rolette, Cass and Ward counties.
The state's death total now stands at 440. Of those, 83 were in Cass County, 75 in Burleigh, and 50 in Morton.
Cass County reported 156 new positive cases in the last day and Grand Forks County had 120. Burleigh had 97 and Morton 25.
Statewide there are 14 staffed intensive care beds and 232 staffed inpatient beds available in the state, according to the latest figures available. Sanford Health in Bismarck has one staffed intensive care bed and two staffed inpatient beds available. There were two staffed intensive care beds and 10 inpatient beds available at CHI St. Alexius Health in Bismarck.
Burleigh, Morton and 14 other North Dakota counties are in the orange "high risk" level on the state's five-level color-coded system; 15 are in the yellow "moderate risk" level; 17 are in the green "low risk" level; and five are in the blue "new normal" level. Gov. Doug Burgum did not announce any changes to risk levels in a weekly news conference Friday.
The risk level determines what sort of coronavirus-related protocols are in place under the ND Smart Restart Plan. The guidelines are not enforced.
Contact tracing
Meanwhile, the state Department of Health announced it had worked through a backlog of notifications for more than 800 North Dakota residents who had tested positive for COVID-19. Burgum called the backlog "a blip."
Earlier this week, health officials announced a change in strategy for contact tracing, asking positive people to notify their own close contacts, and shifting 50 National Guard soldiers from contact tracing to case notification. The state also is testing a process to deliver automated notifications of positive tests to people.
Division of Disease Control Director Kirby Kruger told the Tribune on Thursday that health officials will prioritize contact tracing for people in health care, long-term care, assisted living, K-12 and university settings, citing the congregate environments and goal to maintain students' in-person learning.
The state has more than 450 people working case investigations and contact tracing, including local public health unit staff, Disease Control staff and North Dakota State University and University of North Dakota students. Thirty-seven people are in training, including Minot State University students and 10 contract employees.
There has been widespread noncompliance with case investigations and contact tracing, Kruger said. Some positive people don't return daily surveys, indicate they are not isolating or quarantining themselves or outright refuse to cooperate when contacted.
"It's not unique to one part of North Dakota," Kruger said of the noncompliance, which "doesn't help, especially if it's people who are potentially infectious who are out and about."
Nursing home visitation
The U.S. Centers for Medicare and Medicaid Services issued new guidance last month for nursing home visitation that limits skilled nursing facilities in North Dakota to outdoor visitation only as winter looms.
North Dakota's human services chief said the guidance is "a federal rule that we must follow." North Dakota last spring began a phased reopening to visitation at long-term care facilities under its Vulnerable Population Protection Plan, making indoor visitation a possibility at some facilities. 
"Based on the positivity rate in many of our counties as well as the fact that many of those long term care facilities, those skilled nursing facilities have positive residents and/or workers in the last 14 days, CMS requires that they are only able to offer outdoor visitation, period," Department of Human Services Executive Director Chris Jones said. "So we are as a state, from a skilled nursing facility perspective, stepping backwards as it relates to visitation, per the CMS rule."
The state is negotiating with the feds "because we know that outdoor visitation will not work in North Dakota. It doesn't work today, and it's certainly not going to work in January," Jones said.
The state is figuring how to create "sterile, safe, negative-pressure rooms that potentially can be used within skilled nursing facilities," Jones said.
Other announcements
Burgum announced a new K-12 COVID dashboard for schools' coronavirus data. The dashboard is available at health.nd.gov/k-12-school-dashboard. Burgum called the dashboard "another layer of transparency."
Under a new quarantine guideline in which a positive person and their close contact do not have to quarantine if both were wearing masks, Burgum said 226 of 300 students who were close contacts have not had to quarantine. He's called the new guideline an "incentive" and "an innovative, new approach" for people to wear masks.
"This is helping to keep our schools open and our students in school," the governor said. 
The state's Department of Health on Saturday will stop reporting in its daily news release whether people who have died with COVID-19 had underlying conditions. Burgum said "we don't want to give anyone a false sense of security surrounding their risk."
Rapid saliva tests are being distributed to local public health units in Fargo, Grand Forks, Minot, Bismarck, Dickinson and Williston.
Other rapid-result tests from the federal government will be distributed for use in long-term care facilities and might help facilitate visitation in certain facilities.
Task force update
Members of the Burleigh-Morton COVID-19 Task Force discussed the rising number of cases in the counties, community mask mandates and testing at a meeting Friday that included feedback from schools, colleges and community groups.
Bismarck Public Schools Superintendent Jason Hornbacher said the district is working to compile data showing where cases in students and staff originate, though he said he's heard from the district's top medical official that most cases are coming from large gatherings outside of school.
Bismarck State College Chief College Relations Officer Marnie Piehl said students want to be in class and the new close contact guidelines have helped. Piehl, who also sits on the Mandan Public Schools Board, said it seems the community also wants students in school but large gatherings keep happening.
"We want our community to step up and show they care," Piehl said.
United Tribes Technical College Health and Wellness Director Darko Draganic said the college does its own notification, quarantine and treatment for students regarding COVID-19. Masks have been mandated on campus since March, and social distancing is encouraged. He the school's active case and close contact numbers are some of the lowest it has had.
Bismarck Mandan Chamber EDC President Brian Ritter discussed the board's support for a local mask mandate. The board's fear, Ritter said, is that businesses could be shut down if the increase in COVID-19 cases doesn't slow down.
"If we had to pick between masks and business closures, we'll pick masks," Ritter said.
Department of Emergency Services Homeland Security Director Cody Schulz updated the task force on the use of 15-minute COVID-19 tests. Schulz said the state is giving 75% of its BinaxNOW rapid point of care tests to long-term care facilities. The rapid tests are used for visitors and to test residents and staff who may be symptomatic in between regularly scheduled testing. The remaining 25% is going to local public health departments for use in congregate settings such as schools or jails. Hornbacher said the school district is working with Bismarck-Burleigh Public Health to determine how testing would work. Those tests would be used for teachers and staff.
The task force also decided to meet on an as-needed basis going forward.
The total number of positive cases recorded in the state since the pandemic started is at 35,939 with the addition of 886 new positives in the last day. A total of 799,305 tests have been completed since mid-March with 8,538 added in the last day. Officials reported 864 recoveries, bringing that total to 29,135.
Concerned about COVID-19?
Sign up now to get the most recent coronavirus headlines and other important local and national news sent to your email inbox daily.