Thirty-seven more North Dakotans with COVID-19 have died, but active cases of the coronavirus disease and related hospitalizations have dropped significantly, North Dakota's Department of Health reported Tuesday.
Meanwhile, officials planning for the eventual distribution of a coronavirus vaccine in North Dakota have learned that the state might not get as many initial doses as they first thought.
The newly reported deaths raised the state's pandemic total to 883 and made November the deadliest month, with 317 deaths. Those listed Tuesday included four in Burleigh-Morton and nine in Ward County, where 69 deaths have been reported this month alone.
Ward County, home to Minot, now leads the state with 124 pandemic deaths, supplanting Cass County, which has 118. Burleigh is next with 117 and Morton follows with 68.
The typical lag for reporting of deaths to the health department is within three days, and 27 of the 37 deaths reported Tuesday occurred in that time frame, according to health department spokeswoman Nicole Peske.
Health officials reported 1,019 new COVID-19 cases, including 117 in Burleigh and 38 in Morton, bringing the state's total since the onset of the pandemic in mid-March to 74,401, with 64,610 recoveries and 2,528 hospitalizations.
There were 289 COVID-19 patients hospitalized Tuesday, down 25 from the previous day. There were 22 staffed intensive care unit beds and 259 staffed inpatient beds available in North Dakota, according to state data. Sanford Health in Bismarck had one staffed ICU bed available and CHI St. Alexius Health had two. Sanford had five staffed inpatient beds available and CHI St. Alexius had 10.
Sanford is opening a 20-bed COVID-19 unit in the former Bismarck Surgical Associates building on Ninth Street, a move that will expand its total COVID-19 beds to 75. The unit is scheduled to open Wednesday, according to hospital spokesman Jon Berg.
Active cases of COVID-19 statewide dropped by nearly a thousand, to 8,907. It was the first day below 9,000 since Nov. 4.
There were 1,798 active cases in Burleigh-Morton, down from 2,011 the previous day and also the lowest total since Nov. 4.
The number of state residents tested for coronavirus at least once is at 341,033 and total tests number 1,092,803, including 8,269 completed Monday.
Vaccine planning
North Dakota is likely to get a smaller initial allocation of the COVID-19 vaccine being developed by Pfizer Inc. than previously expected, according to state Immunization Program Manager Molly Howell.
Manufacturing delays at the pharmaceutical company mean that the state will receive just under 7,000 doses of the vaccine at first, according to a new estimate. There are 9,200 staff and residents at North Dakota's skilled nursing facilities alone.
The previous planning estimate for the Pfizer vaccine was up to 23,000 doses, according to Howell.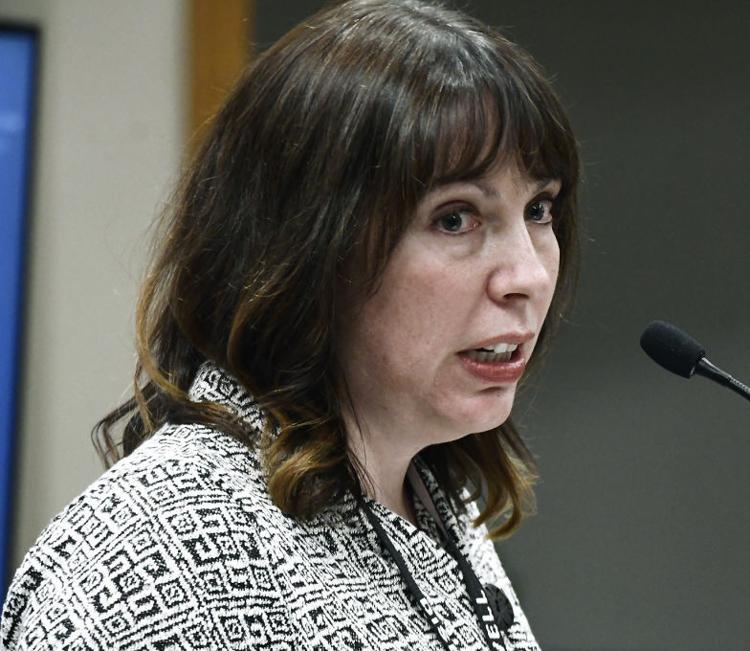 She told the state COVID-19 Vaccination Ethics Committee on Tuesday that vaccine availability will be "an unknown" throughout the effort to distribute a vaccine nationwide but that there will be weekly updates.
The COVID-19 Vaccination Ethics Committee is an advisory committee that provides guidance about who should be prioritized to receive the vaccine first. The first doses of vaccine likely will go to health care workers and staff and residents of long-term care facilities.
Several companies are working on vaccines, according to The Associated Press. AstraZeneca on Monday reported its potential vaccine, which is being developed with Oxford University, was up to 90% effective.
Last week, Pfizer and Moderna both reported study results showing their vaccines were almost 95% effective. And, over the weekend, Regeneron Pharmaceuticals received U.S. government approval for emergency use of its COVID-19 treatment. The drug, which Trump received when he was sickened last month, is meant to try to prevent hospitalization and worsening disease from developing in patients with mild-to-moderate symptoms.
More information
A statewide mask mandate is in effect, along with enforced capacity restrictions for bars, restaurants, and various event venues. Violations could be punishable by a fine of up to $1,000. Repeat violations could lead to a fine up to $1,500 and 30 days in jail. For more information, go to https://bit.ly/38NiT4r and https://bit.ly/3kDdVtb. 
All North Dakota counties are in the orange "high risk" level on the state's five-level color-coded system. The risk level determines coronavirus-related protocols in place under the ND Smart Restart Plan for everything from businesses to family gatherings. Those protocols are not enforced.