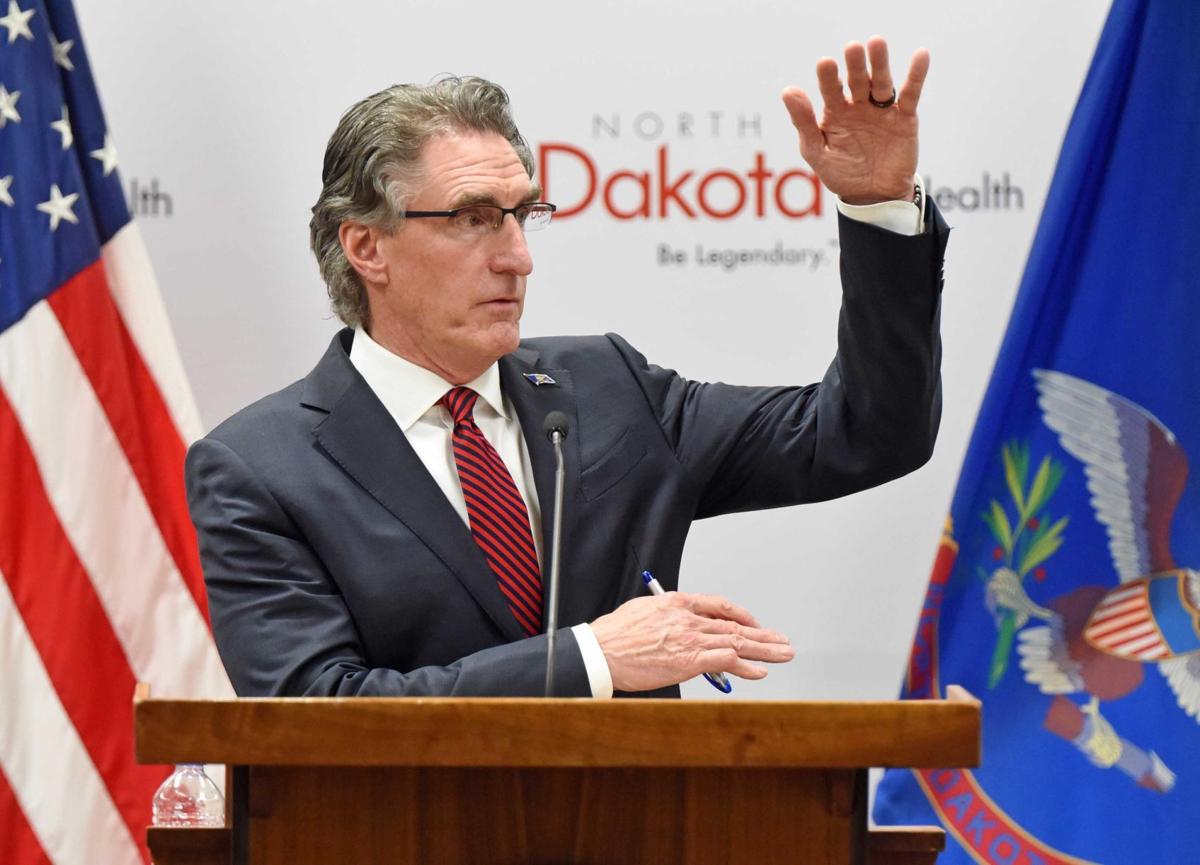 Twenty-nine more North Dakotans with COVID-19 have died, including five people in the Bismarck-Mandan region, the state Department of Health reported Thursday.
Active COVID-19 cases statewide soared to another record, and coronavirus-related hospitalizations hit another daily high. Health officials also reported a record number of new daily COVID-19 cases, including a pandemic high of 298 in Burleigh and Morton counties. More than 1,000 new cases have been reported in the two counties in the first five days of November.
Meanwhile, the group representing public health agencies in the state released a letter it sent to Gov. Doug Burgum imploring him to implement a statewide mask mandate.
Burgum during an afternoon coronavirus briefing announced that nearly two dozen counties are being moved up a risk level on the state's five-level color-coded system.
Daily data
Eight of the deaths reports Wednesday were in Ward County, which has seen a spike in coronavirus cases and deaths in recent weeks. Three were in Burleigh County -- women in their 60s, 70s and 90s -- and two were in Morton -- men in their 70s and 80s. The rest were in the counties of Benson, Cass, Dickey, Grand Forks, Hettinger, Kidder, Nelson, Pierce, Towner, Traill and Williams.
The victims ranged in age from their 30s to their 100s. They brought the state's pandemic death toll to 596. Burleigh has 86 deaths and Morton 57.
Deaths are not necessarily reported on the day they occur or the day after -- death certificate filings can take up to 10 days under state law.
The health department on Thursday reported a high of 1,540 new cases of COVID-19 across North Dakota, raising the state total since the onset of the pandemic in mid-March to 49,837. Statewide, there have been 40,017 recoveries and 1,776 hospitalizations.
Coronavirus-related hospitalizations rose by 11, to 231. Hospitalizations have either risen or remained stable for nine straight days.
There were 14 staffed intensive care beds and 159 staffed inpatient beds available in North Dakota, according to state data. Sanford Health Bismarck had one staffed intensive care bed and one staffed inpatient bed available. CHI St. Alexius Medical Center in Bismarck had no staffed intensive care beds and six staffed inpatient beds available.
Officials reported 9,224 active cases of COVID-19 statewide, up 653 from the previous day to a new high. Burleigh and Morton counties combined had 1,821 active cases, a pandemic high for the region.
"Today, statistically, marks the worst day yet for North Dakota," Burgum said.
The number of state residents tested for coronavirus at least once is at 302,970 and total tests number 910,816, including 9,723 completed Wednesday. 
Mandate plea
The governing council of the North Dakota Public Health Association recently sent a letter to Burgum asking him to implement a statewide mask mandate, saying the group is "alarmed and extremely concerned as North Dakota's rates of infection, number of hospitalizations and deaths continue to rise even as our members are working harder and longer."
Burgum supports mask wearing but has resisted imposing a statewide requirement, saying he doubts one would be effective. He instead has advocated personal responsibility and supported mandates imposed by cities including Bismarck.
"We ask you to call for a statewide mandated wearing of masks; 'personal responsibility' is not enough to change the trajectory of the virus' impact on North Dakota's people," wrote the group, which is led by Bismarck-Burleigh Public Health Director Renae Moch.
The group said the coronavirus "does not recognize city, county or state boundaries," and it also urged "action not only from public health and healthcare professionals, but from every single person in North Dakota."
Burgum during his briefing said there have been "lots of organizations and individuals" who have made the same request, but he thinks mask mandates enacted by numerous cities and counties around the state "make a lot of sense, because that's the level where enforcement could occur."
Many mandates including Bismarck's are not enforced.
The council also urged Burgum to not propose any funding cuts for the state Department of Health or local public health units in the state's next two-year budget. The governor will present his budget proposal to the Legislature next month.
Burgum during the briefing did not specifically address his upcoming budget recommendation. He noted large increases in public health funding thanks to federal coronavirus aid, and said that after the pandemic, funding likely will go back to "more typical" levels.
"We have to think about public health funding during the pandemic probably differently than post-pandemic, and we also have to think about where the dollars have come from," he said. "The levels right now would be unsustainable with our own state funding, so if you go from a record level to something less, I'm sure they will call that a cut."
The letter was dated Oct. 30 and released to the Tribune late Wednesday.
Risk levels
Officials are moving 22 counties up a risk level on the state's five-level color-coded system, effective 5 p.m. Friday.
The risk level determines what sort of coronavirus-related protocols are in place under the ND Smart Restart Plan for everything from businesses to family gatherings. The guidelines are not enforced. The state reviews the county levels weekly.
Fourteen counties will go from green "low risk" to yellow "moderate risk," and eight will go from yellow to orange "high risk." The net effect is that 20 counties will be at yellow and 33 will be at orange. Burleigh and Morton already were at orange. No counties have yet been moved to red "critical risk," and no counties will be at green or blue "new normal."