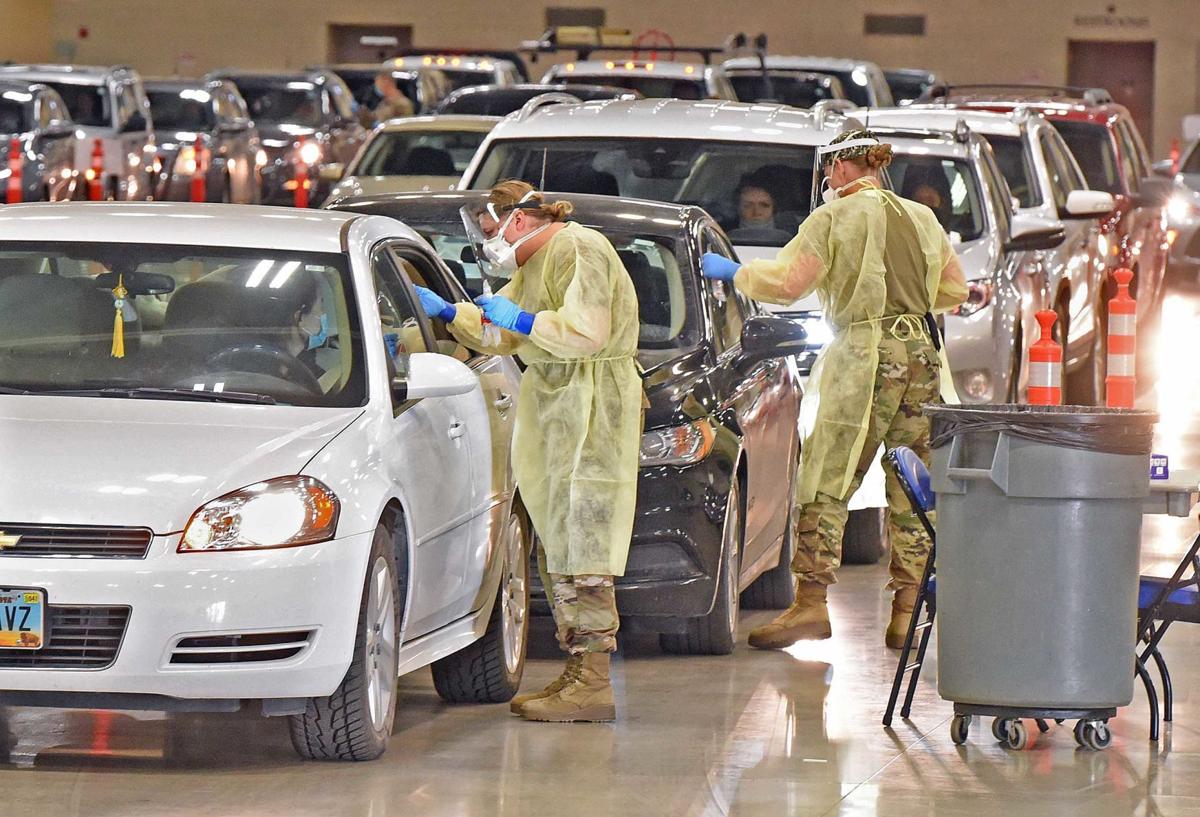 North Dakota health officials on Tuesday reported big drops in active COVID-19 cases and hospitalizations but 26 new coronavirus-related deaths, including six in the Bismarck-Mandan region.
Four deaths were reported in Burleigh County and two in Morton County. All of the victims were in their 80s and 90s. Other deaths of people ranging in age from their 50s to their 90s were scattered over nine other counties, including Ward, which had eight new deaths reported.
The Department of Health reported 1,091 new COVID-19 cases, including 131 in Burleigh and 49 in Morton, raising the state total to 65,967. Active cases statewide dropped by nearly 900, to 10,022, including 1,937 in Burleigh-Morton. Active cases dropped for a third consecutive day in the state. They've remained relatively stable in Burleigh-Morton the past couple of weeks.
The Associated Press reported that North Dakota continued to rank first in the country for new cases per capita in the last two weeks. One in every 81 people in the state tested positive in the past week, according to Johns Hopkins University researchers.
Coronavirus-related hospitalizations on Tuesday dropped by 28 from Monday's all-time high, to 304. Statewide, there were 16 staffed intensive care beds open and 179 non-ICU beds, according to the most recent state data. In Bismarck, Sanford Health had one staffed ICU bed available and CHI St. Alexius Health had none. Both had six non-ICU staffed beds open.
There have been 55,176 recoveries statewide since the onset of the pandemic in mid-March, 2,261 hospitalizations and 769 deaths. The number of state residents tested for coronavirus at least once is at 327,340 and total tests number 1,022,763, including 8,749 completed Monday.
Thanksgiving and testing
Bismarck-Burleigh Public Health and Custer Health are encouraging area residents to get tested for COVID-19 this week, in the lead-up to next week's Thanksgiving holiday.
"Test results may take up to a week to receive, and so getting tested next week may not allow you to get results back in time to make holiday plans," Bismarck-Burleigh Public Health Director Renae Moch said. "There are multiple ways to take advantage of free COVID-19 testing in our region leading up to the holiday season."
Custer Health is hosting a drive-thru testing event Wednesday at Mandan Union Cemetery, 1600 Mandan Ave. NE, to the north of Interstate 94 Exit 153, from 1-3 p.m.
Northland Health Center is conducting testing at the Bismarck Event Center from 5:30-7:30 p.m. on Wednesday. The state health department is testing at the Event Center from 3-8 p.m. on Thursday.
Testing is available in Hazen at the Sakakawea Medical Center Ambulance Bay on Mondays from 11 a.m. to 1 p.m.
Testing is available by appointment at the Bismarck State College Armory on Mondays from 11:30 a.m. to 12:30 p.m.
"Please note, however, that a negative test result from this week is only a point in time result. The possibility exists you may have been infected with COVID-19 between your test date and the day you receive your results," Custer Health Administrator Erin Ourada said. "We hope everyone can enjoy the Thanksgiving holiday, but we want you to be as safe as possible."
Mask mandate
The Bismarck City Commission in a special meeting Tuesday repealed a city mask mandate and business capacity guidelines, deferring to a statewide mask mandate and capacity restrictions that took effect in recent days under orders by Interim State Health Officer Dirk Wilke and Gov. Doug Burgum.
The state measures are in place through Dec. 13, along with an order suspending K-12 and community sports and extracurricular activities.
City Attorney Jannelle Combs said the differences between the state and local policies were causing confusion. For example, the city's policy and the governor's order had different capacity limits for bars and restaurants.
The commission voted unanimously to repeal the local mandate, which went into effect Nov. 1.
Mandan School Board
The Mandan School Board on Monday discussed the results of a parent survey and how students are handling the suspension of winter sports and after-school activities.
Nearly 1,700 people responded to the survey, which was conducted before the announcement of the new state measures Friday. More than half of high school and middle school parents said they wanted their children in school full time, with many respondents saying their children are struggling in a hybrid model, which includes both in-person and distance learning.
Board member Darren Haugen asked administrators how the suspension of sports is impacting students. Assistant Superintendent Jeff Fastnacht said many people, including students and teachers, are struggling to some extent.
"Is this pause a challenge for our kids mentally, and their emotional state? Yes," Fastnacht said. "It's another hurdle of many hurdles they've had to clear this year."
Risk levels
Violations of the statewide mask mandate and enforced capacity restrictions for bars, restaurants, and various event venues could be punishable by a fine of up to $1,000. Repeat violations could lead to a fine up to $1,500 and 30 days in jail. For more information, go to https://bit.ly/38NiT4r and https://bit.ly/3kDdVtb. 
All North Dakota counties are in the orange "high risk" level on the state's five-level color-coded system. The risk level determines coronavirus-related protocols in place under the ND Smart Restart Plan for everything from businesses to family gatherings. Those protocols are not enforced.