A fourth person in North Dakota has died of COVID-19, Gov. Doug Burgum reported Monday, but he also stressed that the state remains in good shape when it comes to preserving hospital capacity for the weeks and months ahead.
An Emmons County man in his 70s with underlying health conditions died of the coronavirus disease, Burgum said during an afternoon briefing. The man became infected through community spread, according to the governor. The man is the only resident of the south central county to so far have tested positive.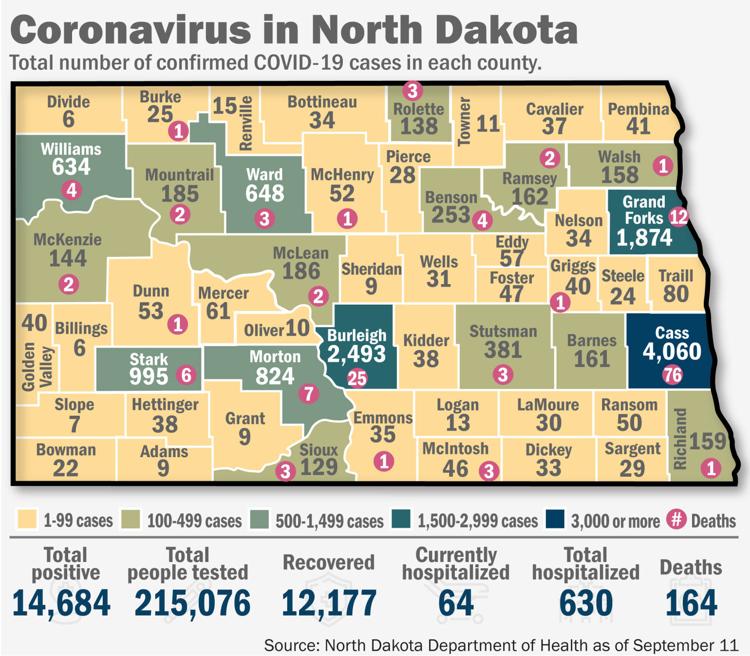 Eighteen more cases statewide were confirmed Monday, including one each in Burleigh and Morton counties. The cases announced by the state Department of Health raise the state's total to 225, with 32 people hospitalized, 74 recovered and three deaths. The department also has started reporting the number of people currently hospitalized. On Monday morning that total stood at 19.
Burgum noted that the state's hospital capacity is estimated to be 2,600 beds even without temporary field hospitals. The U.S. Army Corps of Engineers has identified the University of Mary in Bismarck and the Fargodome as sites for potential field hospitals.
Burgum told people to "take a breath and understand" that 99% of hospital capacity in the state is still available. He also said that North Dakota's rate of positive cases is at 3.1%, compared to states like New York at 40%.
While there have been increased calls by officials including Dr. Anthony Fauci, director of the National Institute of Allergy and Infectious Diseases, for all states to implement shelter-in-place orders, Burgum said "we are clearly one of the states that remains in the very best position."
The governor the past few weeks has resisted a stay-at-home mandate. He reiterated that stance Monday, imploring residents to take "pragmatic and sensible" precautions such as washing hands frequently, minimizing travel and social distancing.
"There's hundreds and hundreds of things that could never be encompassed in an executive order that we as smart North Dakotans can go out and do," he said.
"I will use every tool at my disposal and all the powers that are granted to me as governor, to help protect the health and the safety of the citizens of North Dakota," he said. "But for those that are putting out calls for us to do more, I encourage them to look at the data we're sharing today, and know that when it makes sense, we'll take those steps, and if it makes sense, we'll take those steps."
Burgum did issue two executive orders Monday reinforcing what earlier had been guidelines. People who test positive for COVID-19 are now required to self-quarantine for at least 14 days, along with any family members or others in the household. Burgum also suspended visitation at long-term care facilities, many of which already have their own restrictions in place.
Violating an executive order is a misdemeanor punishable by up to 30 days in jail and a $1,500 fine.
Ramped-up testing
The new case numbers are for Sunday. They include 11 new cases in Cass County, home to Fargo, two apiece in Ward and Walsh counties and one in Slope County. Cass leads the state with 65 confirmed cases. There are 38 confirmed cases in Burleigh County and 17 in neighboring Morton.
State and private labs have tested 7,213 people, with 6,988 being negative. The number of people tested is up 426 from the previous day.
North Dakota has steadily been ramping up testing and over the weekend conducted a pilot project in the rural southwestern towns of Amidon and Gladstone, setting up drive-thru surveillance testing for people who weren't showing any signs of COVID-19.
"This is probably where we've had some issues, where people are asymptomatic -- meaning showing no symptoms -- but they're spreading it unwittingly," Burgum said.
A total of 735 samples were collected, and some people had to be turned away because testing kits ran out. Full results won't be known until Wednesday.
It was "so successful that it was oversubscribed," Burgum said, adding that "this would not have been possible if we had not been able to build up our testing capacity."
Melvin Pierce's family was second in line for the testing on Saturday in Amidon.
"Weren't too concerned about us being positive, but if we can help figure stuff out, that's good," the southeastern Slope County farmer said. He was still awaiting results early Monday afternoon.
Pierce, 65, said the testing site was busy, with more than 100 vehicles in line. His family arrived 45 minutes early, anticipating a wait.
"They did good," Pierce said of the testing. "It was organized well, but the holdup was getting the personal information from everybody. That took a little while. The swabbing took 15 seconds."
Rick Lemke participated in the testing on Sunday in Gladstone, considering it a civic duty.
The Gladstone testing also was busy. Lemke and his wife, Ashley, waited about 2 ½ hours before their tests, which were administered orally.
"There were cars winding around city blocks waiting to take their turns," said Lemke, who sells parts for Nelson International Trucks in Bismarck and Dickinson.
The 45-year-old Gladstone resident had yet to hear results. He said he felt no symptoms of COVID-19.
Burgum said the pilot project validated that oral swab testing is working, and will show whether people who aren't showing symptoms might be carrying the disease.
"This is data that could help really shape our models, not just here in North Dakota, but the models in this country," Burgum said.
The state is considering similar testing in Mountrail County, which encompasses the Fort Berthold Reservation and where 12 of 51 tests have been positive, said Burgum, who called it "a potential hotspot."
Concerned about COVID-19?
Sign up now to get the most recent coronavirus headlines and other important local and national news sent to your email inbox daily.