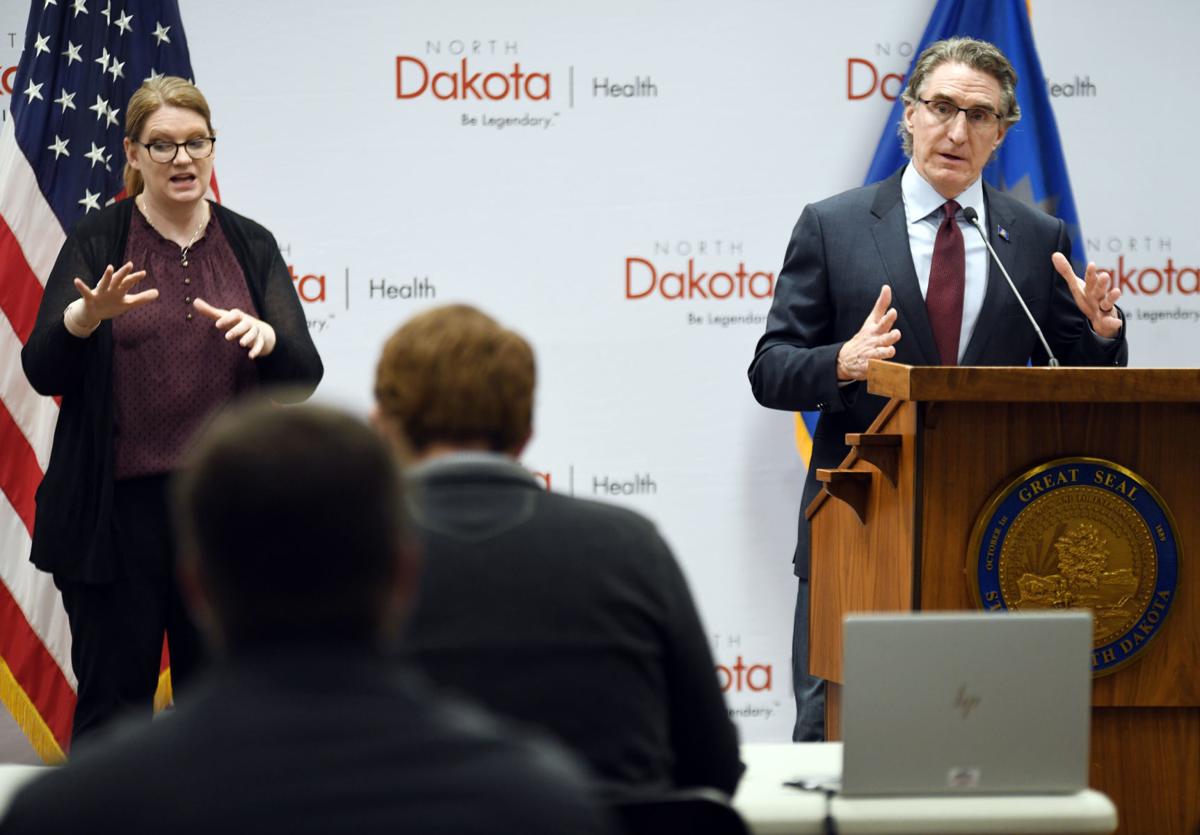 North Dakota officials on Tuesday unveiled a free mobile app that will help state residents voluntarily track where they've been, information that could be useful to health officials working to slow the spread of the coronavirus.
The information compiled by the Care19 app also could eventually help state officials make "smart" decisions on when to relax guidelines such as social distancing, said Tim Brookins, CEO of app maker ProwdCrowd.
State health officials have been working to increase contact tracing -- or determining who has been in contact with people who test positive for COVID-19, the disease that results from the coronavirus.
People who download the app will be given a random ID number, and the app will anonymously cache the person's movements throughout the day, cataloging places the person visits for 10 minutes or more. Should the person test positive for COVID-19, he or she can consent to provide their tracking information to state health officials.
"You stay healthy for this whole thing, then you'll never need to ever look at this app," Gov. Doug Burgum said at an afternoon briefing. "If you find yourself in two weeks, or four weeks, or six weeks from now, you're one of those individuals that test positive, or you're in close contact with someone who tested positive ... you pull up your Care19 app, and you'll be able to provide information about where you've been."
Brookins said officials can use the collective data later in making decisions about easing requirements when the coronavirus threat lessens.
"How can we make those decisions in smart ways? By using the app in aggregate, the government can get a feel ... for how the population is interacting and get a better idea for when they can relax those requirements," Brookins said.
Care19 is available at the Apple app store, and should be available for Android users soon, possibly within a week, according to Burgum.
New cases
Health officials on Tuesday reported 12 more cases of COVID-19, including another case each in Burleigh County and Morton County and the first confirmed positive case in southwestern Bowman County.
The new cases of the disease raise the state total to 237, with 82 recoveries and four deaths. A total of 33 people have been hospitalized; 18 remained there on Tuesday.
The Bowman County case is a man in his 60s who became infected through community spread, according to the state Department of Health. Bowman County neighbors Slope County, where a third positive case was confirmed. The state over the weekend conducted drive-thru surveillance testing in the small Slope County town of Amidon.
The new Burleigh County case raises the county's total to 39, second only to Cass County. That county, which is home to Fargo, has five new cases. The new Morton case raises the county's total to 18.
The new case numbers are confirmations from Monday. They also include cases in McKenzie and Mountrail counties.
State and private labs have tested 7,703 people, with 7,466 being negative. The number of people tested is up 490 from the previous day. Burgum has stressed that because testing data lags and not everyone is tested, the actual number of positive cases in the state could be 10 times higher.
No mandate
Burgum for a second consecutive day justified not issuing a stay-at-home mandate in the face of growing pressure, North Dakota being one of the few states not to implement some form of shelter-in-place order.
Dr. Anthony Fauci, the top U.S. infectious disease official, had earlier called for all states to make the move, but on Tuesday he appeared to backtrack, saying what some states have done is "functionally equivalent" to a stay-at-home mandate.
"Hopefully that'll put that to bed," Burgum said.
The governor reiterated that he thinks the "individual responsibility" being shown by North Dakotans is enough. He said the fact that less than 1% of the hospital beds in the state are being taken up by COVID-19 patients "should give people great comfort that the strategies we've implemented are working."
"People in North Dakota can relate to the fact, some people have said we're using a scalpel not a sledgehammer," Burgum said. "For those many hunters in North Dakota, (they) would know that we're using a rifle and not a shotgun when it comes to the decisions we're making."
Executive orders
Burgum issued four more executive orders on Tuesday, all aimed at eliminating barriers in state law or regulations to the ability of officials and others to deliver essential services during the outbreak.
suspended pesticide applicator certification for the use of nonrestricted disinfectants
gave school districts the flexibility to conduct special elections by mail-in ballot only
extended the cutoff date for winter-grade fuels from April 1 to May 20, to help retailers sell stocks left flush by less traffic
suspended the requirement for school districts to conduct written performance reviews of teachers, principals and assistant/associate superintendents employed for more than three years, to free up teachers and administrators to focus on distance learning.
Unemployment update
Job Service North Dakota has been flooded with unemployment claims over the past three weeks -- 40,458 since March 16.
"That is two years' worth of claims," Burgum said.
Included in that number were 2,666 unemployment claims filed Monday. Of those, 1,045 were from contractors, gig workers and people who are self-employed, groups of workers who are typically not covered by unemployment insurance but are eligible due to the coronavirus pandemic.
A total of 2,568 self-employed workers, independent contractors and gig workers are now covered under the expanded unemployment guidelines.
Burgum last week waived the mandatory one-week waiting period before a person can file for unemployment benefits. He said changes have been made to the state's "aging" mainframe to deal with the expanded amount of people who qualify for unemployment.
"Now, the benefit payments can get into the hands of claimants more quickly," the governor said.
A total of 12,914 weekly unemployment benefit payments totaling more than $11 million went out Tuesday, compared to $2 million that the state typically pays this time of year.
Concerned about COVID-19?
Sign up now to get the most recent coronavirus headlines and other important local and national news sent to your email inbox daily.