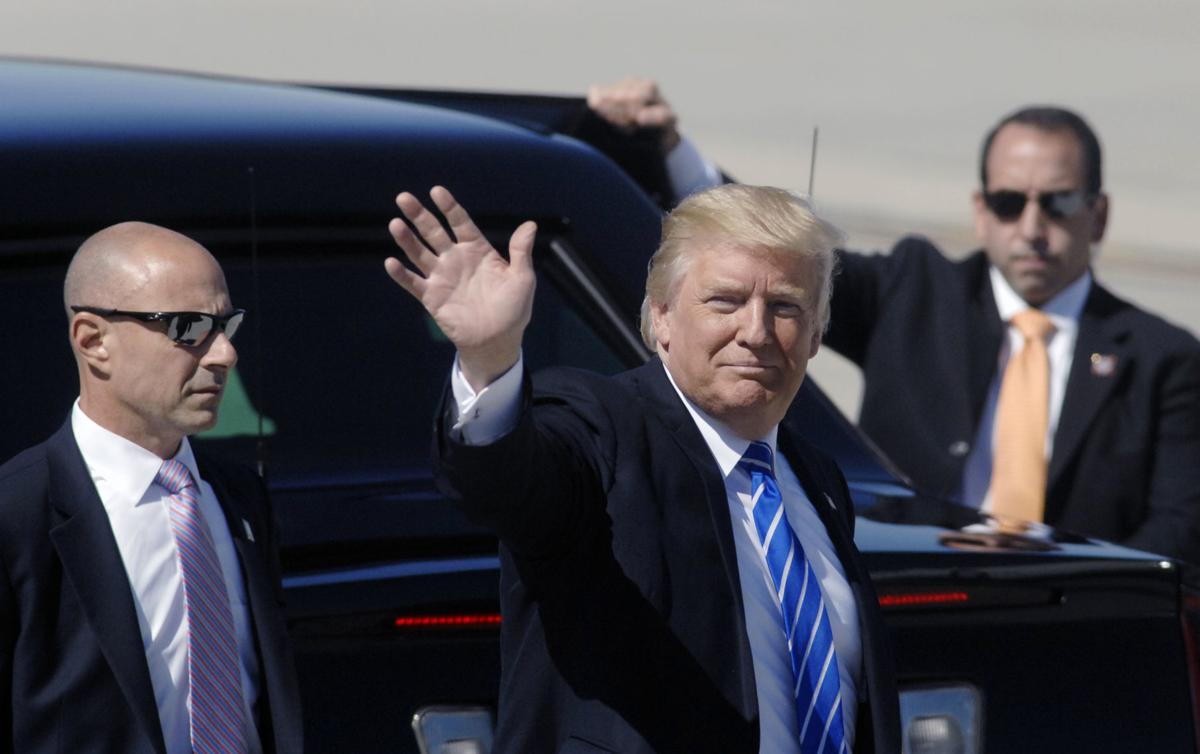 President Donald Trump has made the unusual move of weighing in on a low-profile statewide race in North Dakota, endorsing one of two Republican candidates for state treasurer after a conversation with U.S. Sen. Kevin Cramer, R-N.D., a longtime ally. 
Reps. Thomas Beadle, R-Fargo, and Dan Johnston, R-Kathryn, are seeking their party's nomination from voters in the June primary, which is being held by mail-in ballot due to the coronavirus pandemic. The outbreak had led party leaders to cancel the March state convention where delegates would have endorsed statewide and congressional candidates.
Trump, who has 80.2 million followers on Twitter and got nearly two-thirds of the vote in North Dakota in 2016, tweeted his endorsement of Johnston at 12:16 p.m. Sunday.
"I always stand with leaders who weren't afraid to stand early with me. That's why I am supporting a true conservative, @DanJohnstonND for State Treasurer of North Dakota!" he tweeted.
The tweet generated more than 14,100 retweets and more than 53,400 likes.
Johnston, a military veteran who runs a farm with his family, said he was at home when he saw the tweet, which he called a surprise. 
"I think it comes down to the fact that I have been and always was a supporter of Donald Trump," he said of the endorsement. Johnston was first elected to the Legislature in 2016.
Since the tweet, traffic to Johnston's campaign webpage and social media has surged and he's received more donations, he said.
Beadle attributed Trump's endorsement of Johnston to Cramer seeking a favor from the president. Cramer said Trump endorsed Johnston "after I informed him of the two people running."
Cramer, who also has endorsed Johnston, said he spoke last week with Trump and pointed out Johnston's early 2016 support for the president. Johnston also has been supportive of Cramer.
"People that supported Donald Trump early and had the courage to do it when it really mattered ... those are people that Donald Trump stands with," Cramer said.
He also told Trump of pro-Beadle flyers with images of Trump and Beadle that Cramer said "demonstrated a gross mischaracterization" of Beadle's relationship with the president.
"To me, that just had to be corrected," Cramer said.
Beadle said a separate group, not his campaign, is behind the flyers, which he said note his support for the Trump administration agenda, not an endorsement from Trump.
Treasurer isn't the only North Dakota race that Trump has weighed in on. During the state's high-profile 2018 U.S. Senate race, Trump visited Fargo twice to campaign for then-U.S. Rep. Cramer, who went on to beat U.S. Sen. Heidi Heitkamp, D-N.D., in her reelection bid. 
Johnston's most high-profile, in-state endorsements are Cramer and current Treasurer Kelly Schmidt. He acknowledged the president's endorsement seems unusual for such a race. Schmidt, a Republican first elected in 2004, said the treasurer's seat typically is not a high-profile race in North Dakota.
Beadle, a real estate broker and a business development manager for Super Studio, said Trump's endorsement does not change his strategy or vision for the office.
He has endorsements from Gov. Doug Burgum, former Gov. Jack Dalrymple, Attorney General Wayne Stenehjem and fellow state lawmakers.
"The folks that know us the best, that work with us directly in Bismarck, those are the ones that are supporting me," Beadle said. He was first elected to the Legislature in 2010.
Voters will nominate either Johnston or Beadle. The Republican nominee is expected to face Democratic-NPL candidate Mark Haugen in November. A Democrat last won the seat in 2000.
North Dakota's treasurer is the custodian of the state's funds and sits on several state boards. The new treasurer's four-year term begins Jan. 1, with an annual salary of $110,582.