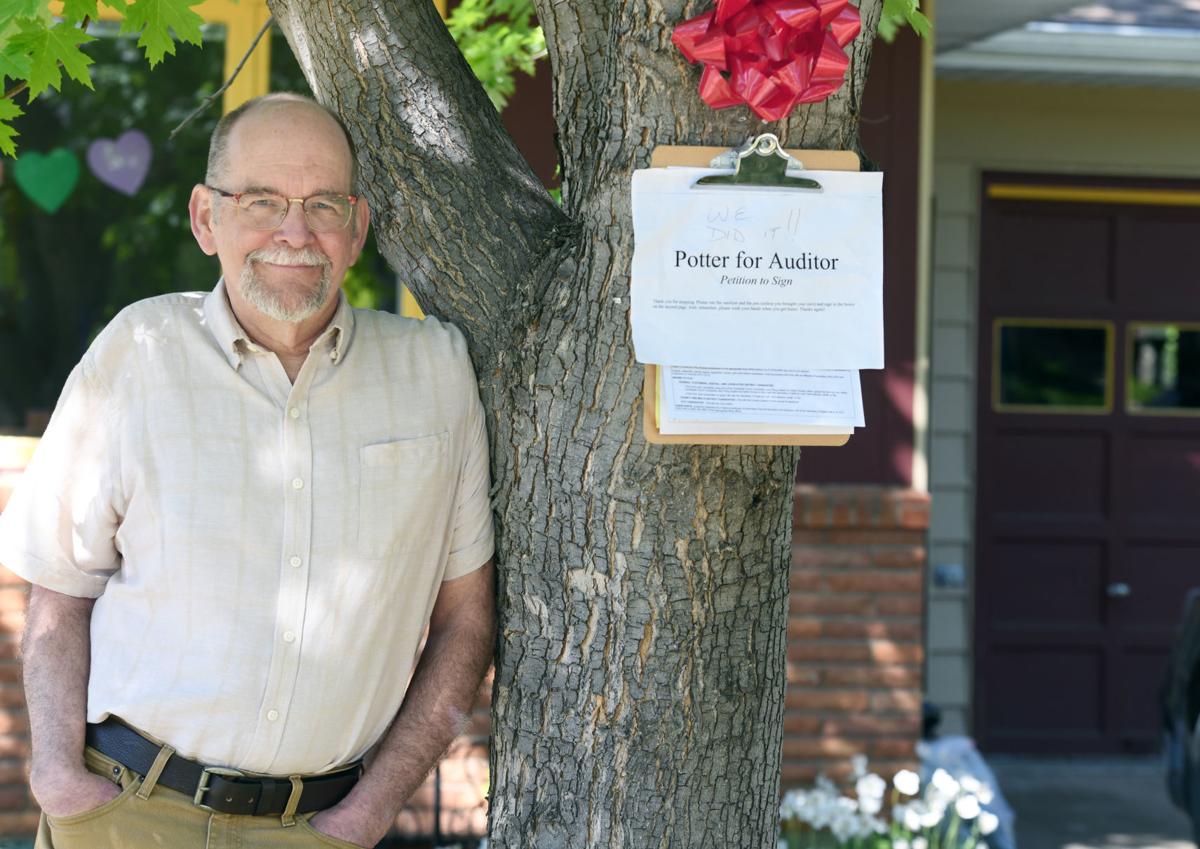 Without door-knocking, rallies and fundraising dinners, campaigning in a pandemic looks different for candidates vying for a victory in the June election.
It's also different for voters who normally trek to the polls and for county auditors who typically spend hours setting up the sites.
For many candidates, early campaign efforts involved gathering signatures to get on the ballot. Most offices require 300 signatures.
"Usually that involves hanging out in the downtown area and haunting saloons," said Tracy Potter, a candidate for Burleigh County auditor.
Potter is running against Dale Patrick and Leo Vetter in the June primary, which will determine the two candidates who make it onto November's general election ballot.
Potter said the challenge of campaigning while practicing social distancing "was really a motivator," and he got creative. He nailed a clipboard with his nominating petition attached to a maple tree in his front yard. His wife set a bottle of hand sanitizer nearby so that people could sign the sheet of paper and then disinfect.
"Fifteen people did that," he said. "It was great."
Potter gathered the rest of the signatures by sending copies of the petition to friends via Facebook or email. Signers returned 100 sheets with a total of 400 signatures.
Thomas Beadle, a state representative from Fargo vying for state treasurer, went through a similar process emailing his petition to friends who reached out asking how they could help his campaign. They sent back 700 signatures.
"Some of them would only get me one or two signatures; others would fill up a page," he said. "I was very, very surprised and pleased with the overall support that I was able to get through the petition process."
He is competing against state Rep. Dan Johnston in the Republican primary.
Beadle has won three races in the past for state representative in which he relied "very heavily" on going door to door to speak with voters.
That wasn't an option this year, so he has instead turned to a "network of friends and supporters and folks that have volunteered, who have stepped up to get our message out there."
Relying heavily on supporters to spread the word is something he anticipates candidates will apply again in future campaigns even once the coronavirus pandemic has passed.
A lack of in-person events that might typically result in a candidate raising hundreds or even thousands of dollars has changed campaign fundraising. This year, Beadle is reaching out to people via the phone and other channels of communication to seek donations.
Candidates also are having to rethink the big push they typically make right before election day, given that voters are mailing in ballots this year and not voting at physical polling locations next month.
Gov. Doug Burgum on March 26 signed an executive order waiving the requirement that counties provide at least one physical polling site for the June election -- the primary for county and state races and the general election for city, park board and school board races. All 53 counties have gone that route.
As of Friday, nearly 74,000 voters had already mailed in their ballots, representing 41% of the people who had received a ballot after requesting one this spring, according to data from the Secretary of State.
"In past elections we've always been very good at timing, getting some of our material out right before early voting starts and then again right before election day itself," Beadle said. "You have some very clear, set windows of when people are going to the polls. This time it's extended out that operation."
Potter feels that with his campaign as well. As a former state senator who also ran for office several other times, he used to campaign most heavily toward the end of the race as many voters were making up their minds about which candidate to support.
"This one is just nuts," he said. "We're just taking a guess."
This year, he took out several newspaper ads in mid-May and tried to distribute his yard signs as quickly as possible earlier this spring. As he dropped off signs at supporters' homes, he made sure to keep his distance.
"Some of them have waved to me from the window," he said with a laugh.
While candidates adjust their campaigns, county auditors have to adapt the way they run elections.
That's particularly true in more urban counties such as Burleigh where there might be dozens of polling locations to rent and staff during a typical election.
About 20 counties have not previously held vote-by-mail elections, said Bonnie Erickson, president of the North Dakota County Auditors Association.
But for the past 10 years, voting by mail has been the norm for voters in Benson County, where Erickson is auditor.
"A lot of them were uncertain the first year or so," she said. "Once they do it, they determine they really like it. It's so convenient, especially in November when you don't know what the weather is going to be like."
In the lead-up to election day June 9, auditors are busy turning around ballot applications, trying to quickly mail out ballots to residents who ask for one.
Some counties are likely to find that they save money this year because they need to rent fewer facilities and hire fewer poll workers, Erickson said.
Counties can begin processing and tabulating ballots as early as June 3, finishing up on election day, according to Secretary of State Al Jaeger.
Each will use a new high-speed machine to tabulate votes. The devices can accommodate a large stack of ballots at once, so a poll worker will no longer need to feed in each ballot individually.
"It will be much faster," Erickson said.
Concerned about COVID-19?
Sign up now to get the most recent coronavirus headlines and other important local and national news sent to your email inbox daily.