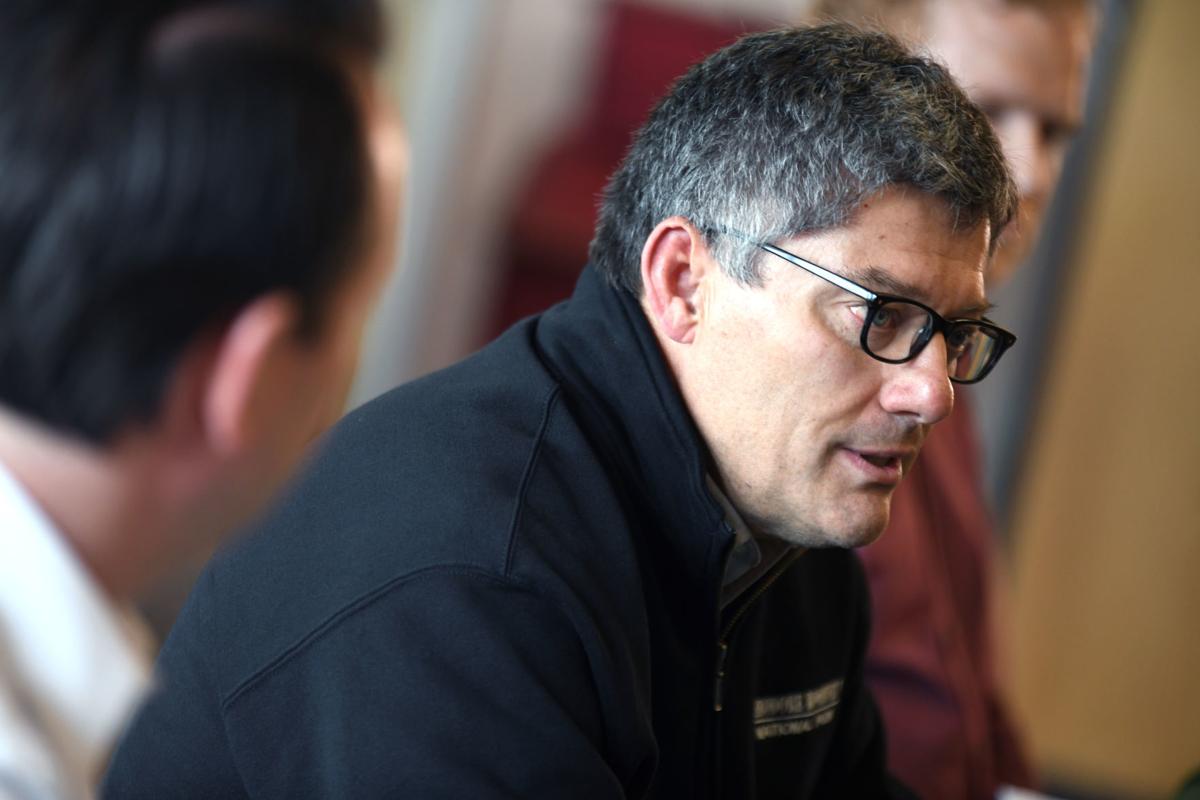 Theodore Roosevelt Medora Foundation President Randy Hatzenbuhler will lead efforts to raise $100 million for the proposed Theodore Roosevelt Presidential Library.
Library board CEO Ed O'Keefe told The Bismarck Tribune editorial board on Thursday of Hatzenbuhler's new role of executive director for development of the library. The board must raise $100 million privately to construct the library and access a $50 million operations endowment funded by public money and greenlit by the 2019 Legislature.
Hatzenbuhler did not immediately return a phone message seeking comment. Former Gov. Ed Schafer, chairman of the foundation, called Hatzenbuhler's new role "great news."
"He's just one example of how these two organizations can work toward success together," Schafer said in a statement.
Hatzenbuhler, president since 1997, will continue his role leading the foundation, which hosts the Medora Musical and other attractions around the Old West tourist town in the western North Dakota's Badlands on the doorstep of Theodore Roosevelt National Park.
O'Keefe, a longtime media executive and Grand Forks native, said the fundraising campaign will be on North Dakota and national scales.
The library board hopes to raise the $100 million by the end of 2020. O'Keefe's predecessor last spring said the library effort had $52 million in pledges, and Gov. Doug Burgum in April noted "generous indications from people" of about $52 million for the project. O'Keefe -- who took over as CEO earlier this month -- said those pledges were not made to him and he considers the fundraising effort be starting from scratch.
"Conversations and verbal commitments are not donations, so I'm not counting on anything until it's in the bank," he said. "That's just how we have to approach this."
He said potential donors have interest in a variety of components related to the library, such as its architecture and design, programming and Dickinson State University's ongoing digitization of Roosevelt documents.
"We need to establish those benefactor category levels. We need to think about who's going to dedicate what funds to what, and we're just not there yet. It just doesn't exist yet," O'Keefe said. "Conversations about interest and commitment are very different than writing a check."
O'Keefe has pledged transparency. The board is expected to release a project brief in mid-December detailing the proposed library.
"We don't want to build a box in the Badlands with exhibits under glass," O'Keefe said. "We want to build an immersive storytelling experience."
The project brief will be sent to architects, with as many as five eventually chosen to submit proposals in what O'Keefe called "a design competition." The board hopes to make a final selection next spring. A site selection would follow.
O'Keefe has mentioned a "Top Five" list of potential sites for the library in or near Theodore Roosevelt National Park's South Unit. He said any site would need to be an estimated 5-20 acres with room to expand the library, while keeping in mind the Badlands' geology and flood plain.
Theodore Roosevelt descendant Ted Roosevelt and 1998 Dickinson State alumna Melani Walton, who is married to former Walmart Inc. Chairman Rob Walton, are co-leaders of the fundraising campaign. They have not said if they have personally pledged any money.
"We've had a series of good introductory events, and I would say interest is strong just in the early days of this thing," Burgum said Oct. 3.
The goal is to begin actual construction of the library in 2021 or 2022, with an opening in 2023 or 2024, according to O'Keefe.
"No one is thinking of this as a decadelong project," he said.
Get Election 2020 & Politics updates in your inbox!
Keep up on the latest in national and local politics as Election 2020 comes into focus.