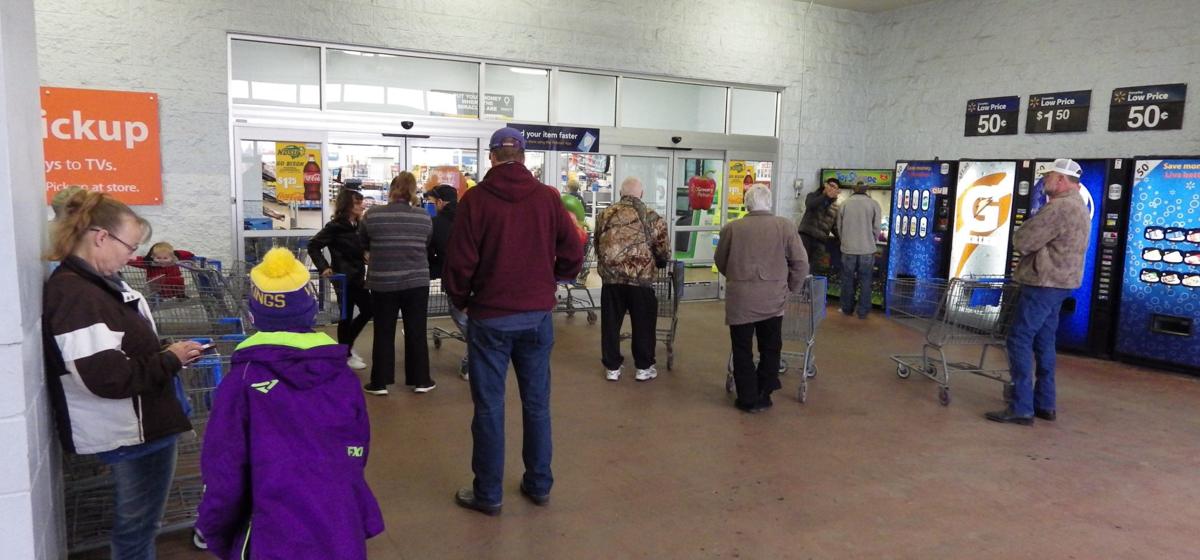 Shoppers lined up with carts at the front doors to Walmart in south Bismarck. Almost time.
Others scrolled through their smartphones, while more sat in their running vehicles in the parking lot, reading, smoking or listening to music. It was 11:58 a.m. Sunday — two minutes until they could begin shopping.
Retailers are prohibited from opening before noon on Sunday under North Dakota's so-called "blue law." Proposed legislation that will get its first hearing on Wednesday would allow retailers the choice to be open on Sunday morning. 
"I think that people that don't go to church shouldn't have to wait 'til church is over to go shopping," said Deborah Cheek, as she waited to enter Walmart to buy a phone card. "I believe in God. I'm a Christian. But they need to have a choice, at least." 
Rep. Shannon Roers Jones, R-Fargo, is introducing House Bill 1097, which she said would allow businesses to be open on Sunday mornings. A similar effort narrowly failed in 2017.
"We're just putting the decision-making process back in the business owners' hands so that they can make the decision for their business that's going to be in their best interest," Roers Jones said.
Open or closed?
As she waited in her car to buy groceries at the south Bismarck Walmart, Denise Beattie said a repealed ban on Sunday morning shopping wouldn't matter much to her, though the option to open might be nice for some folks.
"I suppose it would be nice for everybody else, but me personally, it doesn't matter," said Beattie, who was waiting to shop after her church let out early. 
Elizabeth Steiner, who's worked for Walmart for almost 13 years, said she likes the blue law. 
"I can come to work, I can get all my work done before the store opens and the customers come in, so the store is all nice and clean, and it's wonderful," Steiner said, reading a romance novel in her vehicle while on her 15-minute break. "All the shelves are stocked, and it's all ready for them."
People have enough time to shop from Monday to Saturday, she added.
"To me, Sunday is church. Sunday is for your family," Steiner said.
Pam Haluzak, also on her break at work for Walmart, said she'd like to see the blue law "pulled out of here." 
"The other states don't have it. You go to Fargo, you can go across over to Minneapolis or Minnesota, and you can go in," Haluzak said as she sat in a vehicle with her daughter, Kathleen Markham, who said she prefers 24/7 sales.
Up for hearing
Roers Jones said House and Senate votes on HB1097 may be close, but noted "new blood" in both chambers since 2017. She also said she's been visiting with fellow Republican lawmakers and hopes to "change a few minds."
"Strangely, to me, I find it hard to believe that my Republican colleagues are opposed to taking government out of businesses' decision-making process when the first two points on the Republican platform are personal responsibility and limited government," Roers Jones said. 
Testimony at Wednesday's hearing may be hard to predict, said Roers Jones, who added she hasn't solicited many people for testimony on the bill. 
"I know that people do have strong feelings on it, so I hope it'll be a discussion," Roers Jones said.
One group, North Dakota Open on Sundays, has organized to follow and support HB1097. Brandon Medenwald — who has sought ballot reform on Sunday shopping and unsuccessfully ran for a House seat in 2018 — is keeping track of the effort. He and Roers Jones have visited over Sunday shopping reform. 
"Government shouldn't be telling us when we can open our businesses," Medenwald said. "It shouldn't be telling us when, as individuals, when we can rest or when we should worship or where we should spend time with our families. Those should be individual choices, because everybody's lives are different." 
Medenwald, who plans to testify at Wednesday's meeting, said his group will be heavily involved in trying to keep the issue in the public spotlight as HB1097 moves along. 
Brian Ritter, president of the Bismarck-Mandan Chamber EDC, said the group hasn't taken a formal position on HB1097, but supported the 2017 repeal effort. 
"The feedback that we and I've personally received from members to date has really been as long as the bill is not mandating that anyone be open prior to noon on Sundays, and that's an option for those businesses to be open, then I think there's a comfort level there," he said. 
Ritter also said he or another chamber EDC representative will attend Wednesday's hearing on HB1097. Medenwald said there may be "a full house." Legislation can be hard to understand, but this idea is pretty straightforward, he said. 
"This is one of those issues that is very easy for the average citizen to understand because it impacts their week-to-week life," Medenwald said.
HB1097 goes before the House Industry, Business and Labor Committee at 9 a.m. Wednesday in the Peace Garden Room of the state Capitol in Bismarck.