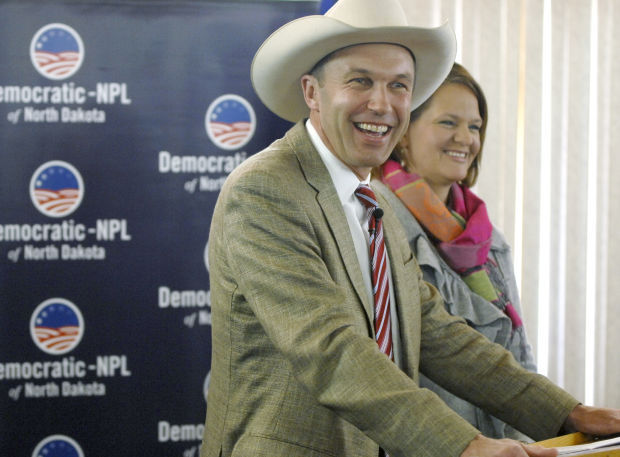 BISMARCK, N.D. — Ryan Taylor told supporters Friday his entry into the North Dakota agriculture commissioner race is to ensure farmers and ranchers in the state have an advocate who'll protect their interests as the state sees unprecedented energy growth.
The former Democratic lawmaker from Towner announced his candidacy at the Kennedy Center in Bismarck.
"The agriculture commissioner plays a key role in what I like to call North Dakota's first industry," Taylor said. "I know full well the business of agriculture and I know full well the culture of agriculture."
Taylor was in the state Senate from 2002-12, serving three sessions on the Agriculture Committee and as minority leader during his final two years in office. Taylor has a farm near Towner and also is a columnist.
Friday's announcement launched Taylor's second statewide run for office. The first was an unsuccessful bid for governor in 2012 against Republican Jack Dalrymple. He garnered just more than 34 percent of the vote.
The current agriculture commissioner is Republican Doug Goehring. He is being challenged for the party's nomination by first-time candidate Judy Estenson of Warwick.
Taylor said as agriculture commissioner one of his top priorities would be to be a strong advocate for agriculture on the three-member North Dakota Industrial Commission. Taylor said he'd make sure he came to each meeting ready to question and debate drilling permits and proposals before the commission.
"With ag having a seat on the North Dakota Industrial Commission it's shocking how little you hear about agriculture," Taylor said.
You have free articles remaining.
Taylor said he'd be ready to question proposals related to energy development in order to find a way for energy and agriculture to co-exist.
"Today's discussions about agriculture are also discussions about energy … it doesn't always align with agriculture. An agriculture commissioner needs to take a holistic view (of things). We can't sacrifice agriculture in the process," Taylor said.
Taylor said it takes a strong agriculture commissioner to move the discussion more toward enacting a balance between keeping agriculture strong for future generations and responsible energy production.
"I will make sure that (the energy) industry is treated fair and square," Taylor said. "But I will also make sure that the agricultural industry is dealt with just as fairly and squarely."
North Dakota Republican Party Chairman Robert Harms issued a statement following Taylor's announcement.
"We look forward to contrasting Republican ideals and philosophy to those Mr. Taylor will be expressing in the coming year. We believe the voters will once again embrace our Republican views," Harms said.
Harms also expressed surprise that Taylor would enter the race. Taylor told the Tribune late last year he had decided to sit out the 2014 election cycle to focus on a two-year fellowship through the Bush Foundation. After Estenson mounted her challenge to Goehring, Taylor acknowledged he'd been considering a run for agriculture commissioner.
"Campaigns are about ideas and policies that move North Dakota forward," Harms said. "Voters of North Dakota already rejected Taylor's views two years ago during his failed run for governor, when he barely tallied one-third of the vote."
The Democrats are holding their convention in Fargo on March 28-30; the Republicans are holding theirs April 4-6 in Minot.