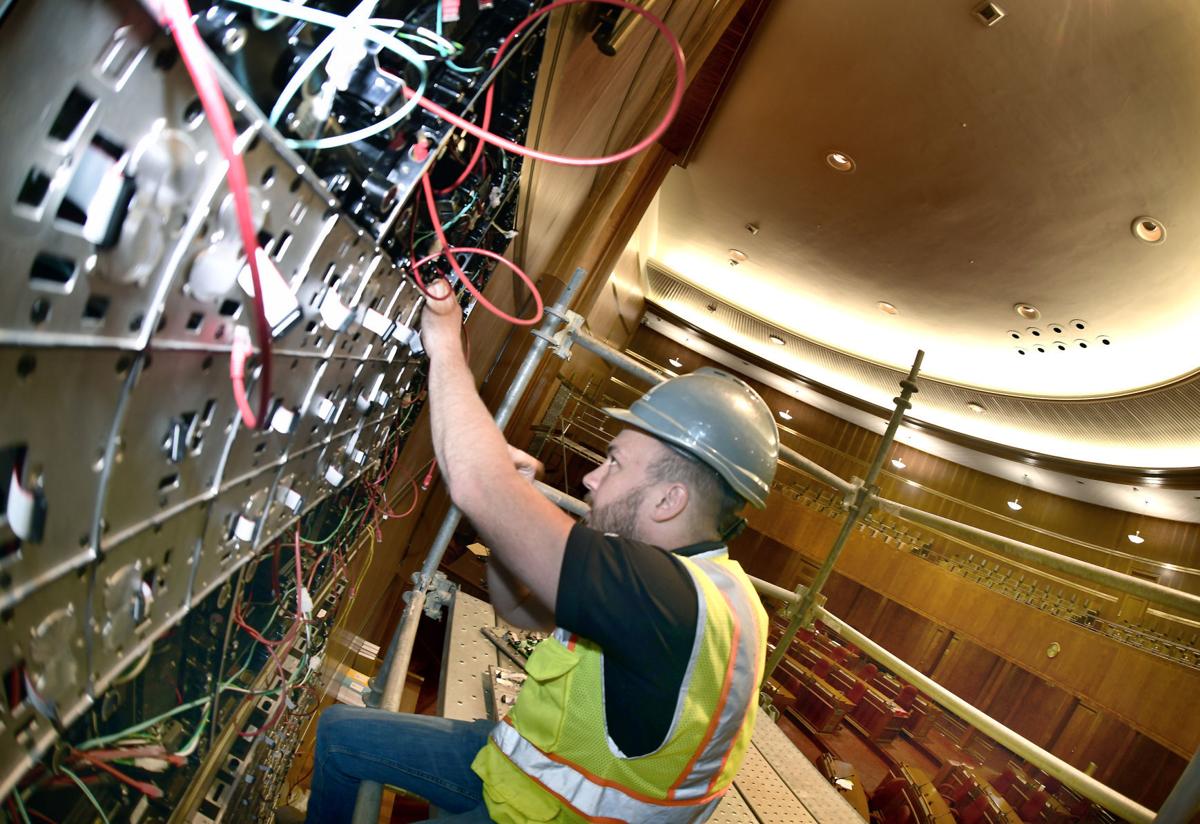 North Dakota legislative leaders this week laid plans for the looming 2021 Legislature to convene face-to-face with extensive remote capabilities, but more preparations remain, such as how to handle a potential flood of remote testimony.
The Legislative Procedure and Arrangements Committee adopted rule changes for lawmakers remotely voting and recording presence, as well as for implementing social distancing, such as limiting or distancing people in galleries and corridors, and taking "other actions to promote health and safety" in the House and Senate chambers.
Legislative committees also will accept online and telephone testimony and will be using additional meeting rooms throughout the Capitol for social distancing.
The committee will send a potentially $1 million request to the state's Emergency Commission for using repurposed federal CARES Act coronavirus aid for more cameras and livestreaming capabilities in other meeting rooms. 
Senate Majority Leader Rich Wardner, R-Dickinson, who chairs the committee, said lawmakers will be able to participate remotely if they desire, either from home or office space in the Capitol. Legislative staff are finding potential office space throughout the building for lawmakers, who always have worked from desks in the House and Senate chambers during the session. 
"We're going in with the idea we're going to all meet face-to-face, but we know that it's probably going to be a hybrid and we're good with that," Wardner said.
House Majority Leader Chet Pollert, R-Carrington, said he prefers face-to-face business but understands concerns of people who have underlying health conditions or are uncomfortable due to the pandemic.
"We've got to be respectful of that," he said.
The committee for months has been ramping up livestreaming and remote capabilities for legislative meetings amid the coronavirus pandemic. The 2021 Legislature convenes Jan. 5 and is limited to 80 days. The 2019 Legislature used 76 days.
The committee will meet again to determine further details that remain, such as sizing room space.
House Minority Leader Josh Boschee, D-Fargo, is preparing for a discussion about the wearing of face masks.
He broached masks in Wednesday's meeting, comparing compliance with public health guidance to adhering to the Legislature's dress code.
"I'm required to wear a tie because that's part of our dress code, so mandating a mask shouldn't be a problem," Boschee said.
The Legislature's goal "should be to create a bubble," he added, pointing to what impacts could occur if staff are out sick.
The Legislative Council already has had a staff member diagnosed with COVID-19, leading the 32-person agency to work remotely for two weeks last month.
Pollert said he doesn't prefer a mask mandate. He agrees with Gov. Doug Burgum's approach to advocate mask wearing and encourage personal responsibility in doing so.
Wardner said he and Pollert have "got an idea what we're going to do" regarding masks, but he declined to elaborate. They will be speaking with Boschee and Senate Minority Leader Joan Heckaman, D-New Rockford. 
Deciding how to hold floor sessions and setting meeting spaces for committees are ongoing discussions, Pollert said.
"We definitely have to social distance. No doubt about that," he said.
Wardner said legislative leaders will be double-checking preparations and probably will refine some details. 
Committee chairs will have to decide how to handle a potentially increased interest in public testimony, Pollert said. High-profile bills could draw 1,000 or 2,000 people wanting to give remote testimony, he said. Interested people are still able to email testimony to lawmakers.
"That chairman is going to have to control how he's going to run his committee," Pollert said.
Wardner expects public testimony to be time-limited and on a first-come, first-served basis, with anyone interested in testifying remotely being required to contact the committee chair or clerk in advance to be put in a queue.
"You're not going to be watching videoconference sitting on your couch, watching it, and then all of a sudden you say, 'Oh, I want to testify.' Well, that's not going to happen," he said.
Those details need "a system in place" that is publicized, he added. Groups of people interested in testifying might have to designate a speaker.
Wardner expects the Legislature would recess potentially for weeks should a coronavirus outbreak occur. Outbreaks "could absolutely stretch the session into the summer," he said. The 2019 Legislature adjourned in late April.
"We're going to have to be cognizant that the what-ifs are probably going to happen," Pollert said.
The Legislature's organizational session is Dec. 1-3. Among various business, newly elected lawmakers will be sworn in and Burgum will give his budget address to a joint session.