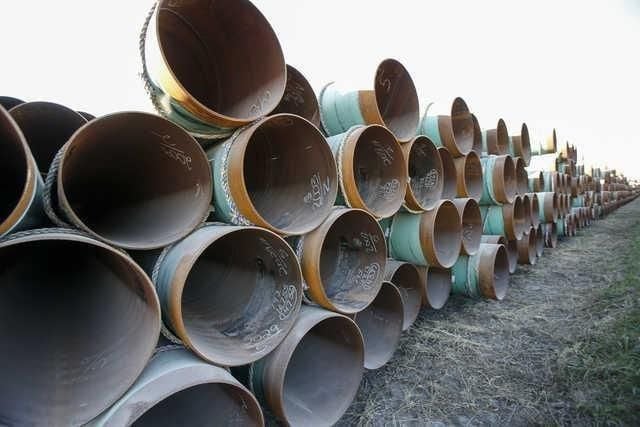 North Dakota regulators on Wednesday defended their permit approval for the Dakota Access Pipeline, saying they hope tensions between protesters and law enforcement at a site near the Standing Rock Sioux reservation will cool off in the days ahead.
"I really regret that there's this much conflict," said Julie Fedorchak, chairwoman of the North Dakota Public Service Commission. "They have a right to disagree. They don't have the right to threaten. They don't have the right to obstruct."
Hundreds of activists, as well as protesters from various tribes, have descended on the site in Morton County. Construction workers had begun ground work near where a section of the pipeline is intended to go. It will be bored under the Missouri River less than a mile from the tribe's reservation boundary.
Since last week, at least 28 arrests have been made during the protests for disorderly conduct and criminal trespass.
Work has ceased indefinitely as of Wednesday.
Protesters' concerns include potential contamination of the Missouri River if the pipeline were to rupture, as well as the disturbance of cultural sites along the route.
After a rumor of human remains being found at the construction site spread, State Historical Society of North Dakota officials inspected the site on Friday but found no evidence of any cultural site or remains.
The Standing Rock tribe has filed a federal lawsuit against the U.S. Army Corps of Engineers over the permits issued for the project.
Dakota Access LLC, a partner of Dallas-based Energy Transfer Partners, countered on Monday by filing a lawsuit against Standing Rock Sioux Chairman Dave Archambault II and several others, citing threats to the safety of construction workers and law enforcement. Archambault was arrested Friday.
Archambault told reporters on Monday he was simply doing what others were doing during the protest when arrested. Several arrests were made when protesters pushed back against a police line when an attempt was made to block workers from leaving the site.
"The Dakota Access Pipeline project is harmful. It will not just be harmful to my people, but its intent and construction will harm the water of the Missouri River," Archambault said Monday when urging others to join them.
Fedorchak said the 1,172-mile, 30-inch-wide pipeline project was reviewed over a 13-month period, with hearings in Mandan, Killdeer and Williston last year.
"This was very carefully reviewed by the PSC," Fedorchak said.
Dakota Access began work on the nearly $3.8 billion project this spring following permit approval by the PSC and regulators in other states along the route. The pipeline is to begin in western North Dakota near Stanley and end near Patoka, Ill. It would transport as many as 450,000 barrels per day of Bakken crude when finished, with a future capacity of 570,000 barrels per day.
"They have a right to build this project," said Fedorchak, adding that the company went through the proper permitting process and was granted approval.
Commissioner Brian Kalk agreed.
"These groups didn't come to our hearings," said Kalk, expressing disappointment that tribal leaders didn't appear at that time to voice their concerns.
Commissioner Randy Christmann said a large portion of North Dakota oil is transported by rail, and accidents can result from that mode of transport as well.