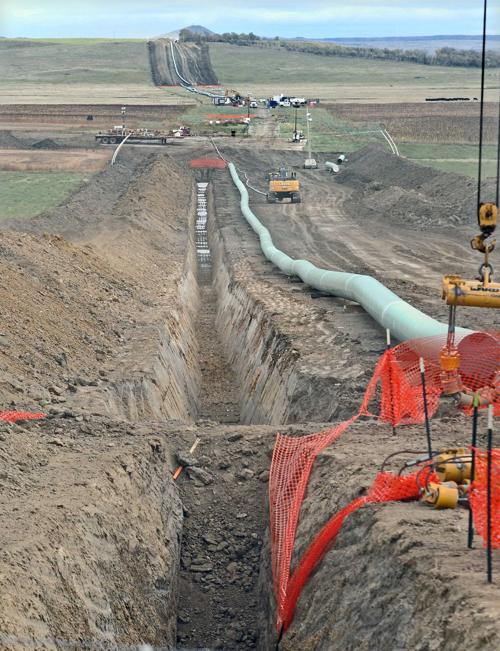 Dakota Access LLC will be notified of a $15,000 fine for not filing proper certification on a reroute of the Dakota Access Pipeline, according to state regulators.
It was a rare complaint against a pipeline company Tuesday: The company waited 10 days before notifying the North Dakota Public Service Commission of the unanticipated discovery last month of cultural artifacts, including stone cairns at a construction site.
"They're supposed to file information and get clearance from us to proceed," Commission Chairwoman Julie Fedorchak said.
Of the $15,000 fine, $10,000 is being recommended for not receiving approval to proceed with a reroute and $5,000 for not getting proper certification.
Dakota Access has 20 days to respond to the complaint. The company can provide information disputing the PSC's findings, agree with them and work out a settlement or request a formal hearing on the complaint.
Commission members can still adjust the amount of the fine.
"There's a balance in finding the appropriate levels in fines and what triggers them," said Fedorchak, adding she has no evidence to suspect that Dakota Access has acted in bad faith during the course of construction.
An email to a Dakota Access spokeswoman for comment on the complaint wasn't immediately responded to on Tuesday afternoon.
Dakota Access in a separate statement Tuesday said construction in North Dakota has been completed on both sides of Lake Oahe and the company is preparing the horizontal drilling equipment it plans to use to bore under the lake. It expects to have the equipment ready to begin in about two weeks.
"Dakota Access remains confident that it will receive the easement for these two strips of land adjacent to Lake Oahe in a timeframe that will not result in any significant delay in proceeding with drilling activities under Lake Oahe," the company said in a statement. "Dakota Access previously received a permit from the Army Corps with respect to the tunneling activities under Lake Oahe and Dakota Access has all other regulatory approvals and land rights to complete the crossing of the Missouri River at Lake Oahe."
The 1,172-mile, $3.8 billion project has been under construction for months and would transport up to 470,000 barrels per day of Bakken crude from North Dakota to Illinois upon completion.
The project has drawn opposition from tribal members and activists across the country who have been staying at protest camps near the Standing Rock Sioux Tribe's reservation boundary for months.
Opponents are concerned about the potential for leaks, if the pipeline were to be completed. Demonstrations against the project have resulted in at least 425 arrests since August.