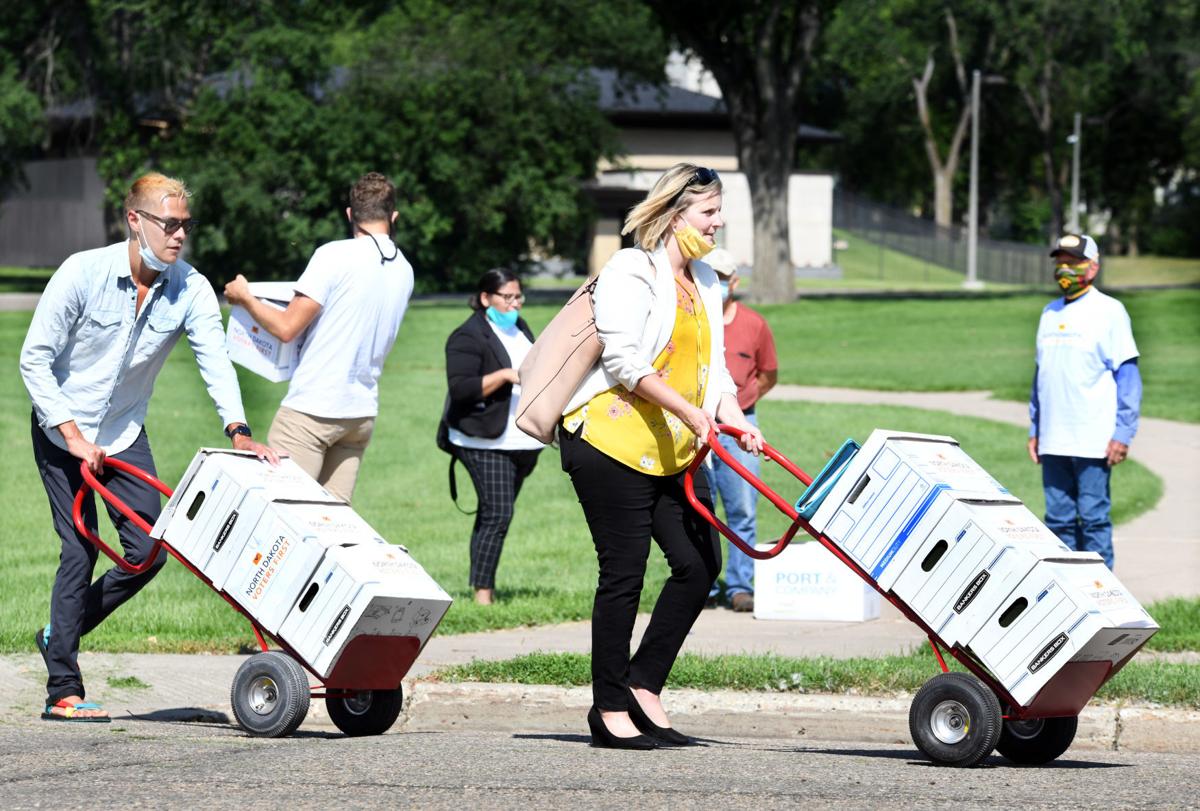 Supporters of a proposed ballot measure to enact wide-ranging election changes in North Dakota have submitted their petitions to state election officials.
Secretary of State Al Jaeger has until Aug. 10 to review 36,708 signatures on 1,079 petitions. Supporters need at least 26,904 signatures of qualified North Dakota voters to place the measure on the November ballot.
The sweeping, 3-page proposal lays out new election processes to be inserted into North Dakota's constitution, including:
Transmission of ballots to eligible military and overseas voters 60 days before an election

Paper records of each vote cast
Election audits of one or more random precincts of each legislative district
Open primaries and instant runoffs for statewide, legislative and congressional offices
Drawing of legislative districts by North Dakota's Ethics Commission rather than the Legislature
Subdivision of House districts 
Supporters say the measure "will give North Dakota voters more choice, more voice, and more freedom when at the ballot box."
The group North Dakota Voters First in May asked a federal judge to be allowed to gather online signatures because of the pandemic making it "dangerous to comply with" in-person signature requirements. The judge in June denied the request, noting the group's yearlong window to collect signatures, no stay-at-home orders and Gov. Doug Burgum's rollback of pandemic restrictions beginning May 1.
The group moved forward after piloting a small signature campaign to test the waters, which senior campaign adviser Amy Jacobson said was successful. She said petitioners wore masks, sanitized clipboards, distributed pens and practiced social distancing in gathering signatures.
The group held a rally Monday at the state Capitol to celebrate the submission of the petitions.
Brighter Future Alliance, which opposes the measure, called North Dakota Voters First "merely a front for radical political organizations, Hollywood elites and East Coast liberals seeking to overturn our political institutions and remake our state and nation in their image."
"Until we defeat these groups at the polls, they will keep coming with measures to further upend our political institutions and undermine our state's economy and our North Dakota way of life. We urge voters to look carefully at this measure and join us in voting No this November," Brighter Future Alliance spokeswoman Lacee Anderson said.
Three other groups sought to place measures on the November ballot but were hampered by the coronavirus pandemic. Measure backers say they are now looking at 2022 for their measures.
One group, which seeks to legalize marijuana through the constitution, has until July 22 to collect enough signatures to make the 2022 ballot. That date is the one-year deadline after Jaeger approved the petition.
Another group hoping to legalize marijuana, but through statute, is aiming for 2022. An unsuccessful proposal to eliminate property taxes might shoot for that election cycle, too.
The 2019 Legislature approved two constitutional measures for voters, to increase membership and term limits of North Dakota's State Board of Higher Education, and to involve the Legislature in approving constitutional initiatives.
Get Election 2020 & Politics updates in your inbox!
Keep up on the latest in national and local politics as Election 2020 comes into focus.