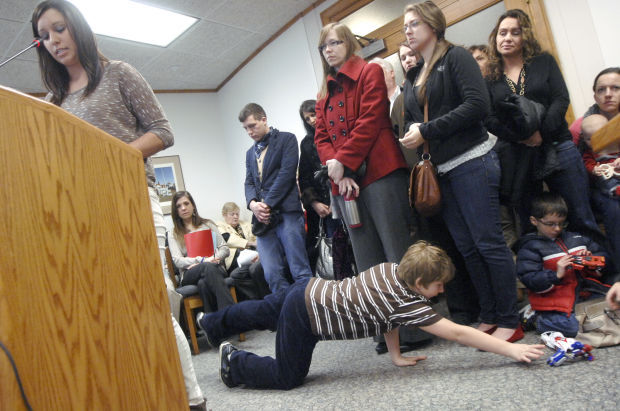 The House Human Services Committee heard nearly four hours of testimony Wednesday on four abortion-related bills.
A capacity crowd of approximately 50 people packed the Fort Union Room, forcing others to wait in the hallway at times.
Representatives from several anti-abortion groups, legislators and a group of high school and college students testified in support of the bills. Opponents of the bills chose to stand by and not testify on the first two the bills.
Sen. Spencer Berry, R-Fargo, introduced the day's first bill, Senate Bill 2305. SB2305 limits abortions and requires any physician performing an abortion to be licensed in the state. It also requires physicians to have admitting privileges at a local hospital.
Berry said SB2305 wasn't a challenge to Roe v. Wade, the 1973 law legalizing abortion in the U.S. Berry said the bill provides improved medical care for pregnant women.
"We have a responsibility to the women of North Dakota," Berry said.
Christopher Dodson, director of the North Dakota Catholic Conference, said testimony in past hearings that the state's lone abortion clinic would close under legislation like SB2305 was unfounded.
"It is about protecting the women who have abortions," Dodson said.
He said the bill doesn't create any undue burdens for a woman seeking to have the procedure. Dodson added that if the abortion clinic were to close it would be its own fault for not complying with new regulations.
St. Mary's Central High School student Shantel Schmitt testified that she believed women deserve top-notch care such as what she said is provided in SB2305.
"Human life is a gift," Schmitt said. "Abortion tells a woman, 'You are not strong enough, you can't handle this.'"
David Prentice, senior fellow for life sciences at the Family Research Council, spoke in favor of SB2368. The bill would ban abortions after 20 weeks after fertilization except to prevent the death of the mother or prevent serious medical complications. Physicians who perform an abortion after 20 weeks could face a Class C felony and fines.
Prentice said there are multiple scientific studies that show that fetuses can feel pain as early as 20 weeks, justifying legislation such as SB2368.
"These young human beings do feel pain," Prentice said.
Anna Higgins, director of the Family Research Council's Center for Human Dignity, said the state has a substantial interest in protecting the life of the unborn child and mother. Higgins added that the overwhelming majority of abortions are performed before 20 weeks.
"It's a very light burden indeed to require a decision be made ... before 20 weeks," Higgins said. "This bill would not unduly burden the mother."
You have free articles remaining.
During a break in the committee hearing, Red River Women's Clinic director Tammi Kromenaker explained why she hadn't stepped forward to testify on either of the bills.
"I'm not giving up," Kromenaker said. "(But) you have to pick your battles."
Kromenaker said it is starting to feel as though the fate of the abortion-related bills is almost predetermined by legislators.
"It's frustrating to have people speak about your clinic. Nobody's actually visited the clinic," Kromenaker said.
She added that no one testifying in favor of any of the bills has ever approached her and had a discussion on the clinic's abortion statistics or asked her personally for any information.
After the break the committee heard testimony on SB2303. The bill would define a human being as a person at all stages of development. SB2303 also would allow for an abortion in the event of a medical emergency that could endanger a woman's life. It also contains an amendment allowing for Medicaid coverage to pregnant mothers.
Sen. Oley Larsen, R-Minot, spoke in favor of SB2303. Larsen noted that the language defining a human being also is in the Abortion Control Act.
"It doesn't ban fertility treatments. It does not criminalize access to birth control," Larsen said.
Larsen added that the Medicaid amendment, which he was initially against, actually strengthens SB2303. He said the federal Patient Protection and Affordable Care Act would eventually be providing some type of coverage to pregnant mothers.
"With PPACA, it's a moot point anyway ... because everyone has to have health insurance," Larsen said.
Karla Hanson of the North Dakota Coalition for Privacy in Health Care spoke in opposition to SB2303.
"These laws will create an atmosphere of fear and confusion," Hanson said.
Hanson said with a law such as SB2303 in place, she wouldn't want to have her doctor being forced to double-check state law prior to making a medical decision to avoid a potential criminal penalty.
She added that similar laws already have been defeated in other states. Fifty-eight percent of voters rejected a 2011 ballot measure relating to personhood in Mississippi, while a personhood measure in Oklahoma was ruled unconstitutional in April 2012.
"I do not want to waste taxpayer dollars to defend a law that was declared unconstitutional just last year," Hanson said.
The Human Services Committee also heard testimony on Senate Concurrent Resolution 4009. SCR4009 calls for a 2014 general election vote on placing language in the state Constitution declaring an inalienable right to life at all stages of development.
No action was taken Wednesday on any of the four bills.