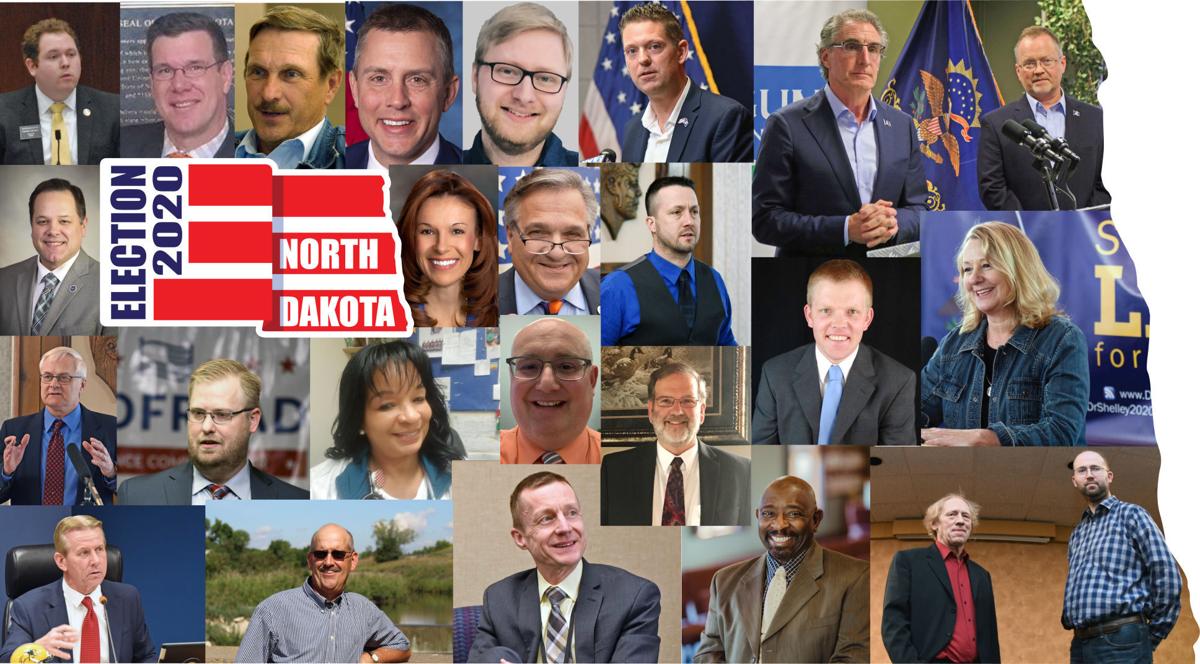 North Dakota voters are picking who will contend for state treasurer and schools superintendent in a primary election with several races but few challenges.
Eight statewide and congressional races are on the ballot, including governor and lieutenant governor, state auditor, U.S. House representative, insurance commissioner and one seat each on the Public Service Commission and state Supreme Court. Voters will determine nominees for November from the primary ballot.
Chief among the primacy races are state treasurer and superintendent of public instruction.
Three candidates are vying for state superintendent, two of whom will move ahead in the nonpartisan race.
The treasurer's race has two Republican state representatives jostling for their party's nomination in the only statewide race without an incumbent.
North Dakota's June 9 primary will be conducted entirely by mail-in ballot due to the coronavirus pandemic. More than 23,000 people had already cast their vote by Monday afternoon out of more than 144,000 mail-in ballots sent out. Statewide election results will be available after 8 p.m. June 9 at vip.sos.nd.gov.
Superintendent
Incumbent Kirsten Baesler is vying for a third term against Charles Tuttle of Minot, who lost an independent bid for U.S. House in 2018, and Underwood School District Superintendent/Activities Director Brandt J. Dick.
Two of them will move onto November in the race for North Dakota's K-12 education chief. 
Baesler said her experiences from 7½ years in office and decades in education with various roles, including Mandan School Board president, make her the most well-rounded candidate.
"I do know that I have a work ethic that is completely committed to 100% serving our students," said Baesler, who lives in Mandan. "It's always been the priority in my career, and I believe at this time, more than ever, North Dakota needs a strong, experienced leader committed to serving the multiple stakeholders that K-12 education is expected to serve in the state: students, their families, teachers and the citizens of North Dakota."
Her role has been prominent amid the pandemic, which led North Dakota's K-12 schools to close and students to transition to distance learning. Baesler said she and the Department of Public Instruction are striving to reach a return to normalcy while ensuring students' safety and helping inform local school districts' decision-making. She and Gov. Doug Burgum recently released guidance for reentry to schools.
She sees several priorities ahead, such as more involvement of families in K-12 education, expanding computer science and cybersecurity opportunities for students, increasing private sector partnerships for internships, job training and school-to-work programs, increasing citizenship and patriotism elements in K-12 education and supporting opportunities in the energy industry for students.
She pointed out accomplishments such as saving families more than $4 million in college tuition by bringing college credit courses to high schools, building her Student Cabinet and Family Engagement Cabinet for input on K-12 issues and implementing an online dashboard for public information about K-12 spending.
Baesler was arrested Feb. 26 in Mandan for drunken driving. She pleaded guilty to misdemeanor DUI and was sentenced to pay $750, serve almost a year of unsupervised probation and complete any recommended treatment. Her arrest was a factor in the Republican Party's decision, before party leaders canceled the party's endorsing convention, to delay its letter of support for a superintendent candidate until after the primary.
"The best approach that I needed to take was to put everything, truly, in my Lord's hands," Baesler said. "I have rededicated myself to my health and to my work, and I'm continuing to work to serve the families and the students and educators of North Dakota, and really with the Lord's help, I'm focusing on the things that are in my control, and I have put the rest in God's hands."
Dick said his 25 years in education qualify him for the job. He has held roles as a school district superintendent, a college adjunct professor, a principal and a teacher. He also has served on boards and advocated for rural schools in front of the Legislature. His candidacy is his first for public office.
His resume has "a lot of different experiences that I feel have prepared me well for this position," said Dick, who lives in Bismarck.
He sees tough decisions ahead next year related to state revenues amid the pandemic and how to determine budget cuts and still meet the department's needs.
Dick said he understood the decision-making to close schools and move to distance learning amid the pandemic, but he wonders if schools in counties with no confirmed COVID-19 cases could have continued onsite education using the new K-12 guidance. He'd like to see local school districts be able to make more decisions in the K-12 pandemic response, rather than having further orders from the governor.
"He's given a little bit here, and I appreciate every little bit he's given, but that being said, when is that full transfer of ability to make decisions locally going to be transferred back to the local communities, school boards and school districts?" Dick said.
Tuttle said he is running to improve K-12 students' proficiency outcomes and to give local school boards more control over curriculum. 
"We've got a serious problem in North Dakota when it comes to honesty, when it comes to academics of our kids," he said.
Tuttle said he has "been teaching all my life," referring to his role in the workplace. 
"I've been teaching in the real world where they have to give results," he said, questioning what K-12 teaching experience has "got to do with being DPI superintendent."
He said his experiences in being a father and advocating education issues, such as opposing Common Core standards and supporting personal arrangements for transgender students' bathroom use while ensuring privacy, have prepared him to be state superintendent. He has been self-employed for 20 years, but he did not detail his current employment when asked. In the past, he has been a ballot measure activist, marketed newspapers and managed more than 1,000 employees for a clothing retailer. 
He said the pandemic-era distance learning has not been handled well, calling it "a curriculum problem." He sees issues of school funding and academic curriculum in the next term.
Tuttle disputes an Ohio court's 2001 finding that he had sexual contact with a child, saying the allegation was "proven to be false eventually" and "irrelevant" to the superintendent's race. No criminal charges were filed.
He was convicted in 2003 of assault. Tuttle said he pushed an ice cream cone into his ex-father-in-law's face to escape a physical altercation that began during a custody exchange of his children. Tuttle went to the hospital but did not press charges against his ex-father-in-law, who he said struck him. Tuttle attributed his legal issues to "ugly" and "despicable" custody and divorce matters.
North Dakota's state superintendent sits on a number of state boards, including the Board of University and School Lands, the Teachers' Fund For Retirement Board and the newly established Children's Cabinet and Commission on Juvenile Justice.
The superintendent's next four-year term begins Jan. 1, with an annual salary of $125,880. North Dakota has about 114,000 public K-12 students.
Treasurer
Reps. Thomas Beadle of Fargo and Dan Johnston of Kathryn are seeking the GOP nomination for state treasurer. Republican incumbent Kelly Schmidt is not seeking a fifth term. 
North Dakota's treasurer is the custodian of the state's funds and sits on several state boards, such as the State Historical Board, State Investment Board and State Canvassing Board. 
Republican Party delegates were unable to endorse candidates because of the canceled late March state convention.
Beadle said his 10 years in the House, where he has helped write state agency budgets, and his 11 years as a real estate broker have prepared him for the job. He also is business development manager for Super Studio in Fargo.
He sees transparency and efficiency of the office and of state government as key issues ahead.
In 2017, Beadle voted for legislation that would have eliminated the treasurer's office and transferred its duties to other offices. The measure would have gone to voters, which Beadle said is why he supported it.
Johnston said his leadership skills from his 12 years in the U.S. Army and Army Reserve, as well as his conservative fiscal philosophies as a representative, have qualified him for treasurer. He sees tough fiscal times ahead amid the pandemic for several state boards on which the treasurer sits.
Johnston, who runs a farm with his family and was first elected to the House in 2016, voted against the 2017 legislation eliminating the treasurer's position. He called it a bad bill that would have saved little money and would have eliminated a constitutional official accountable to the people of North Dakota.
The treasurer's office is one of the smallest in state government, with seven people and a two-year budget of $1.7 million, most of which is salaries and wages.
State lawmakers are figuring how to use North Dakota's $6 billion oil tax savings account -- the Legacy Fund -- specifically, its earnings. So far the fund has been used only to balance state budgets and backfill a shorted state school aid fund. 
Beadle said good stewardship and helping shape the direction of the Legacy Fund and other state funds are important for the next treasurer. Any use of the fund should honor the intent behind its creation for long-term impacts for North Dakota, he said. He added that money used from the fund should also "make investments in our citizens," such as university research and low-interest loan programs for cities, counties and school districts.
Johnston said he'd like to see Legacy Fund earnings eliminate property taxes, rather than go toward many individual projects and interests. Eliminating property taxes would help with economic diversification and help more people attain home ownership, he said.
State court records indicate Johnston has two collection judgments: a 2011 Oliver County case for about $1,060 and a 2018 Barnes County case for about $700. Johnston didn't immediately recall details of the 2011 case, which court records indicate related to medical bills. He said the 2018 case involved a late insurance payment for a surgery.
The Republican nominee will be expected to face endorsed Democratic-NPL candidate Mark Haugen in November. A Democrat last won the treasurer's seat in 2000.
The new treasurer's four-year term begins Jan. 1, with an annual salary of $110,582. 
Get Election 2020 & Politics updates in your inbox!
Keep up on the latest in national and local politics as Election 2020 comes into focus.