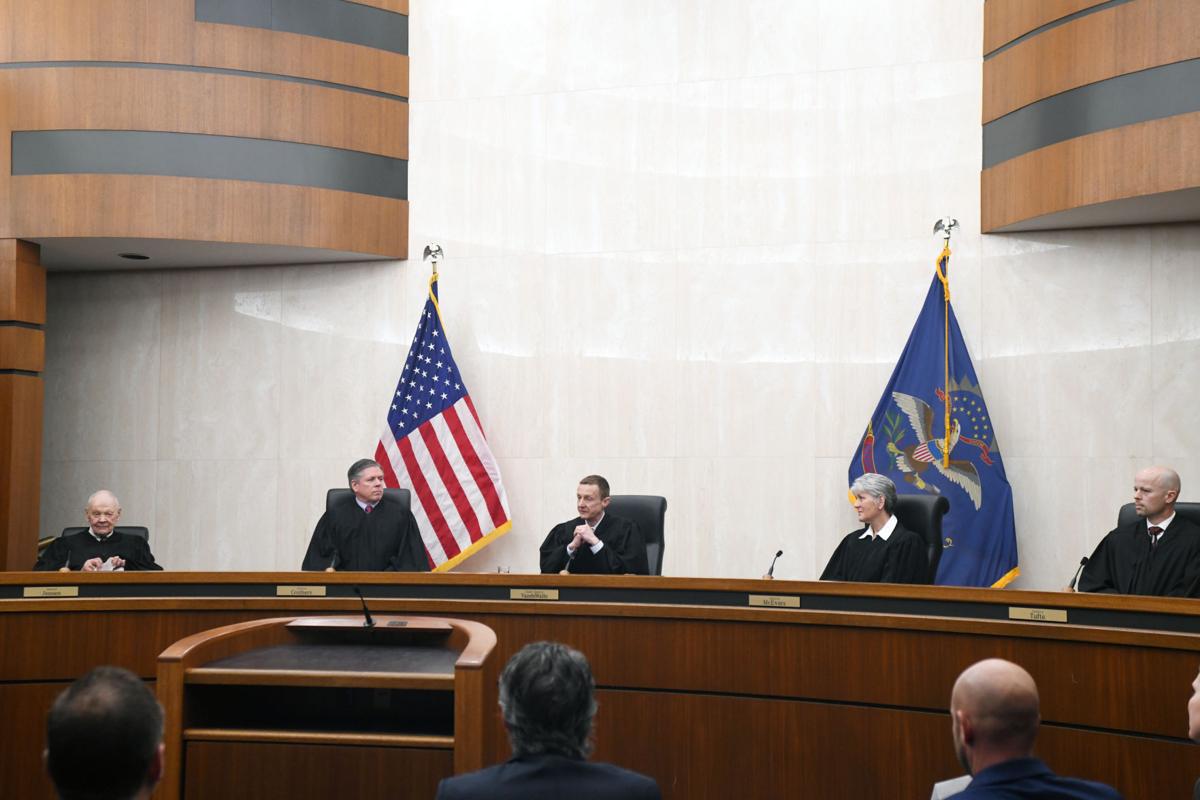 North Dakota's Supreme Court has issued a ruling blocking a Democratic-NPL nominee for statewide office from the November ballot.
The unanimous ruling came Wednesday, restraining Secretary of State Al Jaeger from placing Travisia Martin's name on the ballot. Martin is the Democratic-NPL nominee for state insurance commissioner.
North Dakota's Republican Party challenged Martin's residency eligibility for office, asking the Supreme Court to compel her removal from the ballot.
Martin, a critical care respiratory specialist in Bismarck, sought to challenge Republican incumbent Jon Godfread, who is seeking a second term.
The GOP cited Martin's November 2016 vote in Nevada as evidence of her ineligibility to hold office, based on a five-year residency requirement for executive branch officials.
Martin didn't dispute her vote, citing her unfamiliarity with North Dakota voting requirements and "a desire to make sure my voice was heard in the electoral process."
Her attorneys argued that North Dakota's constitutional residency requirement affects eligibility to hold office but not to seek election. They also cited the residency requirement as unconstitutional in disenfranchising voters and infringing upon a person's right to seek office.
The court after oral arguments earlier this month asked a state district court judge to hold a hearing for findings of fact on Martin's residency. South Central District Judge Thomas Schneider concluded Martin has not lived in North Dakota long enough to hold office.
"Martin is not eligible to hold the office of insurance commissioner, and it would be erroneous to place her name on the ballot," justices said in their ruling, also finding the residency requirement is not in violation of the U.S. Constitution.
Martin's attorney David Thompson said she was not available for comment on the ruling. Thompson said Martin is considering filing a petition with the U.S. Supreme Court on the constitutionality of North Dakota's five-year residency requirement.
"She will be consulting with the party," he said.
Democratic-NPL Party Chairwoman Kylie Oversen said the party is "deeply disappointed" in the ruling.
"Ultimately, it is the voters of North Dakota who are losing out on the opportunity to have a passionate, driven, and knowledgeable health care leader on the ballot for Insurance Commissioner this fall as the NDGOP continues its attack on the Affordable Care Act and protections for preexisting conditions," she said in a statement. "We will be taking the next few days to discuss our options and next steps with our leadership team."
The North Dakota GOP called the ruling "a great victory for the rule of law in North Dakota." 
"Between this decision and this week's earlier news that Measure 3 would also be thrown off the ballot, we are pleased that out-of-state liberals have been stopped on both counts from coming into our state and making a mockery out of our process," Party Chairman Rick Berg said in a statement. "We look forward to reelecting Jon Godfread and our other great conservative leaders this November."
In a statement, Godfread said that without the ruling, "voters may have been duped into voting for an unqualified Democrat candidate."
"This ruling is a big win for voters and our state's election process," he said. "I'm grateful to all the parties involved who argued on the side of the Constitution and pleased to see the Court protect the integrity of our North Dakota ballot."
Godfread now runs unopposed.
Independent candidates have until Aug. 31 to file petitions to make the Nov. 3 ballot.
Jaeger must certify the November ballot for county auditors by Sept. 9. Martin's name "will not be on the ballot," he told the Tribune.
Martin received 34,277 votes in the June primary as the sole candidate for the Democratic-NPL nomination. Godfread received 96,112 votes as the sole GOP candidate.
Republicans hold all of North Dakota's statewide offices and congressional seats, and control its Legislature.
A Democrat last ran the Insurance Department in 2000. The annual salary is $110,582.
Get Election 2020 & Politics updates in your inbox!
Keep up on the latest in national and local politics as Election 2020 comes into focus.