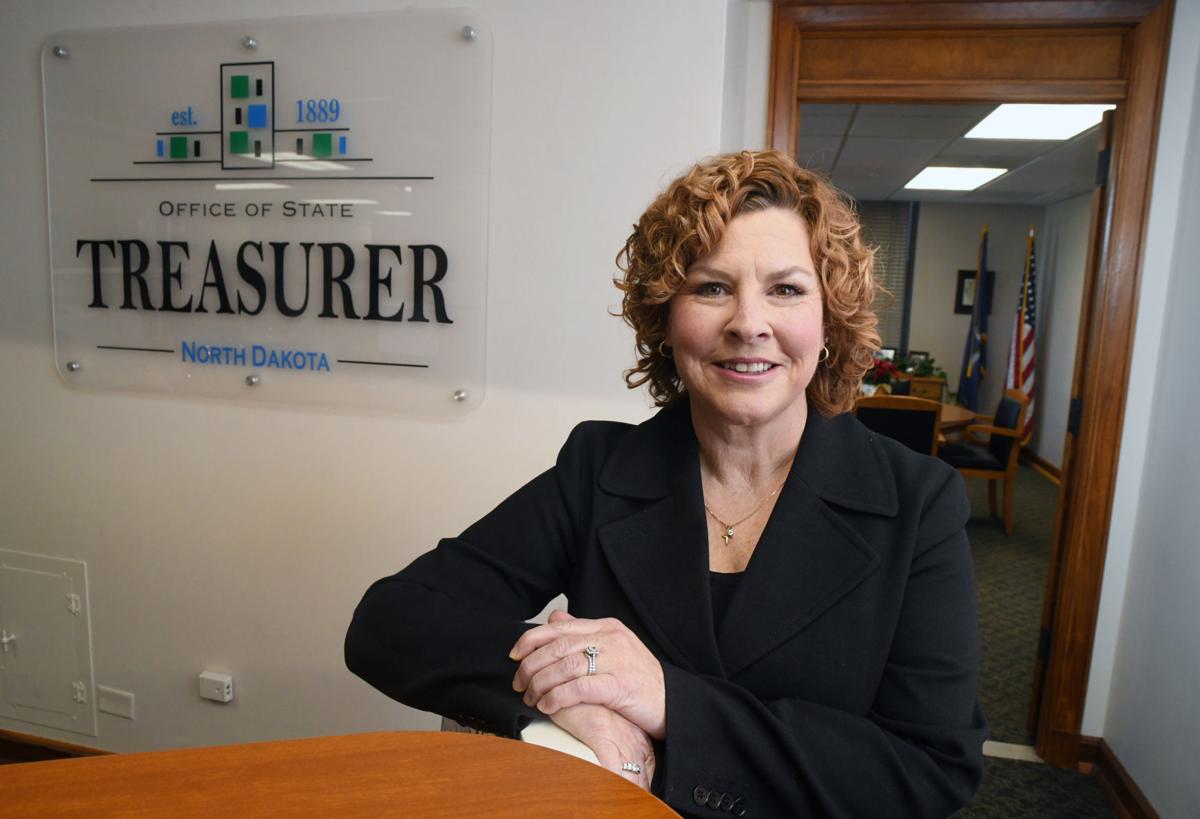 North Dakota's longest-serving state treasurer won't seek another term in 2020.
Treasurer Kelly Schmidt told the Tribune on Tuesday that she doesn't intend to run for a fifth four-year term.
"This is not something I have taken lightly," the Republican said. "I have thought about it. I have prayed about it. I have visited with my family about it. And it's just time for a new chapter. I think we all get to that point that it's time to turn the page, and I feel that it's my time."
Schmidt, 57, said she doesn't plan to retire. She plans to "look and see what other opportunities are available to me," but she has ruled out a run for future elected office.
"I don't see it in my future," she said.
Schmidt reached her decision over Thanksgiving with family.
"It's been a process I've been considering for a quite a while," she said.
North Dakota's treasurer is custodian of the state's funds and sits on several state boards, such as the State Historical Board, State Investment Board and State Canvassing Board.
She was first elected in 2004, taking office in January 2005. She succeeded Democrat Kathi Gilmore, who served 12 years. Schmidt won reelection in 2016 to her fourth term with about 63% of the vote.
In her tenure, Schmidt has seen technology advancements in the treasurer's office, growing state tax revenues from the Bakken oil boom and development of the oil tax savings Legacy Fund. 
State lawmakers in recent years have attempted to eliminate the treasurer's office and transfer its functions to other state agencies. Sen. Tim Mathern, D-Fargo, pledged as his party's nominee in 2016 for treasurer to close the office to save money. The 2017 Legislature defeated similar, bipartisan measures.
Schmidt doesn't see that effort continuing, and she also urges her successor to "don't let anyone silence your voice."
"I think there have been times that I have remained very quiet for fear of retaliation for this office," she said. "All you have to do is look at the legislation that's come forward."
She pointed to added roles and responsibilities the Legislature has given the treasurer during her tenure as a reason her office is likely to stay -- most notably, the so-called "Operation Prairie Dog" fund, which will distribute oil tax revenue for local infrastructure projects.
Democratic-NPL Party Chairwoman Kylie Oversen thanked Schmidt for "her many years of service to the state," and told the Tribune she sees the open seat as "an opportunity for North Dakotans to have a conversation about the role of the State Treasurer moving forward." Oversen said the office "needs to be examined and possibly refocused."
Schmidt's announcement may pique "new interest in this race," she added.
No Democrats have yet announced for 2020 statewide races.
House Majority Leader Chet Pollert, R-Carrington, said Schmidt's announcement surprised him, and he commended her for "a bang-up job" as treasurer.
Pollert said he wouldn't be surprised if the 2021 Legislature considers a measure to eliminate the treasurer's office, though he said he won't bring it up.
"I'm going to have a wait-and-see attitude, and (I'm) sorry Kelly isn't running for reelection," he said.
Republican Party Chairman Rick Berg expects the elimination of the treasurer's office to be an issue of the 2020 race, and he thinks the open seat will "create a lot of excitement" for the Republican state convention in March in Bismarck.
"I think this was unexpected news ... so it'll be interesting to see who will step up and seek that endorsement," Berg said.
He also commended Schmidt for her service, saying "When I think of the state treasurer, I think of Kelly Schmidt."
Senate Majority Leader Rich Wardner, R-Dickinson, who believes Schmidt "represented her agency very well," said any savings from eliminating the office would be "minimal" but could be worth deliberating.
Schmidt's time in office also has seen the development of the Legacy Fund, a savings account of oil tax revenue that voters passed in 2010. The Legislature has grappled with how to utilize the fund, specifically its earnings, which eclipsed $455 million in the last two-year budget cycle. 
A legislative committee is taking public input on how to use the fund's earnings, which so far have only been used to balance budgets and backfill a short state school aid fund. Schmidt has voiced caution for spending the Legacy Fund.
"I think there's a balance here, and the balance comes from needs and wants," she said. "What do we really need? What is the role of government? And the wants we need to identify, and are they a priority over the needs?"
Schmidt's term ends Dec. 31, 2020. She said "it's been a privilege and a great honor to serve the people of North Dakota."
She lives in Mandan with her husband, Chuck. They have four sons and five grandsons.
The treasurer's annual salary is $107,885. It's set to go to $110,582 in 2020.
Get Election 2020 & Politics updates in your inbox!
Keep up on the latest in national and local politics as Election 2020 comes into focus.