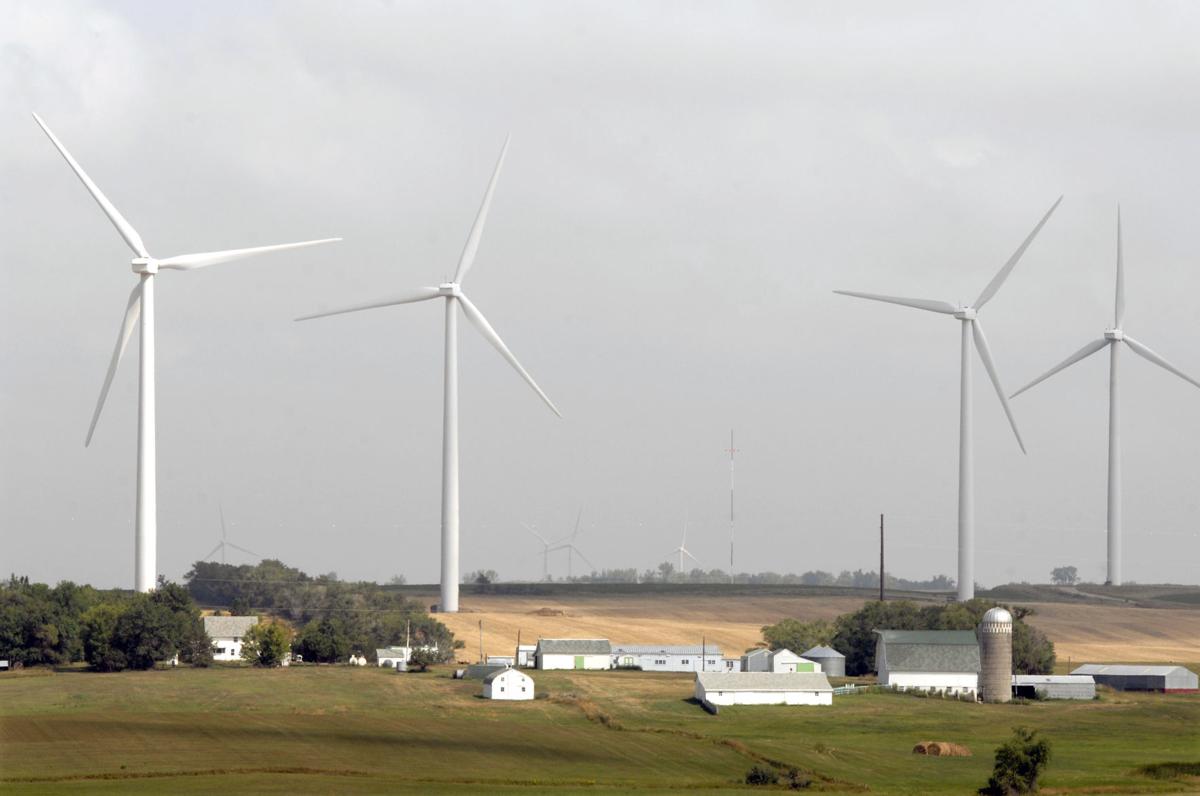 The North Dakota Senate voted Thursday to change how wind tax revenue is distributed, sending more future wind revenue to the state general fund rather than counties.
Senate Bill 2331 directs one-third of wind tax revenue to the state and two-thirds to counties for wind projects constructed after Dec. 31, 2020.
Currently, all of North Dakota's wind energy tax revenue stays with counties that produce the energy, while the state shares in tax revenue from coal and oil.
The goal of the bill is to create a level playing field with other energy-producing facilities, said Tax Commissioner Ryan Rauschenberger. It doesn't raise the tax on wind, but redirects where it goes.
"Eventually, all wind farms will be contributing some money to the state general fund," Rauschenberger said.
The bill, which members of the Senate approved in a 45-2 vote, also would affect existing wind farms. One-third of tax revenue from current wind projects will be directed to the state general fund after the projects have operated for 20 years.
The bill is complex because wind farms are taxed differently depending on when they were constructed.
Counties with wind farms built before 2015, which includes Burleigh County wind farms, are not expected to see a negative financial impact.
But counties with wind farms built after 2015 will lose about one-third of their wind tax revenue after those wind farms are 20 years old. That's the case for Morton County, which receives the highest amount of wind tax revenue in the state.
Morton County received about $1.7 million in property tax revenue from wind farms in 2018 that was distributed to the county, local school districts, fire departments, water districts and other entities, said Morton County Auditor Dawn Rhone.
Under the bill, when those wind projects are 20 years old, one-third of that revenue would go to the state general fund.
Rhone said she's concerned that would shift a greater burden on local taxpayers.
Burleigh County received nearly $312,000 in wind tax revenue in 2018, according to Kevin Glatt, county auditor. Because those projects were built before 2015, they are taxed at a lower rate. When the older wind projects have operated for 20 years, they will be taxed at a substantially higher rate, with one-third going to the state general fund.
"The local tax base actually won't change much," said Sen. Jordan Kannianen, R-Stanley.
Tax revenue from new wind projects that break ground by Dec. 31, 2020, will stay with the counties for 20 years. The North Dakota Public Service Commission approved the Emmons-Logan Wind Energy Center this week and has additional projects under consideration.
"Those counties that are expecting that revenue from the announced wind farms likely wouldn't have any change," Rauschenberger said.
Glatt questioned whether future wind projects will gain local support if the counties receive less of the revenue.
The wind industry paid $8.7 million in taxes in North Dakota in 2017, not including sales tax for wind tower construction, according to the state Tax Department.
The bill now moves to the House for consideration.