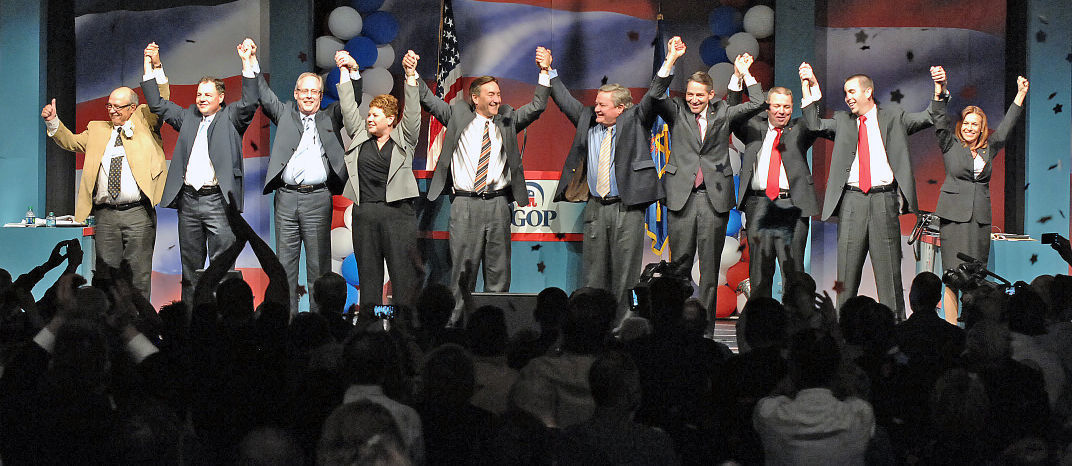 North Dakota Republican leaders have canceled the party's state convention.
State GOP Chairman Rick Berg said the party's 57-member State Committee voted by "a strong majority" Tuesday night to cancel the state convention set for March 27-29 in Bismarck as a precaution due to the coronavirus outbreak. Delegates were to endorse candidates at the convention for state and congressional offices, which all are held by Republicans in North Dakota.
"The overriding issue was concern for the health of people that would come to a 1,500-person gathering," Berg said. 
The federal Centers for Disease Control and Prevention recommends canceling or postponing events and gatherings of 10 or more people.
North Dakota's Democratic-NPL Party last week canceled its state convention set for March 19-22 in Minot. Democrats announced Tuesday night that they will hold their convention business Saturday through a virtual process. Party delegates will endorse candidates through the Simply Voting platform.
All candidates may submit a video or written statement about their candidacy to be posted on the party's website and made available to the delegates and the public.
Statewide candidates are organizing a virtual town hall Friday for supporters to ask questions. The party also has created a private Facebook group that allows delegates to interact with candidates over the week.
"While we are all facing uncertain times as our communities and world continue to manage the COVID-19 pandemic, the Dem-NPL remains committed to promoting an open, transparent process and encouraging full participation in our democracy and in the business of our party," Party Chairwoman Kylie Oversen said in a statement. "We wish to reiterate our thanks for the patience our delegates, candidates, and supporters have shown as we navigate these new circumstances."
Berg said the window of time was too short to seek a remote alternative to the GOP convention process.
At this point, Republican candidates will have to gather 300 signatures to file petitions by April 6 to be on the June 9 primary ballot, he said, rather than file the certificates of endorsement that would have been awarded at the state convention. The Republican candidate with the most votes in the primary would proceed to November's general election to face whomever might proceed from other parties.
Seeking reelection are U.S. Rep. Kelly Armstrong, Gov. Doug Burgum and Lt. Gov. Brent Sanford, Auditor Josh Gallion, Insurance Commissioner Jon Godfread and Public Service Commissioner Brian Kroshus.
State Superintendent Kirsten Baesler also is seeking reelection and the party's letter of support for the nonpartisan office. Unsuccessful independent 2018 U.S. House candidate Charles Tuttle and Underwood School District Superintendent/Activities Director Brandt J. Dick also were seeking the GOP support for state superintendent.
State Reps. Thomas Beadle, R-Fargo, and Dan Johnston, R-Kathryn, were seeking the GOP endorsement for state treasurer. Incumbent Republican Treasurer Kelly Schmidt is not seeking a fifth term.
Larimore U.S. Air Force veteran Michael Coachman was seeking the GOP endorsement for governor. 
Left unclear is how North Dakota's Republican Party will proceed for other business, such as naming delegates to the Republican National Convention in August in Charlotte, N.C., appointing presidential electors for the Electoral College and naming a national committeeman and committeewoman. Berg said all of those items have different deadlines.
The party's State Committee also is set to determine this Friday how to proceed with awarding its letter of support for state superintendent. The party's Executive Committee voted 10-2 earlier this month to award the letter after the June 9 primary at the State Committee's summer meeting, sending the motion to the State Committee to decide.
North Dakota Democrats have four candidates for state and congressional offices: Dickinson/Killdeer veterinarian Shelley Lenz for governor, University of Mary graduate student adviser Mark Haugen for state treasurer, Minot retail manager Zach Raknerud for U.S. House and former North Dakota Department of Agriculture auditor Patrick Hart for state auditor.
The party so far has no announced candidates for lieutenant governor, insurance commissioner and Public Service Commission. No state superintendent candidates have announced their intent to seek Democrats' letter of support for the job.
North Dakota's Libertarian Party on Saturday endorsed businessmen DuWayne Hendrickson of Minot and Joshua Voytek of Fargo for governor and lieutenant governor, respectively.
Concerned about COVID-19?
Sign up now to get the most recent coronavirus headlines and other important local and national news sent to your email inbox daily.