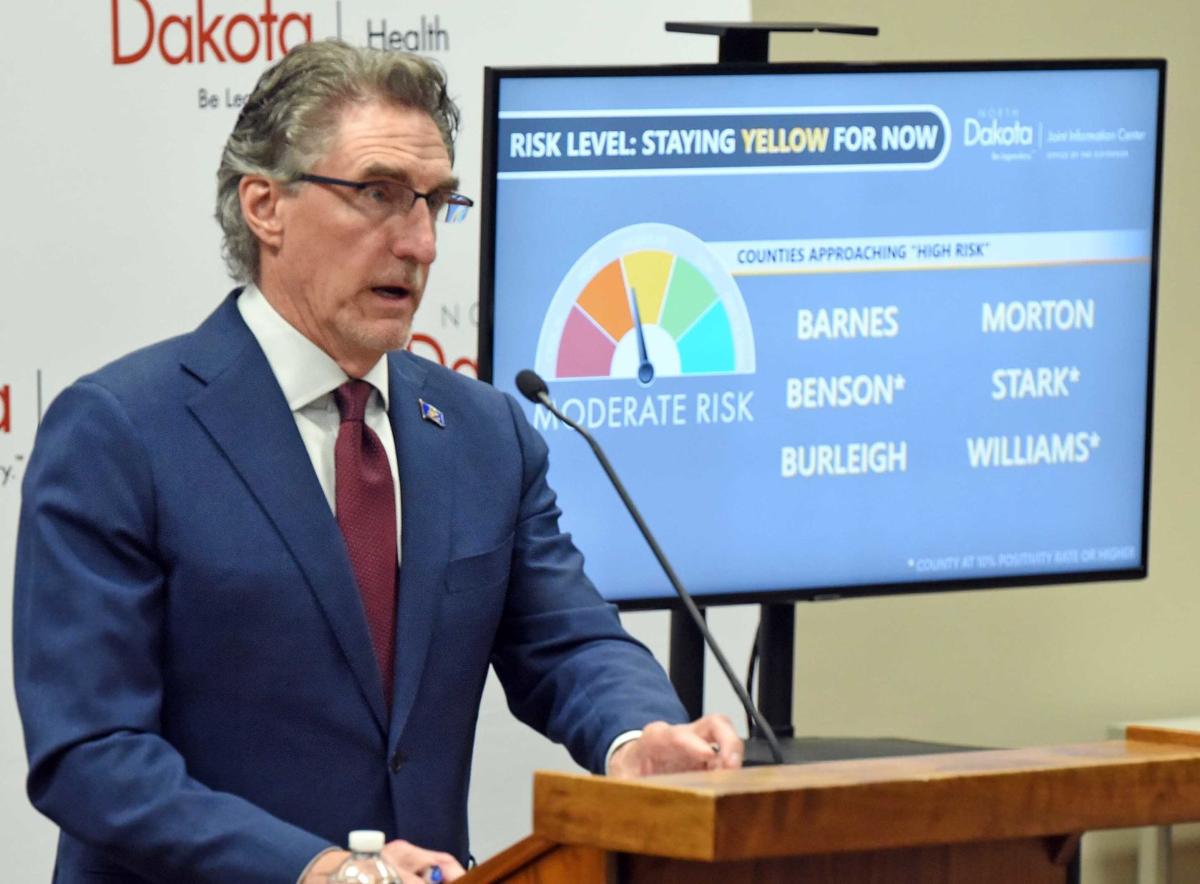 Interim State Health Officer Paul Mariani on Thursday rescinded an order that could have punished close contacts to positive coronavirus cases with a Class B misdemeanor if they did not stay home for 14 days, just a day after the order was issued on Wednesday.
The order issued on Wednesday was an amended version of a quarantine order issued in April, and both versions had legal consequences of a Class B misdemeanor for failure to comply. That provision had not been applied since the original order was issued, and the order made exceptions for those considered essential workers, according to state officials.
Gov. Doug Burgum during a podcast interview with Rob Port of Say Anything Blog said the quarantine order was about getting up to speed with the U.S. Centers for Disease Control and Prevention guidelines, which recommend 14 days of quarantine for close contacts. He said that state officials didn't communicate well with the public that the misdemeanor penalty hadn't been applied.
"We hadn't used it in terms of this pandemic. It wasn't a tool we were using and so I would have to just say it didn't flag for me, personally, that by extending it to match the CDC guidelines that we were going to have a firestorm of reaction that we did. That was a miscalculation on my part," Burgum said. "I guess I have to take accountability."
Burgum said officials looked at making the penalty an infraction rather than a misdemeanor, but state law doesn't allow for the State Health Officer to issue penalties lower than a misdemeanor, and "this is something we should work with the legislature with when they come back."
Senate Majority Leader Rich Wardner, R-Dickinson, told the Tribune Friday that he and House Majority Leader Chet Pollert, R-Carrington, had asked the governor to rescind the order due to widespread concern from constituents.
Wardner dispelled the notion that he put political pressure on the governor to rescind the order, and emphasized that the request was strictly about the misdemeanor penalty in the order, not the contact tracing or quarantine elements.
"There was no pressure put on. It was a request to the governor's office, just like anybody else, and it was about the penalty. That's what caused the problem, not the tracing, and not the other things in there," Wardner said. "I know it (the misdemeanor penalty) is in the previous one (order), but when it came up again, people really got concerned."
Democratic-NPL gubernatorial candidate Shelley Lenz said Burgum folded due to political pressure from Republican legislators.
"Partisan politics and pressure have no place when North Dakotans lives are at risk," Lenz said in a statement.
However, during an interview Friday she said she didn't think the penalty for disobeying the order should have been a misdemeanor.
Lenz, a veterinarian in western North Dakota, said the sudden order was "really disruptive" to her business, forcing her to quickly rearrange its schedule.
"He just didn't think about the implications," Lenz said. "He is barking out orders without a strategy."
Burgum has emphasized personal responsibility, community collaboration and a "light touch" of government as a way of addressing the spread of COVID-19 in North Dakota.
Custer Health Administrator Erin Ourada didn't believe that rescinding the order would help the community buy in to complying with contact tracers, as people are already hiding who their close contacts were from tracers.
"It is unfortunate that it was rescinded because I think it would've helped in the long run. But we will see," Ourada said.
Concerned about COVID-19?
Sign up now to get the most recent coronavirus headlines and other important local and national news sent to your email inbox daily.