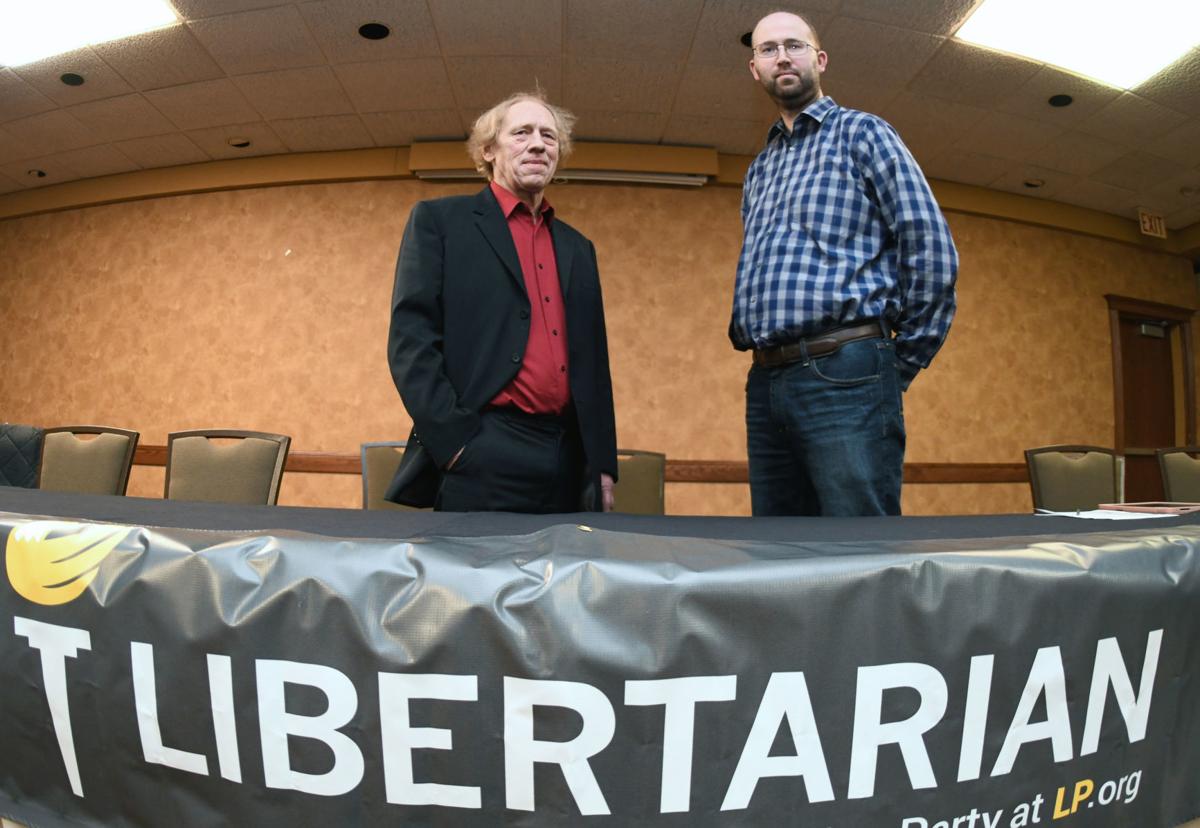 North Dakota's Libertarian Party has endorsed businessmen for governor and lieutenant governor.
Libertarians met Saturday in Bismarck and endorsed DuWayne Hendrickson of Minot for governor and Joshua Voytek of Fargo for lieutenant governor.
The party also endorsed a sole legislative candidate, Mattie Richardson-Schmitz of Sheldon, for District 26 House. District 26 covers an area of southeastern North Dakota.
The Libertarian Party lost its ballot status in North Dakota in 2018 when sole candidate Roland Riemers failed to garner enough primary ballot votes for secretary of state to qualify for the general election.
The party submitted enough qualified signatures last fall to regain ballot access in 2020. Libertarians hold no legislative, statewide or congressional seats in North Dakota, which is Republican-controlled.
Party Chairman Dalton Brown said 15-20 people attended the convention, with the coronavirus pandemic likely affecting attendance.
He said the party would like to have at least three more statewide candidates, as well as more legislative candidates. The party is in talks with other potential candidates who might seek an endorsement from the party's executive committee, which Brown said was given authority at the convention to endorse other candidates up to the April 6 filing deadline.
Hendrickson ran as an independent candidate for governor in 2008, receiving 2% of the vote. He's also sought the Republican endorsement for North Dakota's lone U.S. House seat in recent years. He said he sought the Libertarian endorsement because he didn't seem "to be making any headway" among Republicans.
"I believe that I had good ideas for our nation, just as I have good ideas as governor, that I believe I had to do whatever I had to do to accomplish my goal of making our nation better for the next generation," said Hendrickson, 62. He runs a parking lot maintenance business.
Hendrickson said he supports eliminating property taxes and refugee resettlement in North Dakota. He thinks more could be done for homeless veterans. He supports marijuana legalization and the Second Amendment.
"I strongly believe in North Dakota first," he said.
Voytek, a 35-year-old restaurant manager in Fargo, was a Libertarian nominee for Public Service Commission in 2010 and 2012 and for lieutenant governor in 2016. He said he is running to help maintain the party's ballot status to provide more choices for voters.
"Part of what we've kind of just felt is that it seems that power in general in state government in particular has been kind of consolidating with less and less choices and options, and so that's part of the reason that we're trying to provide better options for the people of North Dakota and more liberty-oriented that allows people to maintain their freedoms," Voytek said. 
Eight Libertarians ran for state offices in North Dakota's 2016 general election. Riemers garnered almost 23% of the vote for state auditor in the Republican-Libertarian race. Democrats had no 2016 auditor candidate.
Hendrickson and Voytek would be expected to face Republican incumbents Gov. Doug Burgum and Lt. Gov. Brent Sanford and Democratic-NPL hopeful Shelley Lenz, a Dickinson/Killdeer veterinarian, who has not announced a running mate. Republicans have held the governor's office since 1992.
Democrats canceled their state convention set for March 19-22 in Minot due to the coronavirus pandemic, with party leaders and staff "to determine next steps."
Republican Party leaders will convene Thursday to determine whether to hold or delay their convention set for March 27-29 in Bismarck.
The deadline to file for the June 9 primary ballot is April 6.
Get Government & Politics updates in your inbox!
Stay up-to-date on the latest in local and national government and political topics with our newsletter.