North Dakota lawmakers put their 2019 legislative session to bed around 10 p.m. Friday, leaving Bismarck after 76 days.
Lt. Gov. Brent Sanford brought down the gavel to adjourn the Senate sine die at 10:04 p.m. House Speaker Lawrence Klemin, R-Bismarck, did the same 10 minutes later, both after speeches from floor leaders in each chamber. 
The final hours of the session involved wrapping up a hodgepodge of budget bills for the next two years. Lawmakers approved a record $14.7 billion overall budget that includes federal money. The budget includes about $4.8 billion in state general fund spending for 2019-21. 
Senate Majority Leader Rich Wardner, R-Dickinson, called the 2019 session "one of the smoothest sessions I've been involved with in a long time." Lawmakers are limited to meet for 80 days every two years. They saved four days to meet if needed during the interim.
Wardner pointed to such major legislation as "Operation Prairie Dog" for infrastructure funding, expanding behavioral health services such as Free Through Recovery, restructuring county social services into regional "human service zones" and implementing a framework for a voter-approved ethics commission.
"We got some things done," said Wardner, calling the session "productive" and "hard-working."
House Majority Leader Chet Pollert, R-Carrington, echoed Wardner on the session running "fairly smoothly," looking forward to results from legislation on workforce development, unmanned aerial systems, various water projects and the Theodore Roosevelt presidential library − which passed late in the game. 
"That was a long, hard load for everybody to get that through," Pollert said. 
You have free articles remaining.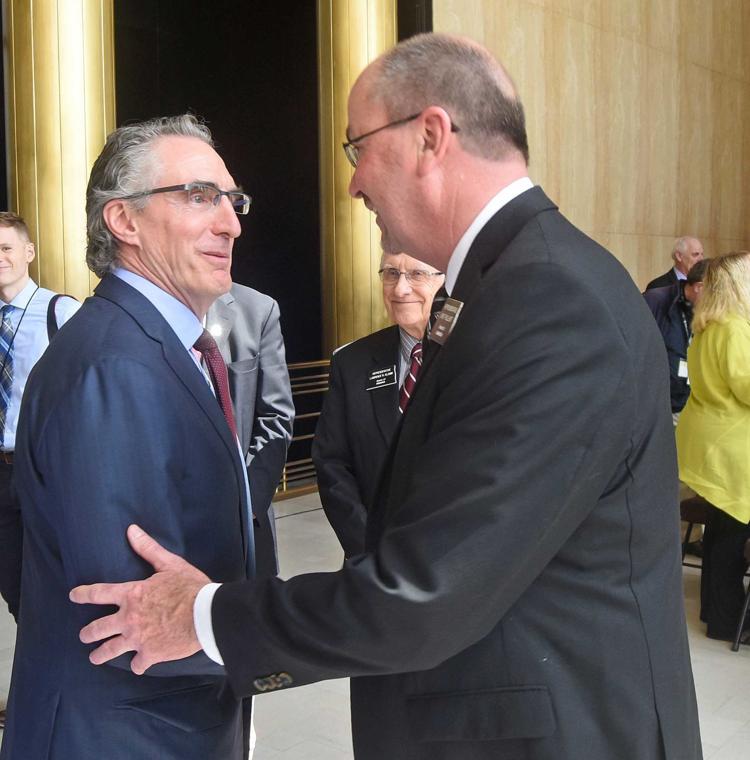 Senate Minority Leader Joan Heckaman, D-New Rockford, pointed to a "step in the right direction" for K-12 funding and successes for behavioral health services, but more work to do for education and infrastructure.
"I think we had a lot more collaboration this session," Heckaman said.
Gov. Doug Burgum, who was in his office when lawmakers notified him of their pending adjournment, said he'll take up bills on Monday after planning to sign a few more late Friday night. He said the session was "very positive."
"A fiscally conservative budget that funds the priorities and still managed to do some great strategic investments," Burgum told the Tribune as he greeted House members leaving Legislative Hall late Friday.
Burgum has so far issued two vetoes to bills, one of which the Legislature overrode.
Lawmakers introduced more than 900 bills and resolutions this session. Slightly over half the bills passed, including legislation repealing North Dakota's longtime Sunday morning shopping ban.
Voters will see two referred measures for 2020, on increasing the membership of the State Board of Higher Education and involving legislative approval for constitutional initiatives.