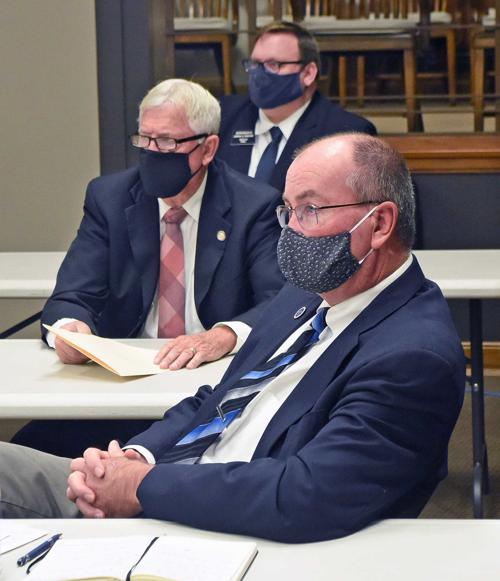 New state lawmakers take office this week during the Legislature's organizational session, during which the governor will lay out his budget plans and lawmakers will decide on a legislative mask mandate.
Among those swearing in will be a longtime, powerful state representative whom Gov. Doug Burgum sought to keep from another term.
Business during the three-day session that begins Tuesday will set the framework for the 2021 Legislature, which convenes Jan. 5 for up to 80 days. The 2019 Legislature used 76 days and passed a record $14.7 billion overall budget, including federal money.
State Supreme Court justices on Tuesday afternoon will administer the oath of office to lawmakers, who include five senators and five representatives newly elected this fall. The House will elect a new speaker, who presides over the chamber. Committee chairs will be named.
Republicans increased their supermajority power in the general election to 40-7 in the Senate and 80-14 in the House.
Many lawmakers, including those newly elected, attended a two-day meeting at the Capitol earlier this month, and interim committee chairs presented study reports.
Most lawmakers wore masks, and seats in the House chamber were designated for social distancing. Legislative leaders have ramped up livestreaming technology and remote capabilities amid the coronavirus pandemic.
The organizational session will be the first time the full Legislature has met since April 2019, setting the stage for how the body will operate in the pandemic.
"Just because of COVID-19, it's going to be more difficult, no doubt about it," said House Majority Leader Chet Pollert, R-Carrington.
New faces
Doug Larsen only recently started preparing to be the new state senator for District 34 encompassing Mandan. Sen. Dwight Cook, R-Mandan, chose not to run again, and Larsen bested former North Dakota Commerce Commissioner Al Anderson in the June primary and Democrat Adam Michal in the general election to win.
Larsen came down with COVID-19 days after the general election. He was "hard down" with the illness for two weeks, lost 10 pounds and didn't get back to feeling normal until Monday. He recovered at home and now feels "fantastic."
He has toured the Capitol with Senate Majority Leader Rich Wardner, discussed his duties and fielded messages from constituents.
"That's been kind of a neat experience," Larsen said.
He also has studied state budgeting, read up on current issues "to keep up in the know" and participated in Senate Republican caucuses held virtually.
"I hope to be ready to go and be productive," he said.
Dave Nehring, of Bismarck, joins the House of Representatives after a high-profile race in District 8, which is north and east of Bismarck.
The election preceded a three-way legal fight this month before the state Supreme Court over who would fill the second seat, which was won by David Andahl, 55, of Baldwin, who died Oct. 5 from COVID-19 but whose name remained on the ballot.
Longtime Rep. Jeff Delzer, R-Underwood, who chairs the powerful House Appropriations Committee and was defeated in the primary, is now set to hold the seat by his district party's appointment.
Burgum, a wealthy former software executive, gave more than $1.8 million to a political group run by former advisers that successfully targeted Delzer's seat in the primary. After the general election, Burgum unsuccessfully sued to appoint a state representative to the seat won by Andahl. The governor was countered by two factions who respectively argued for a district party appointee and the Democratic-NPL third-place finisher in the general election.
Nehring said he's ready to "listen and learn and hopefully make an impact." He's been preparing for the organizational and legislative sessions through caucus and rules meetings, and has scheduled to meet with several city councils within the district to find out their concerns and share updates.
He's already met many other lawmakers, who have been "pretty darn welcoming," he said.
The upcoming legislative session also will be the first for four state representatives who were appointed to fill vacancies since the 2019 Legislature adjourned.
Among them will be the District 27 successor to Rep. Thomas Beadle, R-Fargo, who takes office as state treasurer on Jan. 1.
Mask mandate
Legislative leaders last month endorsed a mask mandate for the Legislature's spaces. The recommendation goes to the House and Senate rules committees, which will recommend sets of rules for the 2021 session to each chamber this week.
The mask mandate would come as a joint rule, which both chambers would have to adopt.
It's unclear what enforcement or penalties would be attached, if adopted.
"I'll just tell you this: If you wear blue jeans in the chambers, you're asked to leave. Now, everybody has left so far, on their own," said Wardner, R-Dickinson. "Nobody's had to escort them out or anything like that. Well, this isn't any different, and I just don't want to speculate, but we would expect everybody to follow the rules in the chamber."
Wardner said a mask mandate could be considered like a dress code. The Senate, for example, requires its members to keep their suit jackets on during floor sessions.
"If people had their way, they would not," he said. "You'd have some people look like who knows what, hobos or something, sitting there if we didn't have a dress code." 
House Minority Leader Josh Boschee, D-Fargo, also has likened a legislative mask mandate to dress code requirements. If wearing a tie "hasn't been a problem for anyone over the last how many decades, why should wearing a mask to protect the public health of our colleagues but also the citizens who participate in the process?" he said.
"I certainly hope that my colleagues recognize that when we are in a shared space like that, we have to respect one another's ability to participate, represent our districts, and wearing a mask is the easiest, cheapest way for us to do that," Boschee said.
Pollert said House Republicans have discussed the mask mandate and "opinions vary on what should be done."
Governor's budget
Burgum, who begins his second term with Lt. Gov. Brent Sanford on Dec. 15, will present his executive budget to the Legislature on Thursday morning.
The governor will appear in person in the House to deliver his budget address, said his spokesman, Mike Nowatzki. The governor's blueprint contains his recommendations for state agencies' next two-year budgets, his priorities and whatever projects he might propose. In 2018 he presented a slate of projects using earnings of North Dakota's oil tax savings, the Legacy Fund.
State agencies began meeting in January with the governor's office and the Office of Management and Budget in a strategy review process to plan their budgets. Burgum in May gave budget guidelines to state agencies to cut 5-15%, depending on their size.
All state agencies have now submitted their budget requests. The Office of Management and Budget has been working for the past several weeks with the governor to develop his executive budget, Director Joe Morrissette said.
Boschee hopes to learn from the governor's address "how do we make sure that we continue to provide the services that North Dakotans expect of us," from roads to motor vehicle departments to human services.
He also expects to hear about Legacy Fund earnings, which have so far been used to balance state budgets and backfill a shorted state school aid fund.
Pollert expects Burgum to offer his budget blueprint and "we in turn will take a look at our blueprint and then we will work through the legislative priorities of what we think, but at the same time be looking at what he has brought forward."
Before the 2019 Legislature convened, Delzer led a rule change that shifted how lawmakers considered Burgum's proposals. Burgum later said he felt his executive budget had been "tossed in the garbage." Delzer said all of Burgum's proposals were fully vetted and many were adopted, and that the rule change was years in the making and added more transparency in budget writing.
The next budget will be challenging, Pollert said. North Dakota faces uncertainty from oil prices, the pandemic and what might come from the incoming Biden administration, he said.
"It just raises a whole bunch of new issues," he said.