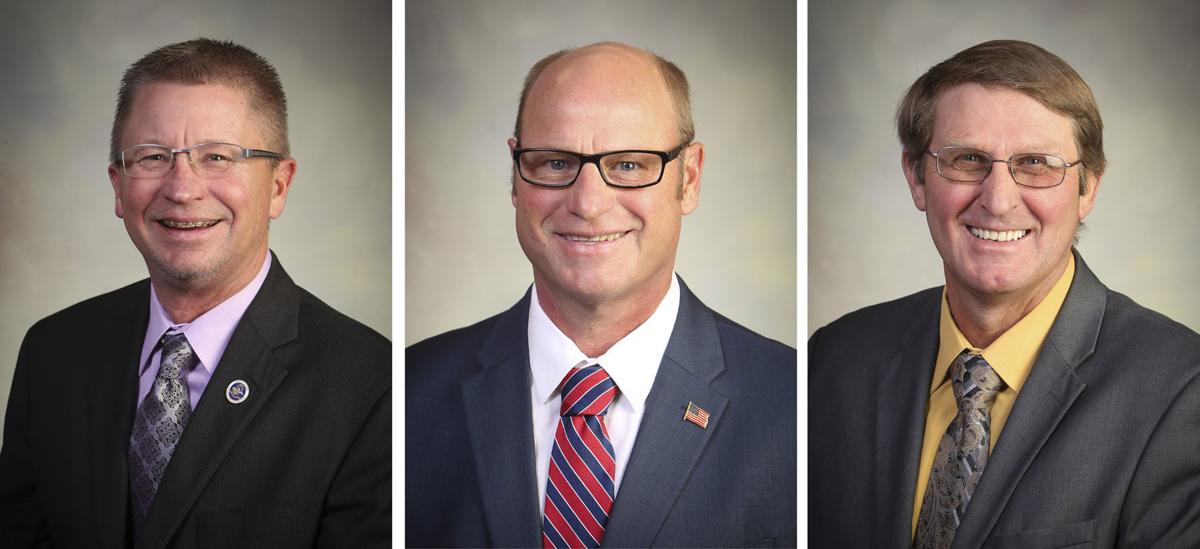 North Dakota's District 28 House race will see at least three Republicans vying for two seats -- and they're all incumbents.
Rep. Jim Grueneich, R-Jamestown, was elected to a District 12 House seat in 2016. He and his wife, Naomi, are moving to his hometown of Ellendale, in District 28, where she is starting a new job.
"There were some decisions to be made, but it was the right thing for Naomi, and I wanted to support her in it," Grueneich said. 
He is a U.S. Air Force veteran and a sales representative for Northland Steel who travels western North Dakota for work. He chairs the Legislature's interim Taxation Committee. Grueneich said he hopes for District 28 Republicans' endorsement, but "I do plan on taking it to the primary." 
"And that's historically how that district has been in at least the last couple election cycles," he said.
He expects "a lot of big topics" for the 2021 Legislature, such as how to use the state's Legacy Fund oil tax savings, and wants to be involved.
Four Republicans competed in District 28's 2016 primary. First-term Rep. Jeffery Magrum, R-Hazelton, won a House seat nomination, as did longtime Rep. Mike Brandenburg, R-Edgeley. Longtime Rep. William Kretschmar, R-Venturia, was defeated in that primary. He died in 2017.
District 28 covers a swath of south central North Dakota, including part of Burleigh County.
Magrum, a rancher and master plumber, is seeking a second term. Brandenburg, a farmer retired from the North Dakota National Guard, has served from 1997 to 2002 and since 2005.
Brandenburg said he is supporting Grueneich, calling him "a great guy and a good man" and a friend. He said they both have supported legislation to advance infrastructure and human services such as rural nursing homes and hospitals.
Brandenburg said he and Magrum "don't get along."
Forum News Service in May reported that Magrum confronted Brandenburg at an Emmons County Commission hearing about wind turbine regulations, questioning Brandenburg's loyalties in an outburst that lasted several minutes. Brandenburg is a vocal supporter of wind energy.
"I mean, he screams and hollers at me for five minutes and very offensive and yet to apologize," he said.
Magrum said voters "have been satisfied with my work up 'til now as far as I know," pointing to his elections as a Hazelton mayor, an Emmons county commissioner and a state representative.
He said he gets along with everybody "pretty much" and "if there is ever any disagreements with people that I've had I usually put it behind me real fast; I don't dwell on it."
Like Grueneich, Brandenburg said District 28's primary election "is kind of where the decisions are made."
Magrum didn't say if he'll proceed to the primary if he loses the endorsement, saying he'll take the election as it comes, "kind of like playing chess."
Sen. Robert Erbele, R-Lehr, is seeking a sixth term for District 28's Senate seat. He is a rancher who was first elected in 2000. 
He serves on the Legislature's interim Budget Section and Higher Education Committee and chairs the Natural Resources Committee, which is undertaking a pilot project for electronic land posting in Ramsey, Richland and Slope counties.
"I try to select interim committees outside of the areas that I work on during the session, so I can broaden my understanding of all areas of state government," Erbele said in a statement.
District 28 Republicans will meet Feb. 9 at the American Legion Hall in Wishek for their endorsing convention.
Democratic-NPL District 28 Chairman Dustin Peyer said the party has one candidate for a District 28 House seat. He did not offer her name but said she is a small business owner from Driscoll. She did not immediately return a phone message for comment.
District 28 Democrats will meet Feb. 8 in Lincoln for their convention.
Twenty-three Senate seats and 46 House seats are on the ballot in 2020.
Get Government & Politics updates in your inbox!
Stay up-to-date on the latest in local and national government and political topics with our newsletter.