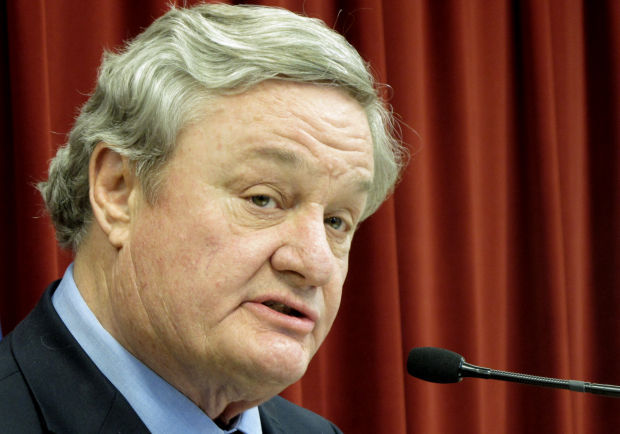 Gov. Jack Dalrymple signed three anti-abortion bills into law Tuesday morning, giving final approval to the strictest abortion laws in the nation and setting the stage for a potentially high-profile and expensive court challenge.
The signing of the three bills, which would outlaw nearly all abortions in North Dakota, was announced in an emailed statement. Dalrymple was in Dickinson participating in the groundbreaking ceremony for a new refinery at the time the statement was released.
Signed into law were House Bill 1305, House Bill 1456 and Senate Bill 2305.
Pending legal challenges, the laws would go into effect Aug. 1.
HB1305 will make it a Class A misdemeanor for a physician to willingly perform an abortion based specifically on gender or on genetic abnormalities.
HB1456 requires a physician to determine whether there's a detectable heartbeat prior to performing an abortion. A physician who willingly performs an abortion after the detection of a heartbeat could be subject to a Class C felony.
A heartbeat is able to be detected as early as six weeks. It is a far cry from the current federal protections relating to the time when a fetus has the ability to survive outside of the womb, approximately 24 weeks.
Dalrymple acknowledged that HB1456 and SB2305 in particular are likely to draw a legal fight. He said in his statement that what has been proposed in HB1456 has never been attempted before.
"Although the likelihood of this measure surviving a court challenge remains in question, this bill is nevertheless a legitimate attempt by a state legislature to discover the boundaries of Roe v. Wade," Dalrymple said. "The constitutionality of this measure is an open question."
SB2305 requires physicians providing abortions to be licensed in the state and to have admitting privileges at a local hospital.
"It is a legitimate and new question for the courts regarding a precise restriction on doctors who perform abortions," Dalrymple said.
Rep. Bette Grande, R-Fargo, primary sponsor of HB1305 and HB1456, said she wasn't surprised that Dalrymple had signed the bills into law.
"He's a pro-life governor," Grande said. "He's speaking for the vast majority of the state. It's the right thing to do; it's the right time to do it."
The bills arrived in Dalrymple's office Monday, and were signed while she and the rest of the Legislature were in morning hearings. Grande said what she and other lawmakers have accomplished to this point hasn't yet been able to sink in.
"I haven't really had time to think about it. It'll probably set in sometime tonight," Grande said.
Rep. Kathy Hawken, R-Fargo, said she was extremely disappointed in the governor's action. Hawken is one of very few Republican legislators to have come out in staunch opposition to the abortion bills.
"I'm devastated," Hawken said. "It is clearly a legal procedure. We've taken what is federally protected as a legal procedure and we're making it illegal."
Hawken said she's known Dalrymple for many years but was ultimately disappointed in his decision.
"I knew he was wrestling with it but I had no idea what he was going to do," Hawken said.
She said time will tell but she hopes the bills are cut down in court. Hawken added that it's unfortunate that the state will now likely get bogged down in an expensive legal battle.
"I'd rather spend that (money) on child care or education," Hawken said.
Senate Minority Leader Mac Schneider, D-Grand Forks, said the governor clearly decided to quickly make his choice and move on.
"This will go on and on in a very public way and the people of North Dakota are going to experience this in a very personal way," Schneider said.
National groups quickly responded to Tuesday's bill signings. The New York-based Center for Reproductive rights has already committed itself to assisting Fargo's Red River Women's Clinic in a challenge to HB1456.
The American Civil Liberties Union of North Dakota and National Abortion Federation also blasted the governor in Tuesday statements.
Priests for Life, a national Catholic organization in New York opposed to abortion, issued a statement praising Dalrymple.
Sen. Margaret Sitte, R-Bismarck, said it was a good day for those opposed to abortion in North Dakota.
"I'm thrilled that the governor has signed these bills," Sitte said.
Sitte said it's still too early to know what will happen in terms of a court challenge. She said how the state will defend the laws if challenged will need to be dealt with soon through the attorney general's office.
Sitte was the primary sponsor of Senate Concurrent Resolution 4009, which is headed to a 2014 general election vote following passage on Friday. The resolution would define human life as beginning at conception.
Sitte said two groups, the Liberty Counsel and the Thomas More Society, have expressed interest in footing the bill to defend the bills in court. She first mentioned this on a Fargo-Grand Forks television station interview last week. Sitte said she wasn't aware of any follow up from either group since then.
The Thomas More Law Center and Liberty Counsel are both 501(c)(3) organizations that take on cases including abortion and religious issues.
Senate Majority Leader Rich Wardner, R-Dickinson, said the Legislature's work with the abortion issue is largely finished. One final bill, Senate Bill 2368, will be taken up in conference committee.
"I'm glad it's over. I think it's been an extremely emotional issue for everyone on both sides," Wardner said.