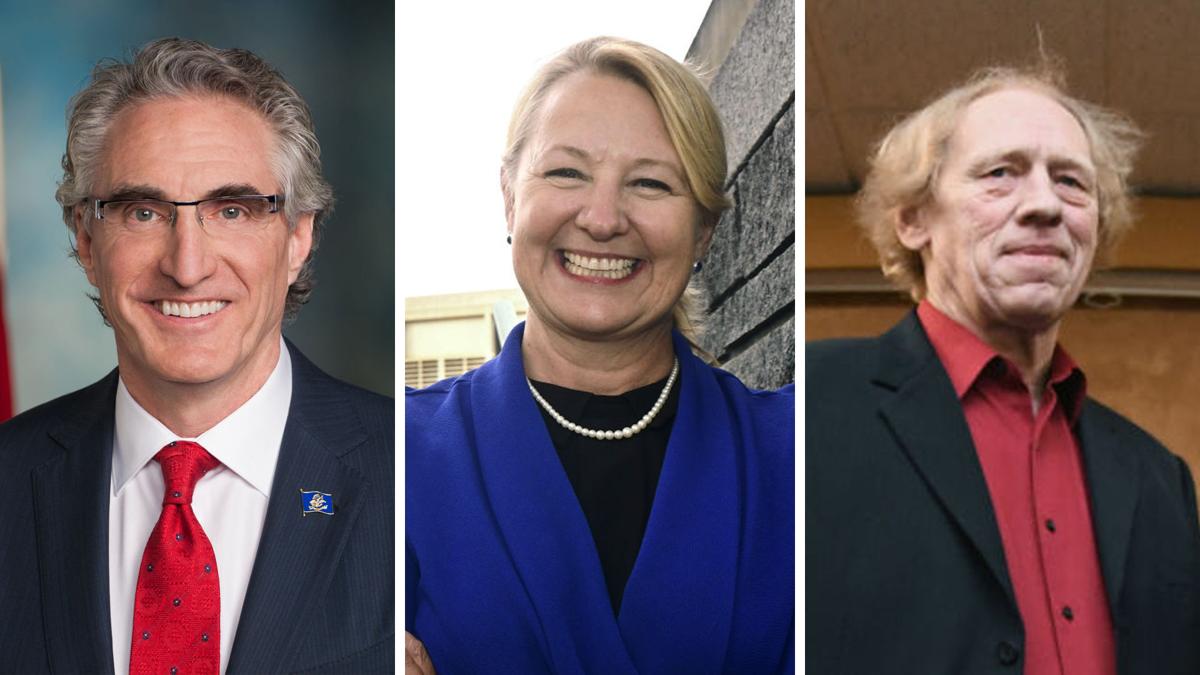 Candidates in North Dakota's gubernatorial race offered different paths for the next four years in their sole debate that began with the state's response to the coronavirus pandemic.
Republican Gov. Doug Burgum, a wealthy former software executive, is seeking a second four-year term with Lt. Gov. Brent Sanford, a former Watford City mayor and auto dealer. They are challenged by the Democratic-NPL ticket of Dickinson-Killdeer veterinarian Shelley Lenz and Sharon-area farmer and former state representative Ben Vig, and Libertarians and businessmen DuWayne Hendrickson and Joshua Voytek.
The gubernatorial nominees met in their only debate Wednesday hosted by Prairie Public and sponsored by AARP North Dakota, discussing pandemic plans, the future of the state's largest coal-fired power plant set to close in 2022 and how to invest North Dakota's oil tax savings, the Legacy Fund. 
Burgum touted his administration's plans for protecting long-term care facilities while resuming visitation; reopening schools to K-12, college and university students; and boosting coronavirus testing capacity. He said North Dakota has maintained one of the lowest COVID-19 fatality rates in the U.S., while reaching top testing per capita.
"Here in North Dakota, we have had a comprehensive strategy," Burgum said.
Lenz said "the facts speak for themselves," citing the state's 422 coronavirus-related deaths, three state health officers who have quit since spring, and strained capacities for hospitals and contact tracing. She pointed to her plan, which includes an emergency legislative session, a mask mandate and the position of an "incident commander," or a key adviser to guide decision-making.
Hendrickson said he's concerned about the health and welfare of the elderly, given the state's high case rates. He advocates constitutional rights in the state's pandemic response and local control over mask mandates. 
"The Constitution does not allow us to cost you your job, cost you your home, cost you maybe your life because of depression, isolation that makes you take your life," he said. "We need to expedite the solution for this as quickly as possible so that families are safe and that we can get back to normal life that we all did live."
Fargo and Minot this week established mask mandates, but without enforcement.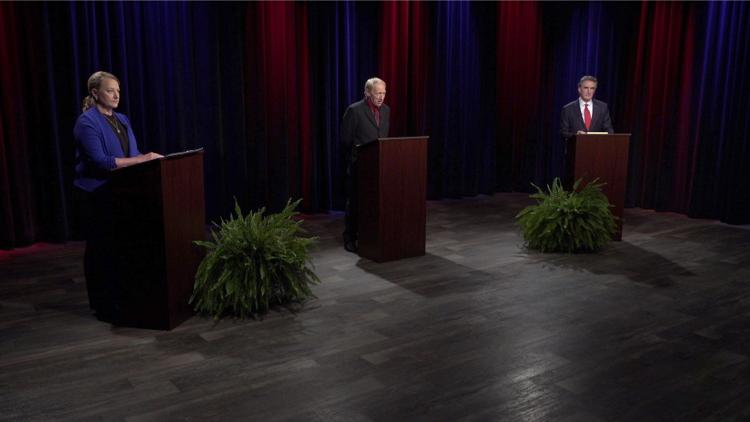 Burgum supports the wearing of face masks, but not a statewide mandate, instead encouraging personal responsibility and care for others.
"While we believe that masks work when used appropriately and when people can't socially distance, we're less confident about mask mandates," said Burgum, adding he supports local decisions to mitigate the virus.
Lenz said mask mandates have been enforced successfully in other states and that her plan would give resources to communities to enforce a mask mandate.
"We need that in connection with an overall strategy and plan," she said.
Burgum also said the state was able to grow and maintain its contact tracing capacity even as other states "had to give up" amid overwhelming cases.
North Dakota's Department of Health this week said the spread of the virus and a lack of compliance with investigations have diminished the effectiveness of contact tracing. The department and local public health units have a backlog of coronavirus investigations, delaying calls, the department said on social media in a plea to the public to help with their own contact tracing.
Late Tuesday, the state announced changes to the contact tracing process aimed at reducing the amount of time it takes to notify positive cases, which has increased recently from one day to three days. 
"We've had a temporary blip this past weekend with an increase, but with a shift in resources we're confident that we can continue to contact trace," Burgum said, calling on positive people to notify their close contacts, "doing your part to slow the spread."
Lenz said the state is "unable to do proper contact tracing," seeing no evidence the outbreak will slow down. 
"Viruses spread exponentially," she said.
The candidates also offered their thoughts on the future of Coal Creek Station near Underwood, set to close in 2022. Burgum said Sanford "is working seven days a week with industry to save this plant," which he called a critical energy component locally and nationally for communities and baseload electricity, respectively.
Lenz said her platform would "stabilize those energy booms and busts," seeing other uses for the plant, such as carbon capture.
The candidates also differed on investing 100% of the $7 billion Legacy Fund in North Dakota. Burgum said he and Sanford "are all in favor of investing more in North Dakota," but "I'd want to see the deal flow on that to make sure that North Dakotans are getting the right kinds of returns and that we're putting those investments into things that do provide returns for future generations."
Lenz said the fund should be invested and managed locally, with $50 million of its earnings used for a regional, midsize meat packing plant to generate new revenue for the state.
Republicans hold all statewide offices and control North Dakota's Legislature. Democrats last won the governor's office in 1988. The annual salaries for governor and lieutenant governor are $138,748 and $107,917, respectively.
Get Government & Politics updates in your inbox!
Stay up-to-date on the latest in local and national government and political topics with our newsletter.