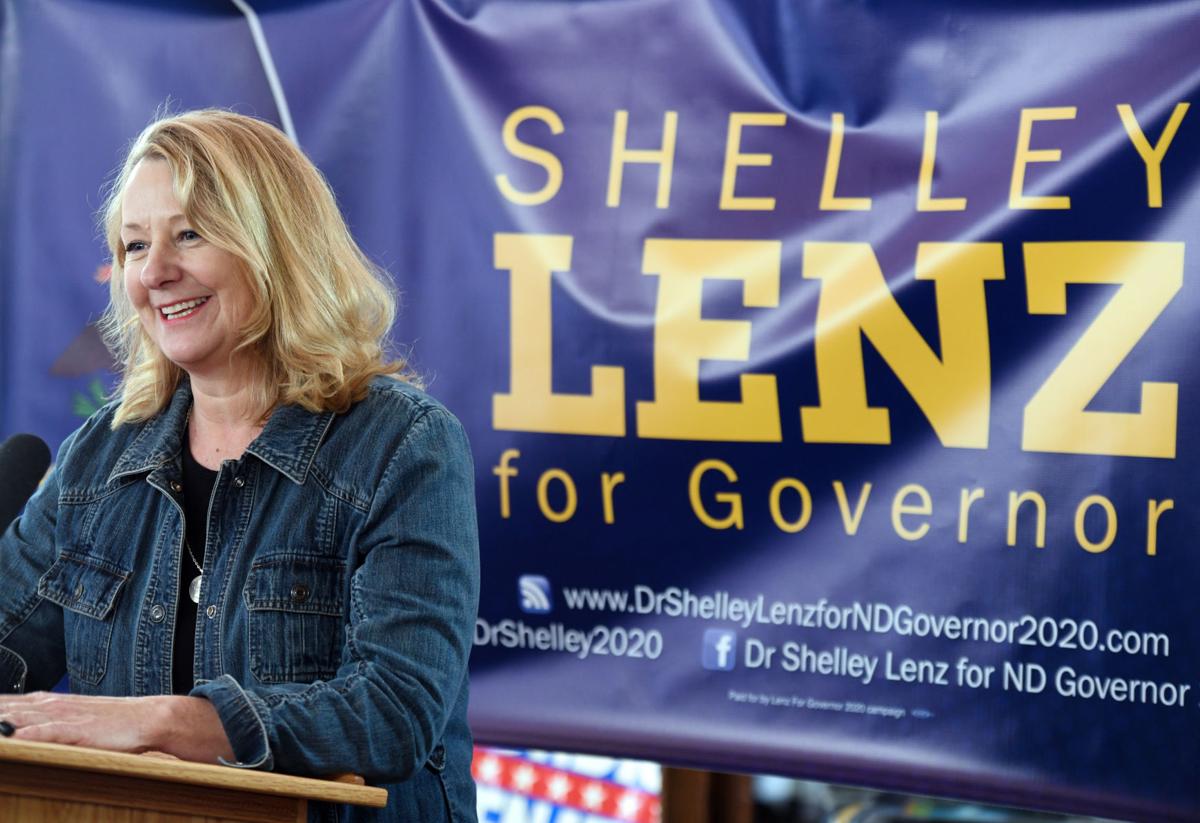 Two weeks from the filing deadline for the June primary ballot, the top candidate of North Dakota's Democratic-NPL Party is looking for a running mate.
Gubernatorial candidate Shelley Lenz said she is in talks with potential running mates for lieutenant governor and plans to announce who it will be before the April 6 filing deadline.
"I really want to make sure I know who has the chemistry with my vision, and it's such a strong position ... so I'm talking with multiple people of different generations, different regions, different genders, so again, I need to pick my team well," she told the Tribune on Monday, two days after she received the party's endorsement.
North Dakota's governor and lieutenant governor have been elected jointly since 1974. One cannot run without the other.
Secretary of State Al Jaeger cited a state law that a petition or certificate or endorsement for governor and lieutenant governor "must contain the names and other information required of candidates for both those offices."
"For the party to submit their certificate of endorsement, if it would come in without a lieutenant governor on it, we cannot accept it," Jaeger said. "She has to have somebody."
Democratic-NPL Party spokesman Alex Rohr said the party's Executive Committee has been granted the authority to endorse candidate spots not filled from the convention.
"Shelley is focused on finding the right partner for her campaign and is building a strong team around herself even within the chaos of a global pandemic," Rohr said.
Lenz, 51, is a veterinarian with clinics in Dickinson and Killdeer. She is an Ohio native and a former Killdeer School Board member. She announced her bid for governor on Jan. 31, and was endorsed by Democratic-NPL delegates on Saturday through a remote process after the party canceled its convention due to the coronavirus outbreak. 
Lenz said she has been working with Democratic-NPL Party leaders and staff to find a running mate, as well as reaching out to state lawmakers for input -- even "strong Republicans" for their thoughts.
"I'm trying to bring the parties together," she said. "I'm trying to unify North Dakota. I'm trying to provide all of that kind of balance in this vision of this campaign."
She called herself "a strong NPLer" -- a reference to the populist Nonpartisan League.
The party swept North Dakota politics in the 1910s, advocating policies for frustrated farmers. The state-owned Bank of North Dakota and State Mill and Elevator resulted from the Nonpartisan League's policies. In 1956, the party merged with the Democrats.
"I can tell you that it will be a traditional Dem to balance out my NPLer. ... I need the Biden to my Bernie," Lenz said, referring to Democratic presidential hopefuls Joe Biden and Bernie Sanders.
Lenz said her search for a running mate has been ongoing because she's also helping rebuild the party. Former U.S. Sen. Heidi Heitkamp, D-N.D., lost her bid for reelection in 2018 as the last Democrat to hold a state or congressional office in Republican-controlled North Dakota. Democrats last won the governor's office in 1988.
"It's scary when you have a new leader and new ideas and a new vision," Lenz said, "and I want to make sure that I have the right fit, and they want to make sure that they fit into that vision." 
Lenz is expected to face Republican incumbent Gov. Doug Burgum and Lt. Gov. Brent Sanford, who are seeking a second term. Businessmen DuWayne Hendrickson of Minot and Joshua Voytek of Fargo are the Libertarian ticket.
Lenz said she needs a running mate "who understands my vision" for a "strong, united message." 
"I'm not just looking for a warm body," she said.
North Dakota's lieutenant governor presides over the state Senate, chairs or sits on a number of state boards and is first in line to succeed the governor upon a vacancy.
The lieutenant governor's salary is $105,285, and is set to go to $107,917 on July 1.
Get Government & Politics updates in your inbox!
Stay up-to-date on the latest in local and national government and political topics with our newsletter.