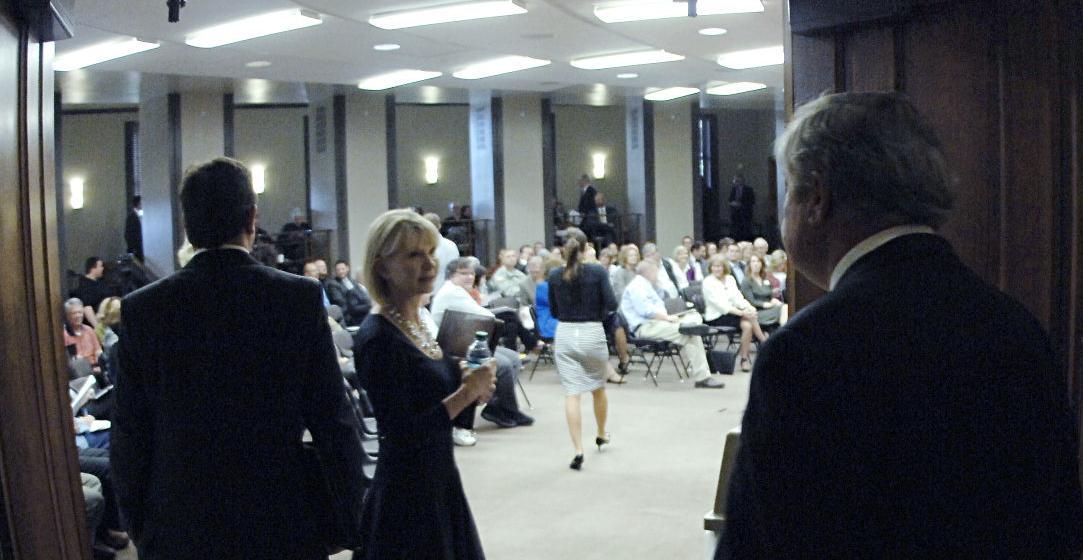 Gov. Jack Dalrymple called on state agency heads Wednesday to craft budgets for the 2017-19 biennium at 90 percent of the spending levels approved for the current biennium while making exceptions for the departments of corrections and human services.
In light of an economic slowdown stemming from low commodity prices and subsequent decline in revenues, Dalrymple's guidelines are a sharp contrast to previous bienniums. It's the first time since 2002 a North Dakota governor has issued budget guidelines requiring cuts in state agency budgets.
"No one could foresee the extent to which commodity prices would fall after the Legislature adopted the current budget," Dalrymple said. "We must find greater savings and efficiencies while minimizing as much as possible the impact on services. We must continue to demonstrate that we are good stewards of the people's money."
Dalrymple, a Republican who is not running for re-election, said it's important to budget very conservatively and emphasized a need to not severely impact public safety and health needs. He said the North Dakota Department of Corrections and Rehabilitation as well as the Department of Human Services won't be subject to the strict 10 percent cuts.
"Because special consideration is being given to services that affect the state's vulnerable citizens, the Department of Human Services will be working with the Office of Management and Budget as we prepare the 2017-19 budget," North Dakota DHS Executive Director Maggie Anderson said after the guidelines were delivered.
The department of corrections also will be working with OMB to determine an adequate level of cuts. State aid to K-12 schools also won't be subject to the 10 percent cuts. Dalrymple said public employee pay will be a separate matter in the 2017-19 executive budget.
New one-time spending projects won't be considered in the new budget unless they're considered absolutely critical, according to Dalrymple, adding that agencies should target their cuts to have the smallest impact on services to the public as possible.
He also addressed agencies that aren't funded through the general fund but through special funds.
"I expect these agency directors to also perform a thorough review of their programs and submit budget proposals that produce savings," Dalrymple said.
In February, agencies funded by general fund dollars were ordered to cut 4.05 percent from their budgets to help plug a projected $1.074 billion shortfall for the current biennium. The rest of the gap was addressed through rainy day funds and general fund ending balance dollars.
A large portion of the shortfall stemmed from declining sales tax revenues, much of which is tied to energy production in the western part of the state.
"Obviously, many of the adjustments made in the allotment process may need to be continued, but agencies are not locked into the decisions they made for the allotment," Dalrymple said.
The next budget revenue forecast will be released this summer. Through the end of March, revenue was running about $20 million below projections from an updated forecast released earlier this year. Further budget cuts for the biennium may be ordered if the declining revenues continue into the summer.
Dalrymple said the state spent billions in recent years upgrading infrastructure as the economy and state population has grown. He rejected the notion that the state can't handle a decline in revenue, pointing to the state's reserve funds that were built up to provide a buffer in the event of a downturn.
"We have good reasons to be optimistic about North Dakota's future, but by no means does that free us from our responsibility to address the current revenue challenges head on by developing a sustainable budget plan," Dalrymple said.
Looking down the road
OMB Director Pam Sharp urged agencies to be looking long term when they consider where to cut.
"It's not going to be easy, we know that," Sharp said.
Attorney General Wayne Stenehjem, who's also the Republican Party-endorsed candidate for governor, has recently spoken with Dalrymple about the guidelines and is on board with what was outlined.
"I think the proposal he put forward is an appropriate one," Stenehjem said. "It's not complicated although it won't be easy."
Republican candidate for governor Doug Burgum also applauded the move.
"These guidelines are more confirmation that our economy is changing and we need to make additional changes to reduce government spending to match our rapidly dropping tax revenues," said Burgum in a statement. "I applaud Governor Dalrymple for taking action now to begin reining in spending so state agencies can begin preparing for the next two years immediately. The sooner the state begins addressing our spending issues, the better we can ensure funding for our priorities in this changing economy." 
A conservative approach
Lawmakers in advance of the governor's guidelines being released were expecting a conservative approach from Dalrymple with sizeable cuts.
Sen. Kelly Armstrong, R-Dickinson, said Dalrymple's move is good policy when considering the growth in state government in recent years.
"He knows what he's doing. It's not going to be fun for anyone," said Armstrong, adding the best way to address budget cuts is to focus on middle management areas, eliminating duplicative programs while impacting the fewest people possible.
In 2014, Dalrymple called for a hold-even budget as well as optional budgets for staffing. In 2012, he also called for a hold-even budget as well as optional budgets with 3 percent cuts in case savings were needed.
Last session, lawmakers passed a record $14.4 billion budget with just over $6 billion in general fund expenditures.
"We must find greater savings and efficiencies while minimizing as much as possible the impact on services. We must continue to demonstrate that we are good stewards of the people's money."

-- Gov. Jack Dalrymple
"I think the proposal he put forward is an appropriate one. It's not complicated although it won't be easy."

-- Attorney General Wayne Stenehjem
"These guidelines are more confirmation that our economy is changing and we need to make additional changes to reduce government spending to match our rapidly dropping tax revenues."

-- Doug Burgum, Republican candidate for governor