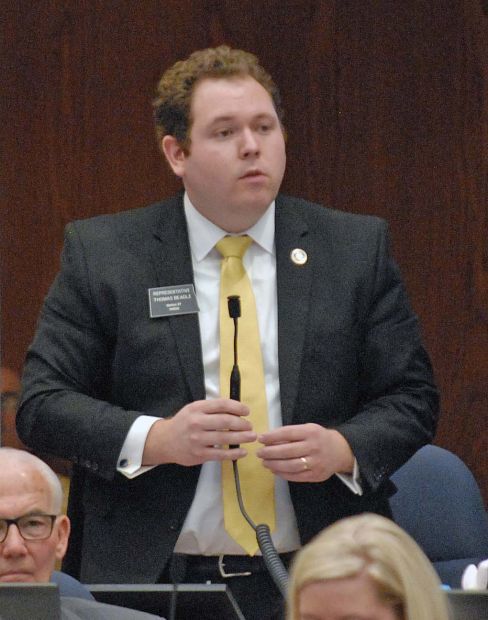 At least two North Dakota Republican lawmakers will compete for their party's endorsement for state treasurer.
Rep. Thomas Beadle, R-Fargo, said Tuesday that he is running for the office. He is the business development manager for Super Studio, a graphic design firm, and has served in the House since 2010. He also has been a licensed real estate broker since 2009.
"I've received a lot of calls from friends, family and fellow lawmakers over the last few weeks urging me to give this office some consideration," Beadle said in a statement. "I believe we have a great opportunity to bring a focus to accountability and transparency across state government and make sure that the Treasurer's office is situated to best serve our citizens, and that is why I'm getting into this race."
He also said he received the blessing of his grandfather, former House Majority Leader Earl Strinden, R-Fargo, over the weekend, which "encouraged him to commit to the race." 
Beadle served on the House Appropriations Committee in the 2019 Legislature and currently serves on the Legislature's interim Budget Section, Commerce Committee and Computer Replacement Workgroup. He did not immediately return two phone messages for comment on his candidacy.
Rep. Dan Johnston, R-Kathryn, earlier this month announced his candidacy. He is a veteran of the U.S. Army and Army Reserve, and his family runs a small farm near Fort Ransom. He said he is "running to maintain this important stewardship of the people's money with integrity, efficiency, and accountability."
State Treasurer Kelly Schmidt, a Republican first elected in 2004, told the Tribune in December she would not seek a fifth term, saying "it's just time for a new chapter." Her term ends Dec. 31, 2020.
North Dakota Republicans will meet March 27-29 in Bismarck for their state convention, during which they will endorse 2020 candidates.
A Democrat hasn't been state treasurer since 2004. Democratic-NPL Party Chairwoman Kylie Oversen said there are "no Dem-NPL candidates yet."
"We're glad to see more competition on the GOP side and are sure it will be an interesting race," she said.
Democrats will meet March 19-22 in Minot for their state convention.
North Dakota's treasurer is custodian of state government funds and sits on several state boards, including the State Historical Board, State Canvassing Board and Board of University and School Lands. The treasurer's office is one of the smallest in state government, comprising seven people.
The treasurer's annual salary is $107,885. It's set to go to $110,582 on July 1.
Get Government & Politics updates in your inbox!
Stay up-to-date on the latest in local and national government and political topics with our newsletter.