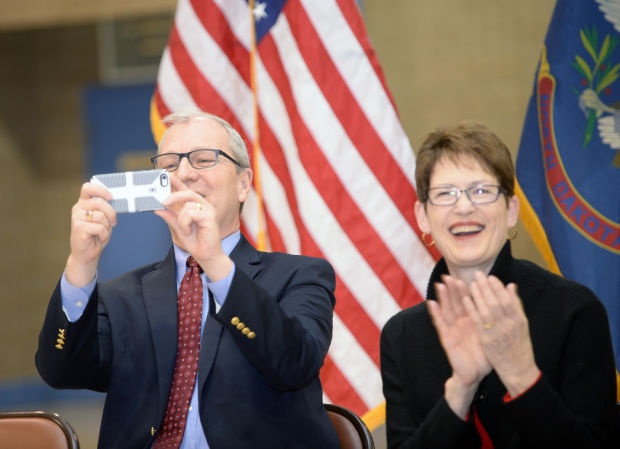 North Dakota National Guard officials expect at least a few thousand people to attend its Memorial Day ceremony Monday at the state veteran's cemetery near Mandan.
National Guard spokesman Bill Prokopyk said he estimates between 2,000 and 2,500 people may attend the event at the North Dakota Veterans Cemetery. The event has been ongoing since 1993.
Prokopyk said it was important during a weekend heavy in travel and family get-togethers to take the time to remember and acknowledge why such activities are possible.
"Freedom in the world is the exception," Prokopyk said. "We're a symbol of freedom in the world. It's important to remember why we can do what we want to do in life."
The ceremony begins at noon at the cemetery, located 6.5 miles south of Mandan off of North Dakota Highway 1806.
Former North Dakota Adjutant Gen. Alexander Macdonald is this year's keynote speaker. Also attending the ceremony to provide remarks will be current North Dakota Adjutant Gen. David Sprynczynatyk, Lt. Gov. Drew Wrigley, Sen. John Hoeven, R-N.D., and Rep. Kevin Cramer, R-N.D.
The Guard's 188th Army Band based out of Fargo will be on hand to provide music during the event.
A 21-gun salute will be conducted area veterans groups. A 75-millimeter French WWI-era cannon will also be fired by Guard members.
"The biggest draws are the 21-gun salute and the huge World War One French cannon," Prokopyk said.
After the ceremony, a public unveiling of a POW-MIA Memorial at the cemetery that is nearly complete will be held. The formal dedication of the memorial is scheduled for 11 a.m. June 3.
At 10 a.m. Monday, there will be a ceremony in the Russell Reid Auditorium inside the North Dakota Heritage Center. Elected officials participating in the cemetery ceremony will be at this event as well.
Speaking at the 10 a.m. event will be Commander Michael Hollenbach, slated to become the new captain of the USS North Dakota in July. Hollenbach will attend the cemetery event as well.
Gov. Jack Dalrymple and first lady Betsy Dalrymple will be at Riverside Cemetery in Fargo for an 11 a.m. ceremony Monday.
"On Memorial Day … we remember those who laid down their lives in the name of freedom, heroes who willingly stepped forward to defend all we hold dear as Americans. For that extraordinary measure of devotion, we will forever be grateful and forever be proud," Dalrymple said in a release.
Sen. Heidi Heitkamp, D-N.D., will be speaking in front of veterans groups in Fargo on Sunday and at the city auditorium at 400 Main St. in New Salem on Monday.