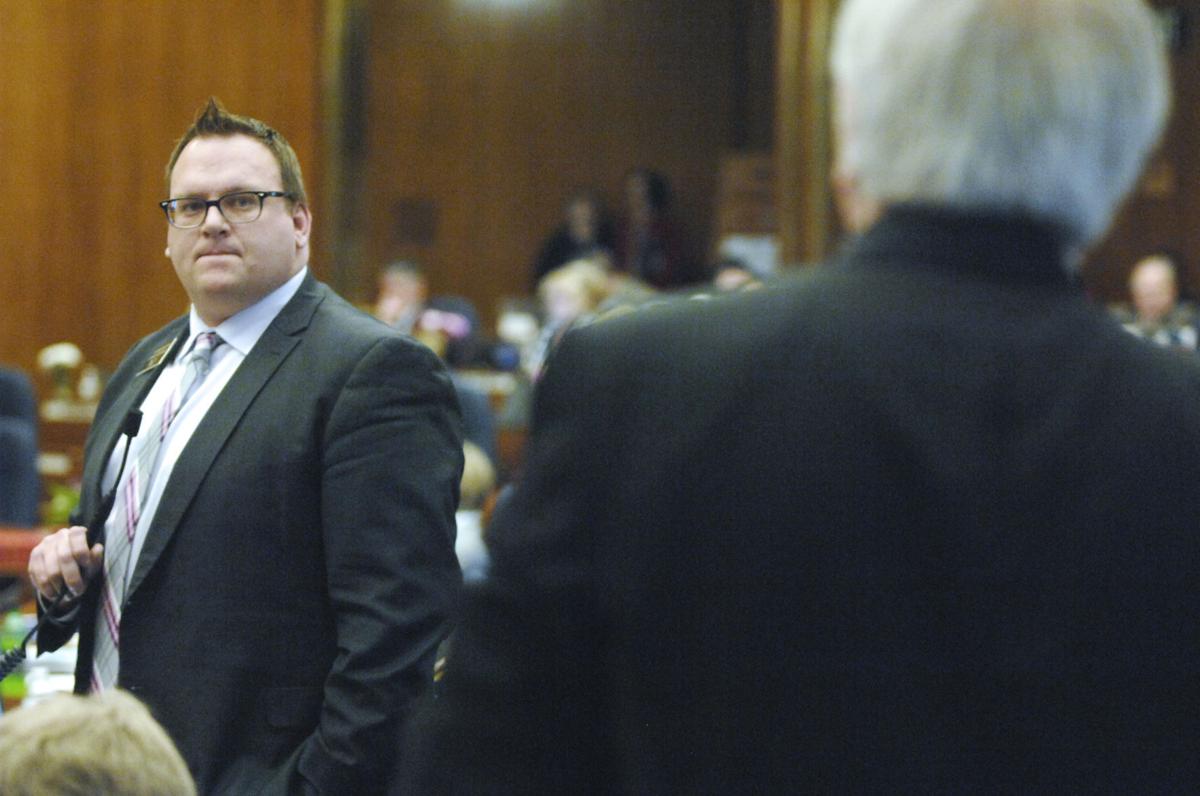 Despite getting slapped down in the North Dakota Legislature for the fourth time in five sessions, members and supporters of the lesbian, gay, bisexual and transgender community said the fight will continue and the state will eventually embrace protections of them.
Among the nearly 50 that watched from the House gallery as House Bill 1386 was roundly defeated by a 22-69 vote Friday afternoon, many said their spirits were bent, but nowhere near broken.
"Recognize that those of us in the LGBT community are people," said Bismarck resident Vallie Needham. "(This) is absolutely absurd."
Needham, who is married and identifies herself as a bisexual woman, said the Republican majority' words — that North Dakota is welcoming of all people —provided her with little solace.
"North Dakota definitely feels very hostile to the LGBT community," said Needham, adding that she and her husband are planning on moving out of state, perhaps to Oregon or Washington, in a few years for a career move.
She said the state's rejection of legislation, such as HB1386, does weigh into the decision.
Needham, who said she once was a staunch conservative, said she'll be watching the actions of her district legislators and possibly be involved in next year's campaign to try and oust those not supportive of the LGBT community.
Kevin Tengesdal, a member of the LGBT community and gay rights activist in Bismarck, said he was saddened to yet again see failure, but still hopeful and optimistic after the vote.
"It's inevitable," Tengesdal said of legislation passing in North Dakota.
Tengesdal said the state's attitude, and the nation's as a whole, has reversed markedly since 2004, when more than 73 percent of North Dakota voters passed a constitutional measure defining marriage as between one man and one woman.
"I feel it is bringing people together to keep the battle going," Tengesdal said.
State gay marriage bans have been reversed by the U.S. Supreme Court and the "don't ask, don't tell" policy in the U.S. Armed Forces has been eliminated. Polling has also shown the pendulum has swung in support and acceptance of LGBT people in the past decade, according to Tengesdal, who said a ballot measure could be a possibility.
"We passed medical marijuana, and that blew everyone away," Tengesdal said.
Christopher Dodson, executive director of the North Dakota Catholic Conference, said repeated attempts to pass legislation isn't the right way for the LGBT community to reach its goal.
"The right way to do it is by changing hearts and minds," Dodson said. "If more people treated people with respect, it wouldn't be an issue."
Dodson said testified in opposition to LGBT legislation in recent sessions about concerns over infringements upon religious liberty.
"The fact is the culture is far more accepting than 10 years or 20 years ago," Dodson said, reiterating that wielding the legislative hammer isn't the answer.
Rep. Robin Weisz, R-Hurdsfield, is chairman of the House Human Services Committee that heard HB1386 in committee and carried it on the House floor Friday.
Weisz said himself and virtually every member of the Legislature know friends, coworkers or family members in the LGBT community and are accepting.
However, he said the concern with HB1386 is how it was written. In future versions of the bill, discrimination against an individual within the LGBT community and infringing on one's religious beliefs need to be reconciled, he said.
"I'm sure, at some point, we can find a solution," said Weisz, who acknowledged that, if lawmakers on both sides of the issue worked together to reconcile differences in the future, that might make for a more palatable compromise.
Casey Buchmann, of Washburn, who has a gay family member, didn't mince words with his frustration with the majority party after the vote.
"It's just really sad that a lot of really gray-haired old men, unless it happens to their family (member), are clueless," Buchmann said.
Get Government & Politics updates in your inbox!
Stay up-to-date on the latest in local and national government and political topics with our newsletter.