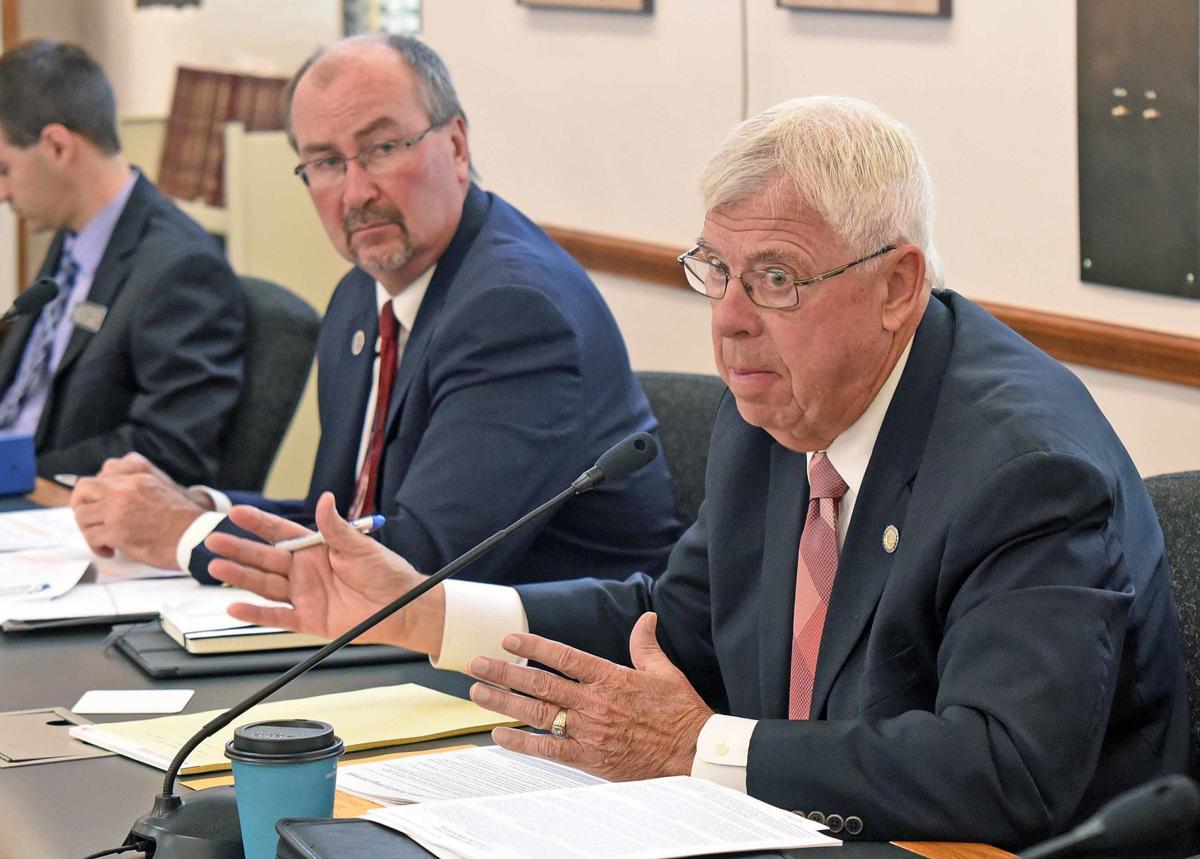 State lawmakers are wary of possible ballot initiatives targeting North Dakota's oil tax savings and want to involve the public in finding potential uses of its earnings.
The Legislature's interim Legacy Fund Earnings Committee met Thursday to outline its study of purposes for the earnings. The voter-approved savings account socks away 30% of monthly state oil and gas tax collections. It currently contains $6.2 billion.
Numerous ideas using the earnings were floated in the 2019 legislative session, from income tax relief to a state-administered family leave fund to a slate of proposals by Gov. Doug Burgum. None passed using the earnings.
Now the committee will take public input over the next year to develop potential ideas, such as tax relief and infrastructure improvements.
"This particular fund allows us to define our own destiny," said Senate Majority Leader Rich Wardner, R-Dickinson. 
House Majority Leader Chet Pollert, R-Carrington, who chairs the committee, said lawmakers will travel to two cities, one each in eastern and western North Dakota. They'll be determined later. The committee will next meet in early November.
"I think we really want to get input from the public outside of the echo chamber that is this building," said Sen. Ray Holmberg, R-Grand Forks.
The committee also will study other states' similar funds, such as Alaska's Permanent Fund, which distributes dividends from mineral revenues to Alaska residents.
You have free articles remaining.
"To me, that's kind of the first step," said Sen. Jessica Unruh, R-Beulah.
Lawmakers see their study as key to finding consensus on how to use the swelling Legacy Fund amid the potential of ballot initiatives to direct spending.
"If we in the Legislature don't do something with these earnings and show the people that it's for their benefit ... somebody else is going to put it on the ballot, and it may not be in the best interests of the people of North Dakota," Wardner said.
Lobbyist Bob Harms, a member of the group that put formation of the Legacy Fund on the 2010 ballot, urged lawmakers to turn away from permanent uses of the fund's earnings as "needs are going to change."
"Just a reminder that the No. 1 goal for the Legacy Fund was to take care of future North Dakotans when the oil revenues are going to decline, and we know they will," Harms said.
Pollert said "it's too early to tell yet" if the committee will issue recommendations for Legacy Fund earnings for the 2021 Legislature to consider. He expects individual lawmakers to bring bills from the study.
"But I think it's pretty obvious that we don't want to put something that's going to be an ongoing general fund revenue, that if it goes, we can run ourselves into a problem," Pollert said.
The Legislature has so far used Legacy Fund earnings for balancing the last two biennial budgets and to backfill a shorted state school aid fund.
In July, more than $455 million of earnings transferred from the Legacy Fund to the general fund. General fund money in excess of $65 million rolled into the Budget Stabilization Fund, for offsetting revenue shortfalls, within a $546 million transfer of money from several funds.