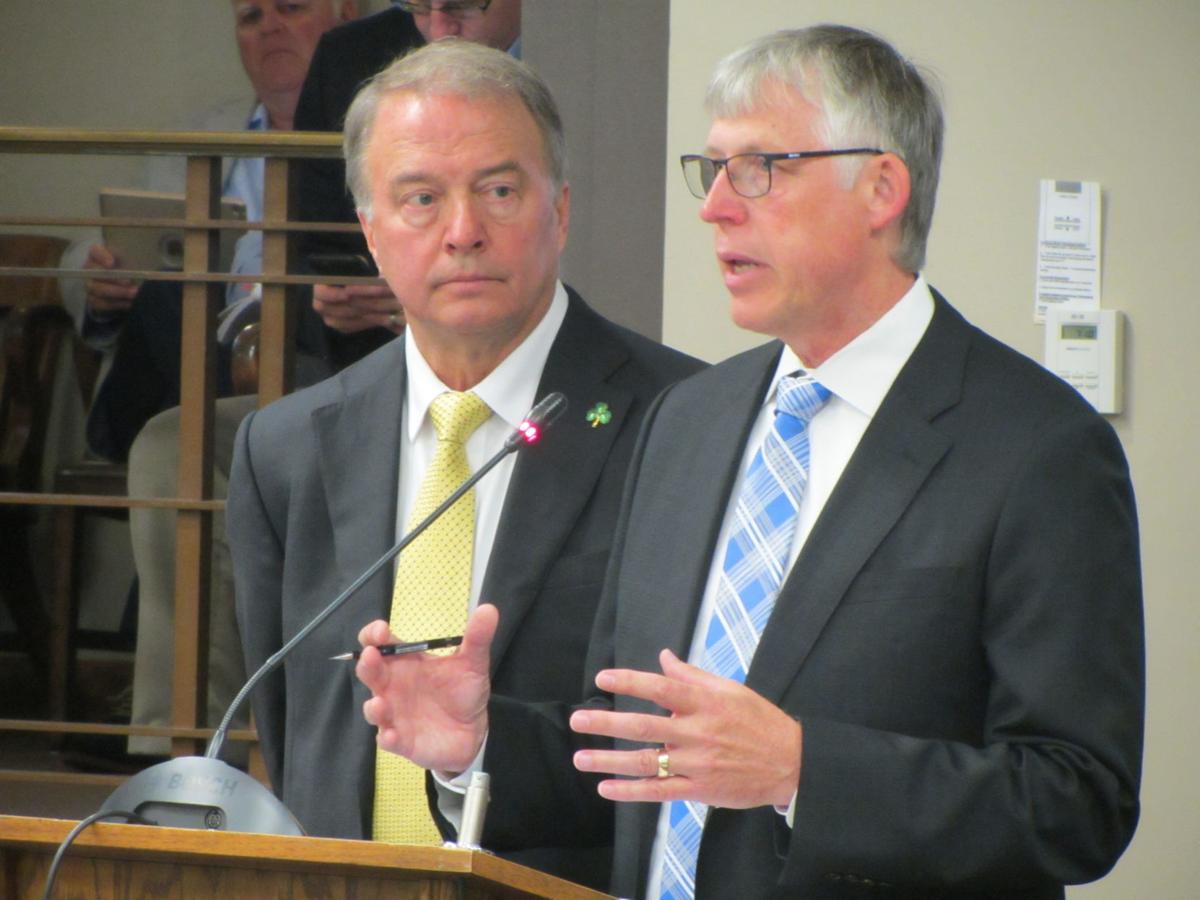 State projects of all kinds will be fighting over a shrinking pot of money, but progress in meeting water needs is expected to continue.
"With the state of the oil industry, we're going to have less money to spend. Are we going to see a lot of work being done? Absolutely. We'll be able to see significant progress," said Garland Erbele, the state's engineer. "There isn't a place in the state you can go where we don't have projects going."
The State Water Commission budget contains $722.2 million in funding with 93 staff for the 2017-19 biennium. This is down from the 2015-17 budget with 97 staff and more than $1.1 billion in funding.
A line-item veto of the budget by Gov. Doug Burgum has thrown some controversy into how those diminished dollars may be allocated to various projects. The language would have made the shifting of funds between designated projects subject to Budget Section approval; as a result of the veto, the executive branch can freely move that money as priorities change throughout the biennium.
Burgum, who is chairman of the State Water Commission, argued there should be flexibility in targeting the dollars between rural water supply, regional water supply, flood protection and other general projects.
A number of major projects are expected to see some advancements in buildout.
Red River Valley project
State budgeting allows for as much as $30 million in grant dollars for the Red River Valley Water Supply Project, including $17 million for design and permitting as well as initial construction.
"We think the Legislature stepped up to the plate," Duane DeKrey, general manager of the Garrison Diversion Conservancy District, said.
The plan for the 2017-19 biennium is to start construction so the project, which aims to place water pipes from the Missouri River to the Sheyenne River along a path south of Highway 200, can be grandfathered into existing federal standards for water pipelines and not be subject to potential future rule changes.
This would include construction of an outlet along the Sheyenne River, attaining land easements along the route and completing the permitting process.
"We're limiting as much contact with the federal government as possible," said DeKrey of that particular plan, which has an estimated cost of $800 million to $1.1 billion.
You have free articles remaining.
However, an older, discarded alternative is being reconsidered.
While past efforts to move Missouri River water east by utilizing the McClusky Canal were unsuccessful, project supporters are cautiously optimistic of reopening those talks with President Donald Trump's administration. There is an estimated project savings of $170 million, if use of the canal became a viable alternative, according to DeKrey.
"It's going to be critical in a dry year," Rep. Al Carlson, R-Fargo, said of the project, pointing out that, if a drought occurred similar to that of the 1930s, the Red River Valley area wouldn't have enough water.
WAWS project
Jaret Wirtz, executive director of the the Western Area Water Supply Authority, said a change this session is there are no earmarks for its ongoing project to bring Missouri River water to five rural western counties and the agency will have to compete for water commission money alongside everyone else. The future service population estimate by 2038 when completely built out is projected to be 125,000.
"We're kind of in limbo," Wirtz said.
Currently, the project is serving about 60,000 in the oil patch, and there's still hundreds of rural users waiting to be connected, according to Wirtz, who said projects slated for 2017-19 include infrastructure buildout in Mountrail County for rural users. Originally, WAWS had been seeking $60 million in funding but now is asking for about $29 million.
"The water community as a whole had to scale back," Wirtz said.
The State Water Commission budget included language for consolidating some of the WAWS loans approved in past sessions. A study also will be undertaken to determine the feasibility of allowing WAWS to sell or lease its industrial water supply assets, which is strongly opposed by the Independent Water Providers group.
"We've made great strides," Wirtz said of the overall project.
Members of the Independent Water Providers group in western North Dakota have long questioned the overall size and scope of WAWS.
Steve Mortenson, chairman of the Independent Water Providers, said a primary concern has been the use of industrial sales to help finance the project.
Mortensen acknowledged WAWS was necessary for municipal and rural water customers but not industrial, a market the independents have had the lion's share of in good times and bad.
"We have no objection as long as it's for municipal and domestic sales," Mortensen said. "They're still chasing our market."