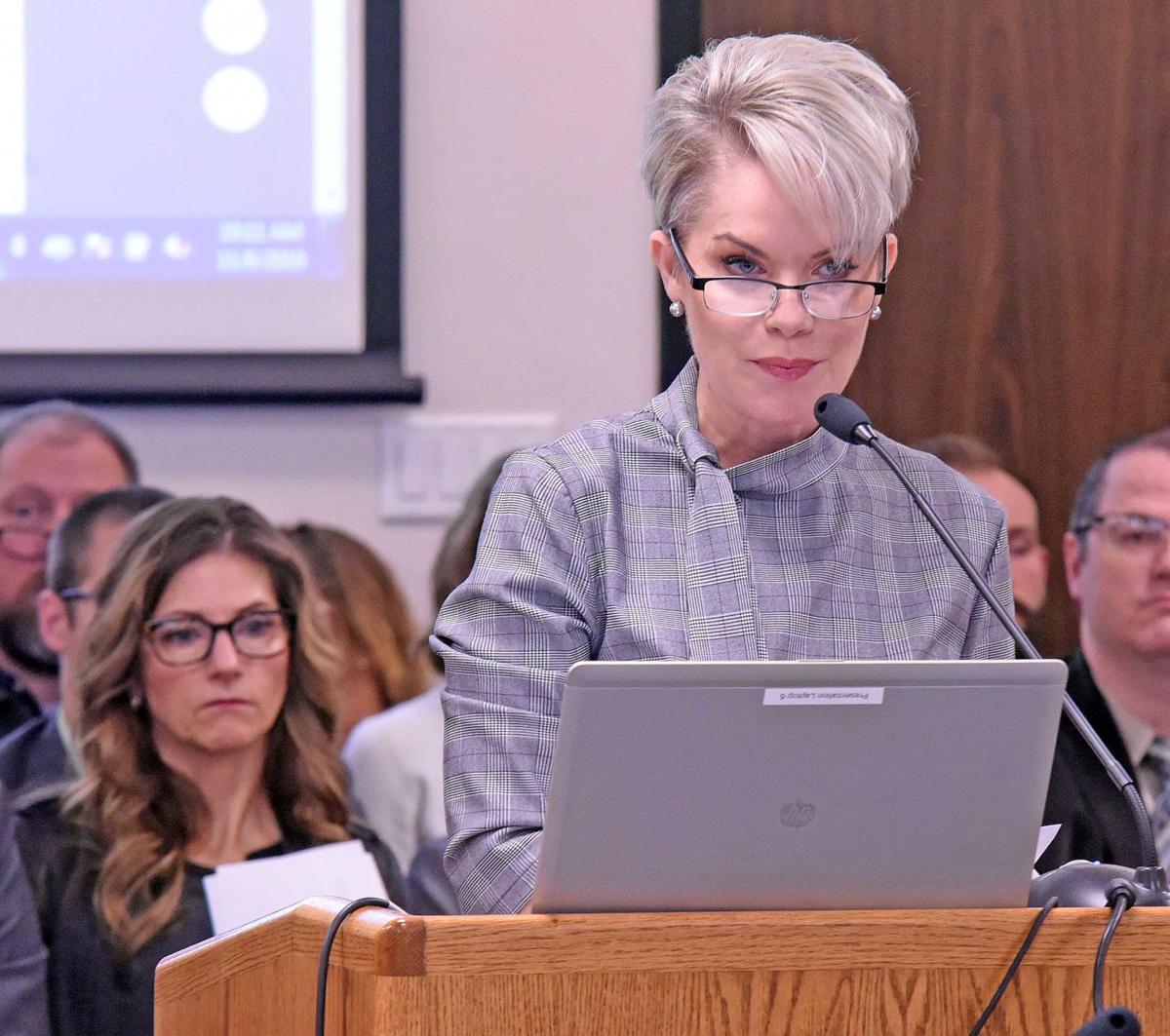 The head of North Dakota's Commerce Department has personally retained an attorney amid a criminal investigation into audit findings of potential state law violations.
Commerce Commissioner Michelle Kommer appeared Wednesday before the Legislature's Audit and Fiscal Review Committee to answer lawmakers' questions related to audit findings that agency officials mishandled appropriations and also skirted public bid requirements in developing the state's new logo.
State Auditor Josh Gallion last month notified Attorney General Wayne Stenehjem of the audit finding. He told lawmakers Wednesday that his notification related to Commerce charging more than $850,000 to the wrong two-year budget cycle.  
Stenehjem has since referred the investigation to South Dakota's Division of Criminal Investigation, without specifying what its scope should be. It's not clear whether the logo issue will be a part of the probe.
The logo issue stems from the audit concluding that Commerce should have treated two temporary employment contracts, totaling about $87,160, as one, which would have required soliciting informal bids or proposals through state procurement requirements. A Minnesota marketing consultant with ties to Gov. Doug Burgum's software background designed the new "Be Legendary" logo.
Burleigh County State's Attorney Julie Lawyer will review the investigation's results for potential criminal charges. It's not known what type of charges might potentially apply.
The audit finding relates to a grant agreement with Grand Forks County for construction at Grand Sky, an unmanned aircraft facility.
Kommer said weather conditions delayed construction, so Commerce extended the grant agreement, which expired June 30, through October at the county's request. The state's 2017-19 budget cycle ended June 30, and the new 2019-21 budget cycle began the next day.
"It was an honest mistake honestly made," Kommer said. "The money went to the right party for the right work that was contracted for legally. It went at the wrong time."
Gallion said Commerce had no supporting documentation for about $400,000 in a $750,000 payment to Grand Forks County. He cited a state law for notifying the attorney general of possible payment violations.
"We have a finding where we identified a potential misappropriation of law. The client agreed. Under (state law) I have an obligation to inform the attorney general and we did so," Gallion told the committee.
Chief Deputy Attorney General Troy Seibel said Stenehjem referred the investigation to South Dakota to have an independent, third-party perspective, which he called routine, to avoid any perceived conflict of interest.
The investigation is underway. It's unclear when it will conclude. 
"The investigation is focusing on individuals and whether or not those individuals violated the criminal code," Seibel said. 
"It's whether individuals essentially made unlawful expenditures of public funds," he added.
State lawmakers questioned how Commerce employees are legally represented.
Seibel said the attorney general is prohibited from representing individuals facing criminal allegations.
"The allegations are not against the state or against an agency. They're against individuals," Seibel said.
Kommer after the meeting in a statement to the Tribune said: "As head of a state agency, I have a responsibility to secure the resources necessary to continue to be an effective leader. The attorney general has declined to provide any assistance to my team."
If exonerated, state employees may seek reimbursement from the state for legal fees, according to Seibel.
Sen. Jerry Klein, R-Fessenden, who chairs the audit committee, said the group will await the investigation's results.
"There's no motions I think we can make to undo what's been done," he said. "The cows are out and we can't herd 'em back in, and people's names have been dragged out there and we can't change that."
Kommer expressed "grave concerns about the message that we have heard today, that a dedicated person who comes to work for the right reasons cannot make an honest mistake without the threat of a criminal investigation." 
Rep. Mike Nathe, R-Bismarck, said Gallion "circumvented" the audit committee in notifying the attorney general of the Commerce Department audit findings.
"I'm very concerned about this going down the road at a whim, because we're dealing with people's lives and careers here and reputations," Nathe said.
Gallion emphasized what he sees as his obligation to notify the attorney general of "a potential violation of misspending."
"We identified that deficiency. We gave it to them," he told reporters. "The investigation clearly is underway. That determination will be made."
Gallion last month also notified the attorney general of audit findings that the North Dakota State Library overspent its 2017-19 operating expenses. Stenehjem's office was still reviewing the matter Tuesday.
Get Government & Politics updates in your inbox!
Stay up-to-date on the latest in local and national government and political topics with our newsletter.